Without fresh snow in the Wasatch in over a week, and no new storms in sight, opportunities can still open up in the Wasatch to those willing to be patient to spread their wings. After keeping my wings tucked during the early winter waiting for snow, followed by more waiting for extreme avalanche conditions to stabilize, my mind was numb and I needed desperately to spread my wings. I could not take another day of ridge touring or meadow skipping in "safe zones" with minimal turns.
Sure, there was the occasional shot, fun conversation, and nice view. However, I rationalized most of my days as nothing more than "great exercise" and "killer views."  No more…..  Finally I had my window of opportunity and I was not going to miss it! Avalanche conditions finally settled and the weather was too inviting to make excuses about poor snow!!  It was time to take advantage of some Wasatch Winter Mountaineering. While most snow snobs of the Wasatch will pass on a 50 degree (temperature) spring-type day on a south facing slope, I revel in the opportunity for an early start with good firm climbing snow, a summit attempt, and the occasional mid winter sun-softened snow or corn.
Fortunately, a good friend of mine, Brad Peterson, is a kindred spirit. He was also looking for an excuse to do something BIG. So when he mentioned the desire to climb the South Ridge of Mt Superior, I knew we were talking the same language. The South Ridge of Mt Superior is a 3000ft ridge, full of technical climbing, big exposure, and "pucker factor" galore. In wintertime, the thin ridge is framed by wind-stripped rock, large cliff bands, steep hanging snow fields, and meringuing snow cornices.
Exposure along this ridge can exceed 1000 ft in many places. Rock climbing difficulty runs about 5.4 in a few short cliff sections- made more difficult in tele boots, gloves and a ski-filled backpack. However, it is maneuvering the exposed and dicey snow cornices that constitute the crux to this route. They are endless, thin, unstable, and continue to play with your mind and your route finding skills until you finally reach the safety of the summit. It is a formidable route in the summer- but in the wintertime several more elements come into play, and weather and snow conditions need to be perfect for a successful ascent.
Trying to beat the sun and the long list of voice mails that would pile up at the office, Brad and I started booting up the ridge at 6:30am. Gear included ski equipment, pack, and a mountaineering axe. We opted to forgo crampons- as the snow was soft enough to kick boot steps in most places.
The first 1200 ft was simple steep boot packing that meandered between cliff bands. Luckily someone had offered to boot pack up to the UDOT weather station. From here, the boot pack disappeared, and we replaced our ski poles with an axe. We proceeded to toe kick steps up two 55 degree couloirs until we reached the ridge proper.
The ridge was in excellent condition. It looks like something out of Alaska, or the Patagonia range.  Steep, steep, steep snow barely attached to near-vertical rock on both sides. I had to turn around to see the Snowbird parking lot to remind myself that I was not in an exotic far away mountain location. I have spent a lot of time in the Wasatch, and I have never seen a more exposed ridge line in the Wasatch than the South Ridge. The rock ridge, which is usually wider in the summer, is very narrow from unstable cornices that swallow up the limited real estate.
We worked our way up the ridge bobbing and weaving around all obstacles, and observing many of the bold lines that several riders had already laid. During the climb, we had a small section of a cornice break away from the rock we were climbing. The cornice collapsed and instantly fell several hundred feet below the ridge- reminding us of how quickly elements of nature can turn and how we had to be fixed to the rock at all times. Luckily we had utilized rock most of the time, and were out of harms way.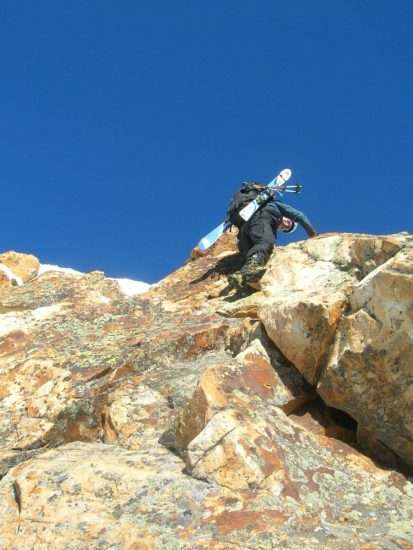 It took about 4 hours to reach the summit from the car, and the views were "Superioresque!" Excellent from all angles. The views from this peak are the some of the best in the entire Wasatch.
After 10 days without snow, "Was Angeles" was in fully evident with bold ski/board lines visible down every aspect of every peak and ridge in the backcountry. Obviously, many others were anxious to spread their wings also. I can't blame them, I only admire them and realize that the vibrant backcountry community of the Wasatch continues to grow each year. To me this means more people with common interest, and more people to share experiences with. It also means more people to support great organizations like the Utah Avalanche Center. I take it in stride, realizing it simply means waking up earlier to get fresh tracks at my favorite stashes…..
After enjoying a few moments, and observing a couple of parties ascending Superior from Cardiff Pass, we moved back toward the South Ridge for the long descent down the face of Mt Superior.  I wish I could say the snow was great, but it was not.  That said, it was not bad. Sections were enjoyable, and the top layer had been softened by the direct southeast facing sun. Brad ripped a few turns down the first 1000 ft, navigated the cliff band, followed by descending 300 ft of bed surface and debris from a wet slide avalanche from the day before.
Knowing that wet slide activity would be a concern, we opted to ski this earlier in the day.  However, another hour, and we would not have wanted to be on that slope. Thankfully, we skied hard and fast, and arrived safely back to the car by 11:15am.  Smiling, sunburned, and fully satisfied.
Click, click of the ski poles for a ceremonial skier "high-five" as Brad and I reflected on the accomplishment of ascending and descending one of the best ski mountaineering routes in the Wasatch. Wings were spread, spirits were lifted. Good times with great friends. Mission accomplished.