With two SBT GTVL Blue Course finishes (2019 and 2021) under my belt, I thought I'd share some tips and tricks on setup and general guidance for those preparing to tackle the 100-mile course in Steamboat Springs, Colorado. Without question, tackling this course takes preparation and, likely, some additional investment in bikes, components or various spare items. Not to mention, travel costs, lodging, food, etc. It's a commitment, but a little prep goes a long way.
For starters, Steamboat Springs sits at 6700 ft. and the course tops out around 8200 ft. We're not talking extreme elevation, but for anyone training or coming from sea level, those altitudes will present their own challenges. Proper altitude training will go a long way towards your success on the SBT GRVL Blue Course. For help with training heading into the race, CTS has provided 10-week training plans for each SBT GRVL course. Day jobs and life gets in the way, but consider that the ideal training guide to ensure you are in top shape. My personal training plan includes mountains… lots of mountains. Luckily, we have plenty of those here in the Wasatch.
In short, for best results, follow the training plan. But, if you don't quite have the time to follow it perfectly, just ride your bike as much as you can with as much elevation as you can muster. I averaged about 125 miles per week in 2021 (way less than the training regimen), but supplemented it with lots of climbing. In the end, I wasn't racy fast, but I felt good and had a great time (oh, and I suffered on those last two climbs). My fitness and training was better in 2019, but my bike choice was very different as well. All of that equaled more saddle time in 2021 for me.
Blue course changes for 2021
Both the Blue and Black courses included a new 3 mile double track section on the NW side of Steamboat Lake. It's not long, but it comes soon after a long climb and the rough terrain just saps your energy. A nice little stream crossing was thrown in for good measure too. Aside from that, the only other major change was adding in the Corkscrew climb as the second-to-last climb. On paper, this 400 ft. climb doesn't look too bad, but when you're almost at mile 90, in the heat of the day, it's a formidable challenge.
The average gradient is 7.6%, but it regularly hits the low teens throughout. Needless to say, I think I averaged 5 mph heading up that thing because I was in "sit and spin" mode. I saw several riders walking that section or stopping to collect themselves. Let's just say we all got very familiar with our handlebars during that one.
Looking back, the changes were good and added some spice to the race, but during the race, I wasn't thrilled. I'd expect slight tweaks to the course every year, just to spice things up.
Bike setup: 2019 vs. 2021
The race organizers have provided some guidance on bike and tire selection as well as gearing choices. Keep in mind that with Panaracer as the sponsor, they are suggesting 33-38c tires for this course. Let me be straight up on this — ride whatever you think will give you the most comfort for 70+ gravel miles. Most of the roads are smooth gravel, but some sections (Cow Creek and the 11 mile Mystic descent towards the 3rd aid station) can be pretty chunky. If you're rolling 700c, I'd go 40-42mm for added comfort and traction. Just get something that's fast-rolling.
For 2019, my bike of choice was the Open UPPER rolling 47x650b tires. Wheels were the Roval CLX 32's (now replaced by the Terra CLX EVO) and tires were the fast-rolling Specialized Pathfinder PRO 47. This combination of light weight wheels, extra girth and a fast-rolling center tread was flat-out perfect for the Blue Course. In my head-to-head tests before the race, I could roll faster and smoother than the 38c versions of the same tires with similar wheels. Gearing was SRAM Red AXS with their lowest-available cassette at the time (10-33) and 46/33 chainrings. Getting that 1:1 ratio was definitely welcomed on course.
For 2021, I wanted to see how 700c tires would do, so I opted for the Zipp 303s wheels mounted with Zipp Tangente Course G40 tires. I had several hundred miles already on that combo and the low-profile treads roll very well (but not quite as well as the Pathfinder PRO's). I was also riding the Ventum GS1 with a SRAM Rival/GX AXS mullet drivetrain featuring a 10-50 cassette and 40-tooth chainring. I had lower gearing for 2021, but sub-optimal middle gearing for long road stretches or extended gravel climbs. Sometimes, I just couldn't get the right gear for the terrain and tempo. But, believe me I was very grateful for the 50t cog on that Corkscrew climb — all 5 mph speed of it.
When I do the SBT GRVL Blue Course again, I wouldn't hesitate going back to 650b tires. Certainly, not all gravel bikes handle well with 650b's, but if yours does, that would be my recommendation. Again, not a big, chunky 650b tire, but something fast-rolling like the WTB Byway 47 or Specialized Pathfinder Pro 47.  By mile 60, the added comfort will pay off in spades and you'll actually descend much faster and have fresher legs for those final climbs. As I looked at my times for the rougher sections (Mystic in particular), I was significantly faster in 2019 with 650b's.
Let's take a look at my Strava logs from each year for reference.
My official chipped time and pace each year:
2019: 6:08:52 at 16.2 mph
2021: 7:23:26 at 14.1 mph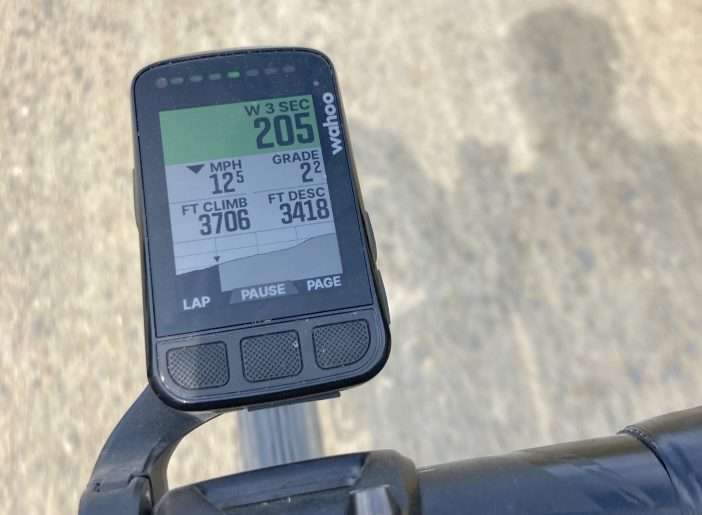 Power meters and head units
Both times I used the Wahoo ELEMNT Bolt GPS bike computer and Quarq power meters. For 2019, it was the original Bolt and for 2021, I used the updated Bolt 2. I did have the dual-sided Quarq DZero for 2019 and only the single-sided unit with the Rival crankset. Knowing my power threshold was key to not blowing up. Again, I wasn't out there to compete with the 20 yr olds — I just wanted to finish respectably without suffering too much.
So, on the long or steep climbs, I switched the view to see my power output and the grade with a elevation graph showing the duration of the climb. I admit it did feel like cheating, but pre-loading the course route onto the Wahoo provided excellent turn-by-turn directions as well as elevation profiles. I suffered like everyone else, but I had a little extra help on my side, knowing just how hard to push myself and for how long. It saved my bacon for sure and kept me in the game.
Other tips and tricks
I can't overstate how much to hydrate and fuel for this race. The perfectly-spaced aid stations are well-stocked with both energy products and various other items. Those PBJ's are absolute money to mix up all the goos and gels. Plus a banana here-and-there and the big ol' kosher dill pickle and juice is perfect to stave off the cramps on the last third of the course. For 2021, I grabbed a packet of GU Roctane Electrolyte Capsules and popped a tablet around mile 50 and again around mile 80 just to be sure. In the end, I never cramped and my muscles felt good throughout the race.
I can't state enough just how awesome the race is organized and how killer the aid stations and volunteers are. Everything is well-stocked and they go out of their way to keep you on course. For 2021, I stayed a little longer at each aid station because I wasn't trying to break any records, but the crowds were much bigger, so things just took longer.
If you have your heart set on the SBT GRVL Blue Course for 2022 and beyond, hopefully this can be your guide on how to prepare, what equipment to use and what to expect on race day.
More Info: Visit SBTGRVL.com