Garmont has long been a leader in mountaineering, hiking and alpine touring boots. They have continued to push the limits of stiffness and power while at the same time making those same stiff and powerful boots lighter and more suited for longer backcountry tours. The Garmont Endorphin has been in the line for a couple of years now, but has been refined for 2008. It's built on the years of experience and on the shoulders of the latest generation of backcountry skiers who demand more from their boots because they are driving wider, longer and stiffer skis and skiing in unthinkable backcountry terrain.
Not that I'm going to huck my meat off a 40-foot cliff every day I'm out and not that I'm cranking down super-technical, super-steep Alaskan peaks, but I've been reluctant to try A/T boots until recently. So, I've been touring with my Fritschi Freerides and my super-dialed Head World Cup alpine boots. Yeah, I've sacrificed hikeability and uphill comfort for the power and finesse I'm used to.
But, even though I enjoy a stiff boot for the most fun part of the day–the descent–I've been more and more psyched on the latest crop of freeride alpine touring boots. They are stiffer and burlier, yet still have stuff like Walk/Ski modes and Vibram rocker soles. They aim to deliver the best of both worlds and the 2008 Garmont Endorphin boots are Garmont's top-shelf entry in the freeride backcountry market. So, yes, I was amped to get on a pair to see how they skied in the Wasatch backcountry.
About the Garmont Endorphin Alpine Touring Boots
The Endorphin boots are Garmont's top-of-the-line entry into the A/T freeride market. With their years of experience building shoes and hiking boots, they know feet more than many ski boot manufacturers. They show off this knowledge by building their boots completely different from most ski boots on the market. The ADD (Anatomically Directed Design) technology used by the Endorphin makes complete sense. Looking at the boot, the asymmetrical nature of the forefoot and upper cuffs follows the natural shape of the human foot and leg. Check out the following chart that explains all about this design philosophy.
When compared with most ski boots–not just A/T boots–the Endorphin's stand out. They look well thought out and it's because they are. The anatomical design makes them some of the best boots on the market right out of the box. Not only are the boots designed to fit the human foot, Garmont uses some very high-tech polymers, carbon fibers and magnesium to shave weight and add comfort.
The Endorphin is built to drive the stiffest and fattest skis on the market–just as their alpine cousins can. And, they come standard with two interchangeable soles: A lugged, mountaineering-type sole and a DIN standard sole.
Garmont Endorphin Boots Review
My Endorphin's showed up just before a quick backcountry trip to the Meadow Chutes in Big Cottonwood Canyon, Utah. But, I didn't have time to get the liners molded to my feet. I just slapped my Surefoot orthotics inside and enjoyed the best out-of-the-box fit of any ski boot I've ever owned. Because of this great initial fit, I thought I'd risk some foot discomfort and possible blisters on a short backcountry trip.
It had been a couple of days since the last storm, but there was plenty of untracked still to be had. Suiting up in the west end of the Solitude Ski Resort parking lot, the temperature gauge was in the single digits. At that temperature, my alpine boots would have turned my feet into ice blocks within minutes. The Endorphin liners–though fairly thin–did an excellent job at insulating my feet. Not once did I feel my toes going numb. On top of that, the out-of-the-box fit was stellar… snug, but stellar.
Skinning up in walk-mode, the Endorphins provide just enough flex to allow for a natural stride. I'm sure there are other, flexier A/T boots, but the amount of flex was perfect. The only fit issue I noticed (again, unmolded) was on my left shin where the tongue and the liner matched up. The seam put a nice bruise on my shin, but other than that things were dialed. Once properly heat molded, this went away–so be sure to get them properly fitted you won't have any issues.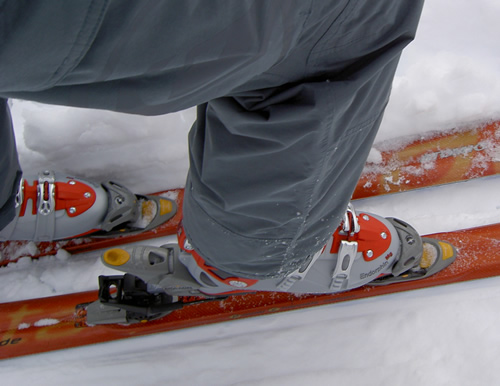 When it came time to head downhill, a quick flip back into ski mode and I was dialed in. I love the 4 standard-style micro-adjust buckles. They are lightweight, but perfectly designed for easy buckling and unbuckling with gloves on–something that's uber-important but often overlooked in buckle designs. I love that the forefoot buckles are reversed, which minimizes the chances of catching a buckle on something. It also pulls the anatomical shell just right–reducing the volume in proportion to the shape of your feet.
The 25-degree forward lean is perfect to keep your weight balanced and on the balls of your feet. I could pressure my skis just the same as with my alpine boots. I never once felt like I overpowered these boots in the backcountry. They felt just as stiff and just as balanced and responsive as the best alpine boots I've used.
After a successful day touring, I headed up to Surefoot at The Canyons Resort to get the liners heat molded and fit to my feet. A quick 45 minutes later, I had the boots custom fit and completely dialed in. After some bootfitting love, he G-Fit 3 liners will fit your foot like a glove.
To get a feel for the overall versatility of these boots, I took them up for a day inbounds at Sundance Resort. Bombing the hardpack groomers, I did feel that they were a tad softer than my alpine boots, but that should go without saying. Pound-for-pound though, the Endorphin's are definitely the most versatile boots I've ever ridden. They go from hardpack to skintrack do the untracked without blinking. I could lay down smooth arcs on the groomers like nobody's business on day, then skin up 3000 vertical feet in Little Cottonwood the next day–all with the same boots.
The only downer on these boots is the pricetag. They will set you back $759, but consider this… they can truly be your only pair of boots, so they are less than buying both alpine and A/T boots. Total weight for the pair is 8.8 lbs.
NOTE: Just for reference, my feet are flat and medium volume. I wear 103mm last width alpine boots. The Garmont's were just under a 1.5 finger fit in shell sizing for me, thus putting me in a size 27.0.
The Bottom Line on the Garmont Endorphins
Garmont simply has their alpine touring boots dialed. The Endorphins are light, responsive, stiff and supportive. When going up, they are comfy and tour like champs, but when the best part of the day comes, they will drive even the fattest skis with aplomb. I totally dig these boots and they fit my feet like my favorite pair of trail runners–not once did I have any pain or fit issues once I got them properly fit at Surefoot. If you have the coin and want to have only one pair of boots for inbounds and backcountry, the Garmont Endorphin should be tops on your list.
BUY NOW: Find Touring Boots at Backcountry.com