Scarpa has long been one of the major players in the backcountry ski boot market. The Scarpa T1 tele boot has long been the free-heel boot of choice for backcountry and resort adventures. As backcountry skiers have pushed the limits of human-powered access and have begun pushing bigger and fatter skis in the backcountry, alpine touring technology including bindings and boots have had to step it up.
No longer will slightly-modified mountaineering boots hack it for alpine touring. Backcountry skiers want it all… burly and stiff for the down and light and flexible for the up. Several manufacturers are stepping up to the plate and Scarpa is a natural leader in this growing market segment.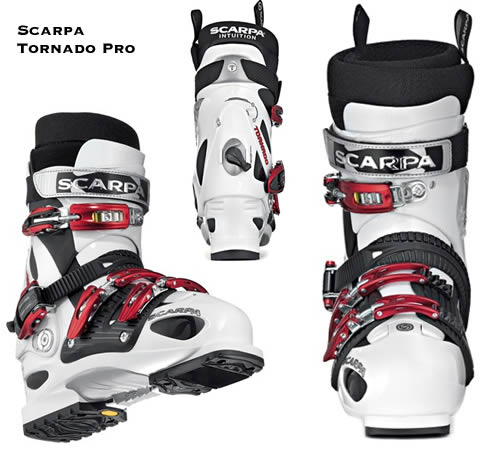 About the Scarpa Tornado Pro
The Tornado Pro is the top-of-the-line A/T boot–built to drive any ski on the market. It is essentially a 4-buckle design with the latest in dual-density materials (soft/hard plastic combo), a top-shelf liner and all the features you'd expect from an alpine touring boot. MSRP is a reasonable $669.00 and total weight is 8.6 lbs.
The sole is both DIN and UNI compatible, so stepping into alpine bindings won't require any toe height adjustments. Also of note… they are the only A/T boots to date that have passed the tough TUV standards for releaseability. The Vibram Ride sole isn't a burly mountaineering-type sole, but it gives enough grip for hiking on rocks or walking down slippery resort stairs, and still ensures consistent releases in either alpine or A/T binders. An aftermarket lugged sole is also available.
The Intuition Speed liner is like a burrito for your foot. This liner is akin to the old Raichle Thermo-wrap in design with two overlapping thermo foam layers wrapping around your lower leg. After a quick 45-minute visit with a bootfitter, the Scrapa Tornado Pro should fit your foot better than your favorite pair of sneakers.
The ski/walk mode allows you to switch the boot into a more walkable, upright stance and the ski mode can be set at either 19 or 23-degrees forward lean. Three of the buckles are of the lightweight, micro-adjustable aluminum variety, while the third, instep buckle is like an old-school Rollerblade ratchet buckle. You get two tongues… one for ski touring (softer) and one for a more straight-up alpine flex.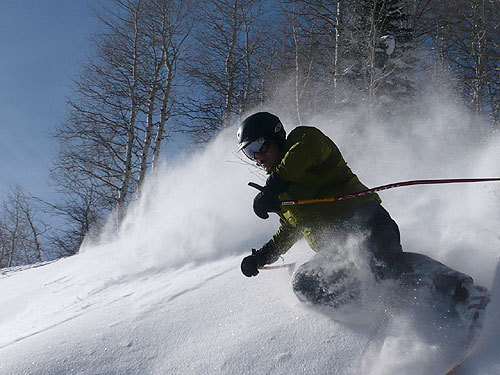 Scarpa Tornado Pro Review
I had the Scarpa Tornado Pro's at the same time I had a pair of Garmont Endorphin's, which made for a great side-by-side comparison. If I was going on looks alone, the Scarpa's wouldn't stand a chance next to the much-sexier Garmont's. However, I'm the kid of guy that can look beyond the skin to make a decision based on actual functionality on the snow. So, a quick trip to Surefoot to get the Intuition Speed liners heat-molded to my lower extremities proved to be well worth my time. With my custom Surefoot orthotics in place, the Tornado's were ready to rumble.
The ski/walk mode on the Tornado's is great. The sole doesn't provide any rocker, but an upright stance and loose buckles makes walking/hiking a breeze. The ski/walk switch is easy to move in or out of either mode. However, to get it into what I'll call "real ski mode", you'll have to flex forward pretty hard. There are two forward lean settings (19 and 23-degrees) and believe me, you don't want anything to do with the lower of the two. I couldn't even force myself to stay on the balls of my feet in the 19-degree setting. Once I got it into the 23-degree setting and was much happier.
The flex of the Tornado Pro with the stiffer, alpine-esque tongue was great. They felt a little soft in the comfort of the living room, but in the real-world, they stiffen up nicely. The lateral stiffness was on par with the best alpine boots out there and overall comfort is as good as they come–thanks to the Intuition Speed thermo-fit liner.
My biggest gripe with the Scarpa Tornado Pro is the wimpy forward lean options. As stated above, I absolutely could not pressure the tips of my skis or even force my weight on the balls of my feet in the 19-degree setting. I was skiing scared actually as I felt completely in the backseat. After switching to 23-degrees, things greatly improved, but I was still not centered on the balls of my feet as I would like. I was still forced in the backseat, no matter how conscious of an effort I made to stay centered on the balls of my feet.
I could still make decent enough turns in tight trees and pow, but when I tried to arc turns on groomers, I was still unable to pressure my tips to initiate a proper turn. This was a bit disappointing.
I had issues with the buckles and the overall design of the overlapping cuffs. With so many "this before that" and "this under that" type of things, it took me a few tries to get the boots buckled properly. I think some simplicity could be in order here, but maybe just a few more tries to get the hang of it would do the trick. Also, with gloves on, it was nearly impossible to release the instep buckle and equally difficult to thread it into the ratchet.
Even though I had some issues with the Tornado's, I do have to add one caveat: ski boot fit and function is a highly-personal thing. So, find somewhere to demo a pair of Tornado's and see how you like them yourself. You may not have the same forward lean gripes that I did. The overall function of the boot is spot-on… it just appears to need some refinements for me to recommend them for myself.
NOTE: Just for reference, my feet are flat and medium volume. I wear 103mm last width alpine boots. The Scarpa's were a 1.5 finger fit in shell sizing for me, thus putting me in a size 27.0.
The Bottom Line on the Scarpa Tornado Pro Boots
The Tornado Pro is a burly alpine touring boot that will handle the skintrack and cliff hucks with equal skill. However, I feel they could use another 2-3 degrees of forward lean combined with a few tweaks to the buckles before I can whole-heartedly recommend them. Try them on at your local shop and see if you can demo a pair for a day before plunking down for them. You might be OK with the forward lean settings and decide you can live with the difficult-to-open instep buckle. Hopefully Scarpa improves on both of those items for next season.
Buy Now: Search for Scarpa Ski Boots