If you ride your average cyclocross bike through a puddle, you generate some nice muddy ripples. When the 2016 Cannondale SuperX launched last Fall, it generated major waves in the media and on the course. I've had my leg over one for well over 250 miles of single track trail, plus miles of gravel grinding throughout the fall, winter and spring. It's a killer bike with a superb frameset, and it's definitely work a look for 'cross riders of all levels.
Cannondale SuperX 105 Features:
Ballistec Carbon Frame
SPEED SAVE technology delivers light weight and torsional rigidity
Shimano 105 gruppo
Shimano BR785 hydraulic disc brakes, 160/160mm
Maddux CX 2.0 Disc rims with Formula CX20/22 front and rear hubs
MSRP: $1960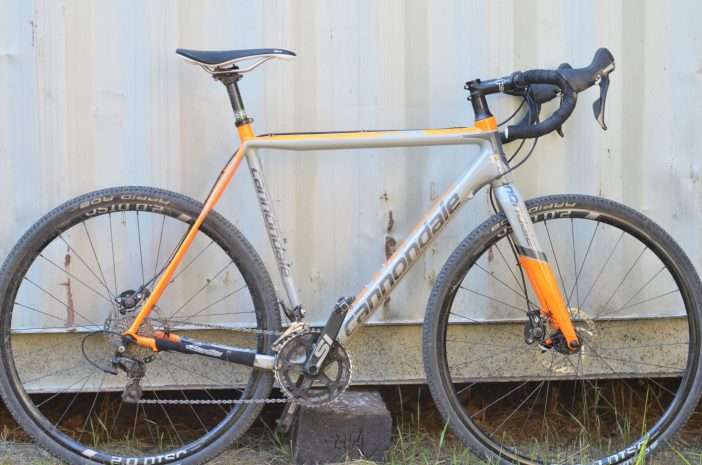 SuperX cuts trail in comfort and style
Riverside State Park is a cyclocross rider's dream. Miles and miles of singletrack follow along the Spokane River and meander up and around the nearby hillsides. The trails feature epic rock gardens, some easy, some hard, and some simply unrideable on a cross bike. You'll find yourself squeezing between trees flanking the trail, catching little flicks of air off of rocks and roots and generally having the time of your life. I spent 250 miles astride the SuperX in this paradise, not to mention miles of gravel grinding and some hyped-up commuting. What I'm getting at is that this bike has really been pushed during its test period, and I've had plenty of time to get to know the SuperX's strengths, weaknesses and occasional oddities. We don't normally get so much time on a bike before the review comes due, and this was partly due to some issues with the headset which I'll discuss soon. In any case, it's definitely time to spill the beans on this killer ride.
We'll start with the cockpit and components. Most of the cockpit is in-house Cannondale gear, but a notable exception is the Fabric Scoop Shallow Elite saddle, which is easy to clean and comfortable on long days. I swapped out the post for a Niner carbon zero-setback post to give my back a bit of a break. Otherwise, for better or for worse, everything is Cannondale.
My test bike was kitted up with a Shimano 105 gruppo. The best words to describe their performance? Well, I'd start with reliable, then move to accurate and probably conclude with hassle-free. Cyclocross is pretty tough on components, obviously, partly because of the continual grime and partly because of the odd forces being applied to the chain and derailleurs. The rear derailleur in particular shown out by providing accurate shifting throughout the entire course of my test riding with minimal maintenance. I think I cleaned the chain once and re-lubed it two or three times over the last nine months; it never saw a mechanic's wrench once until the frame was replaced late in the test period. Again, we'll talk about that in a bit.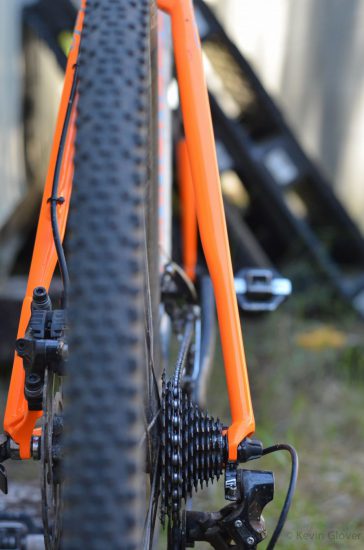 The BR785 hydraulic disc brakes with 160mm rotors shown throughout the test. They're predictable and powerful, exactly what you want when you're racing or just pushing your limits. They permit hard, last-minute braking and manage heat effectively on long descents (not usually a big problem in cyclocross races, but gravel grinders will appreciate this). More traditional riders might scoff at disc brakes on 'cross bikes, but I suspect they haven't spent much time astride bikes equipped with them. Man, they're nice to have.
The lever action on the 105 shifters deserves a mention, too. Lever actuation has a nice, deep metallic feel that gives a definite impression of quality construction. There's nothing plastic-y here, and that's much appreciated.
I'm doing my best to save a discussion of the frameset for last, because truly it's the best part of the whole bike. So, let's move on to wheels. The wheels, in contrast to the frame and 105 gruppo, are duds. They are heavy, noisy and aren't tubeless compatible. They are a vestige of a bygone era and don't really have a place next to the SuperX's next-gen carbon frame. There's constant noise from the spoke intersections for one thing, and I personally found them less than predictable when pushed hard into corners. They're just not very stiff in the right axes and they won't stay true for long.
I suppose riders will have different opinions on the tubeless compatibility bit. I'm a fan of tubeless setups, but some of my friends say that the mess and hassle of setting up and maintaining tubeless wheels makes it not worth it. On a cross bike, though, I'd say that the benefits of tubeless are pretty clear. Cutting your pressure back by 5-10 PSI can make an enormous difference in the quality of the ride and the bike's ability to track well on the trail. One day I experimented with a 35 PSI setup and found the ride quality greatly improved from the 40 PSI that I'd previously been running at, until I pinch-flatted both wheels. C'est la vie. Many racers will want to plan on investing in new wheels, but let's be honest, they still roll even if they're not perfect. Apparently these wheels will accommodate a ghetto tubeless setup, and you can get more information on that here.
Alrighty, it's time. Let's talk about this glorious frameset. Cannondale calls their Ballistec frame 'the ideal blend of the most advanced materials in the world combined with the most advanced carbon engineering and design.' That, of course, is a load of tosh – there are way more advanced materials out there that have considerably more advanced engineering behind them, but they're all in space or roving around Mars or coating the outside of an F-22 Raptor. So, while their claim is hyperbolic, it does get the message across – the frame is darn good.
What makes it so good? Well, much of the performance centers around the carefully crafted seat-and chainstays. The seatstays flatten out to an insanely thin profile as they rise toward the frame, and there's similar careful shaping on the chainstays. This design, coupled with Cannondale's expertise at carbon layups, gives two major results. First, the bike totally has the feel of a soft tail bike, eliminating major amounts of chatter from rocks, roots and grass. Second, the flame's vertical flex allows the rear wheel to track better along the irregularities of the riding surface. The elimination of chatter and the increased tracking ability translates into a lot of confidence come race day.
Things in the big triangle are just as good. Cannondale stuck with a traditional flat top tube and boy is it long – the 56cm frame that I'm riding (I'm 5′ 10.5″) measures a full 57cm. Also, the seat tube is tall which leaves very little seatpost exposed. The result is a big, roomy front triangle that gives you lots of room to maneuver during carries. The top tube is specially shaped where it means the seat tube so that it rests more comfortably and securely on your shoulder. It's worth noting here that all of the cable routing is external. That's kind of an interesting choice on Cannondale's part. I suppose it makes maintenance a little more hassle-free if you like to wrench on your own bikes a lot, but it's an unusual choice for a cross bike since it opens up more opportunities for grime to impact shifting performance. That said, I didn't really notice the long brake hose on the top tube whenever I hoisted the bike onto my shoulder.
The front and and bottom bracket have a little more flex than I'd like. The BB30 bottom bracket is low and does have some lateral flex that's noticeable when being pushed hard. That said, it does seem to contribute to the bike's ability to track and that lower bottom bracket height gives the bike a bit of a swoopy feel when curving through flowing sections of trail. The front end suffers noticeably from the lack of thru-axles, and this combined with the mediocre wheels will encourage you to be very fastidious about picking lines that won't torque your front end and toss you off course.
Finally, I've got to add a word about a frame issue that I had throughout the course of my testing. Almost from the very beginning of my test period back in October of 2015, I've had trouble with the headset loosening up. It's difficult to pinpoint the cause of this, and it took months of troubleshooting before the LBS eventually went ahead and warrantied the frame. We tried everything – replacing the stem, replacing the internals, regular adjustments to the proper torque, etc. My mechanic, who I really like and trust, thought that he could see an issue in the carbon layup on top of the fork where the crown race would normally sit flush. In any case, multiple conversations with Cannondale resulted in a replacement frame being shipped out.
The new frame arrived and was quickly built up by the guys at The Bike Hub Spokane. The new frame is actually the one that ships with the SRAM Rival CX1 build with a vivid caution orange and grey color scheme. I don't really mind the change in colors, but other racers might get upset that their original black/white/grey frame was replaced with such a different looking frame.
In any case, I don't have enough miles on the new frame yet to tell whether or not the issue has resolved itself. Realistically, it ought to have – it was a compete frame/fork replacement. I'll update this review in the coming weeks and months if any more problems arise.
The Good
The frame's handling will change the way you think about cyclocross
Frame tracks very well and eliminates a significant amount of chatter and energy
Spacious front triangle and flat top tube make for easy carrying
Shimano 105 gruppo is reliable, accurate and hassle-free
The hydraulic disc brakes with 160mm rotors are strong and reliable
Fabric saddle is a nice touch and a good place for Cannondale to upgrade stock components
The Bad
The stock wheelset is heavy, weak and requires a ghetto tubeless setup
Thru-axles would have been preferable – we'll probably see them on the 2017 SuperX
Cannondale's warranty process had some hiccups, but in the end a new frame came
Sizing and geometry is racer-aggressive
The Bottom Line: 2016 Cannondale SuperX 105
It's always hard to apply superlatives to something like a bicycle in such a diverse and competitive field as cyclocross, but in a lot of ways the SuperX's exceptional frame makes it a dominant player. I suspect that we'll continue to see many podium finishes for pros aboard the SuperX and, with a few key improvements such as thru-axles, the bike only stands to get more impressive. That said, with the Shimano 105 and SRAM Rival coming in at a pricepoint that is at least reasonable, the SuperX is accessible to all sorts of riders. The bottom line is that everyone can find something to love about riding the SuperX.
Buy Now: Visit Your Cannondale Dealer