I'm a long-time Subaru guy. I cringe at the thought of not driving one. My 2005 LL Bean only has 112k miles, so I'm decidedly not in the market, but the latest version of the Outback has done little to convince me otherwise so I'll just sit pat until the ultimate Subaru arrives. Don't fret… this one is going to be reliable and should deliver on the Subaru promise of go-anywhere adventure, it's just not for me.
2016 Subaru Outback 2.5i Premium Features:
Symmetrical all-wheel-drive
2.5i Boxer engine
Touchscreen audio system with Bluetooth, HD Radio, etc.
Dual-zone automatic climate control
Single paint color with color-matched door handles and mirrors
17″ alloy wheels
Airbags galore (of course), traction control and backup camera
MSRP: $29,061 (as tested)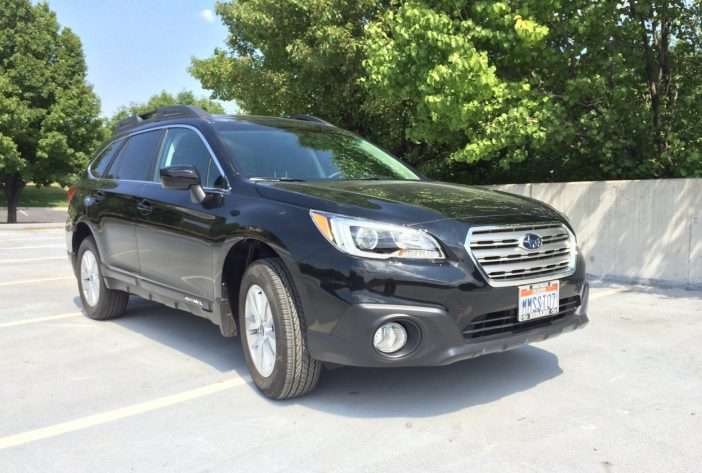 Some good. Some bad.
In 2010, the Subaru Outback got bigger and that continues for the 2016 model year as the Outback feels much larger than my 2005. That's good and bad, for sure, and it allows Subaru to further differentiate it from the Forrester. With my Outback in for the airbag recall, I was given a 2016 Outback 2.5i Premium as an extended loaner. Of course, I used those 5 days as a trial period for the latest Outback and I'm decidedly mixed on it.
Let me start off by laying the groundwork here:
Reviewing vehicles is something I do only on occasion (so don't expect Motor Trend-type details, just my impressions)
I only had this vehicle for 5 days, so the review is decidedly "initial impressions"
I'm a huge Subaru fan, but am mixed on whether I'd buy any of the new models, as you'll see
So, with that, I began my few days with a well-equipped 2.5i Premium — wondering all along if I would buy one.
For starters, my test vehicle came with a number of great features. I'd say it's as nicely-equipped as anyone would need with excellent electronics, electronic dual climate control, power everything and, of course, the safety of Subaru's Symmetrical All-wheel Drive. As a "go-anywhere" vehicle, the Outback is best-in-class. Subaru's AWD drivetrain is well-proven and I can personally testify of just how capable it is. Now, it's no rock crawler, so don't think that it is, but for wet, snowy or loose roads, there's nothing I'd prefer driving more than a Subaru.
Underpowered at best
With the 2.5i model, you get a proven 175 hp. Boxer engine that gets the vehicle moving, but does so at it's own pace. You're not going to win any drag races and sometimes you'll wonder if it will ever get going, but it's reasonable and not overly-whiny, all things considered. This is a big vehicle and all-wheel-drive requires even more power to get going, but there's got to be something more that Subaru can do to give the 2.5i some life. Mazda does a great job giving their CX-5 some serious personality, so why can't Subaru do the same here? No idea.
For starters, this vehicle should have a sport mode to give it some pep. The manual mode is OK, but paddle shifters feel decidedly out-of-place here. After toying with them throughout my test period, the only useful reason for paddle shifting is for snow driving. Surely, Subaru could come up with an alternative to paddle shifting that would breathe life into this one.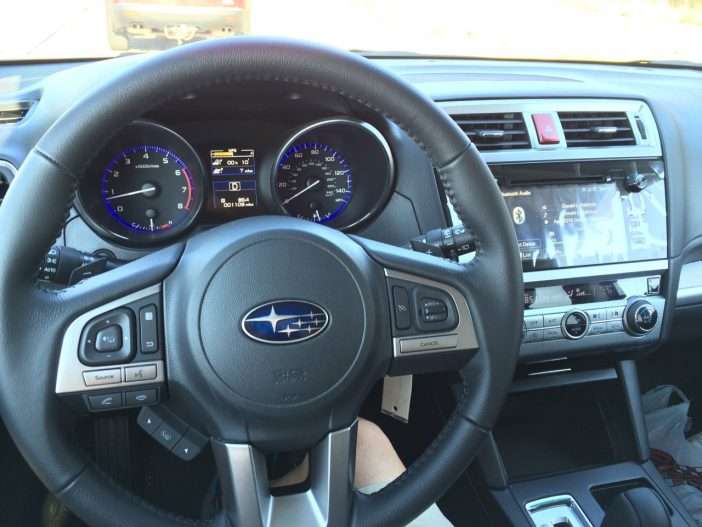 Excellent electronics
As far as cabin tech goes, this one is a winner. It uses the same basic interface as the Toyota Prius Four Touring, which worked like a charm and everything worked just as easily as it did in the Toyota. I paired my phone and was up-and-running in a jiffy, making calls and listening to music from my iPhone. The instrument panel is likewise similar to other models on the market and is a delightful experience.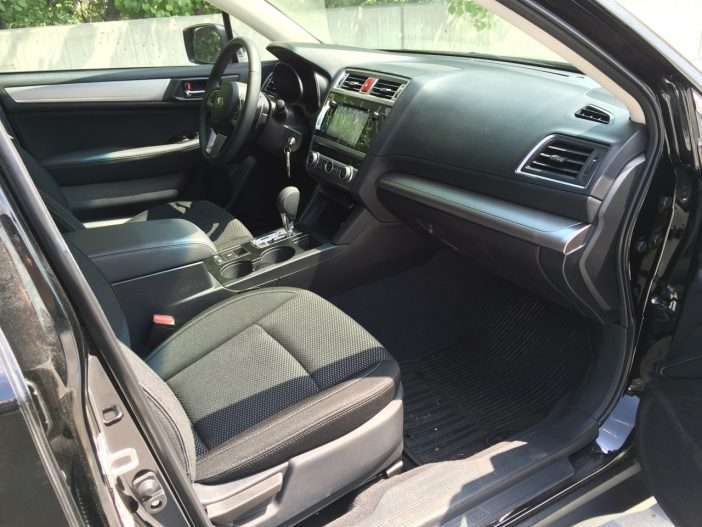 Interior fit and finish
I love the all-black interior with silver accents. The leather-wrapped steering wheel and shift knob are also nice touches. The cloth seats are comfortable and seemingly-durable as well. I do like that it comes with heated seats — not something you typically find in cloth seating. All storage compartments are well-designed and functional as well.
The biggest whiff for me are the interior door panels. I couldn't believe just how much they flexed in/out with every door close and really every time I grabbed or leaned on it. My left leg rests on the door handle and with every knee tap, the entire door panel would bend inwards. As you can see in this video, that experience is the same with every door in this vehicle — it just feels decidedly cheap. I do like the LED lights hidden inside the interior door handles, but that doesn't fix their flimsiness.
Utility
Of course, the Outback can carry a crumload of gear. The rear cargo area should carry about as much as my 2005 Outback and a hitch can be easily-installed for additional utility. Lowering the split rear seats from the back is easy with side-mounted levers (a nice touch). But, the buck stops there for me. I'm very much at odds with the mousetrap roof rack contraption that made its way onto the Outback in 2010. The initial version required all kinds of aftermarket doodads to be remotely functional. Yakima even made riser towers to specifically address the issues.
For 2016, the roof rack mousetrap gets an upgrade that allows you to expand the span to better carry longer items like boats. But, those updates don't fix the fundamental problem here — nobody asked for a bulky, ugly, awkward-looking and awkward-functioning hunk of plastic as an excuse for a roof rack. Raised roof rails are all that's needed and, heck, even the low-profile Euro rails would up the looks of the Outback substantially. As it turns out, you can finally get an Outback with Euro-stile roof rails with the 2017 3.6R Touring model, but you have to shell out dearly for it (almost $40k).
The Good
Reliable and capable
Good handling and capable around-town
Excellent field-of-vision
Great technology package
Love the dark interior and ergonomics
Comfortable seats
Instrument panel is clean and intuitive
Gas struts on hood are a nice touch
Electronic climate control is great
Rear seat release levers in trunk area
The Bad
The interior door panels are flimsy and unbearably cheap
This gutless wonder begs for a sport mode at least (paddle shifters seem silly on this vehicle)
Roof rack offers utility, but lacks in flexibility and looks horrid
A backup camera is nice, but blind spot and cross-traffic monitors should come standard on a Subaru
The Bottom Line: 2016 Subaru Outback 2.5i Premium
As a long-time Subaru fan, the latest Outback falls short for me. I mean, it's a sensible choice and will be a reliable and capable vehicle, but it's not winning me over. The biggest negatives for me are the sluggish engine, flimsy interior door panels and that abomination of a roof rack. On the good side, the overall interior fit/finish and electronics are solid positives, but I'm left wanting.
More Info: Visit Subaru.com