When trails get really gnarly, that XC bike can get overwhelmed. Picking lines carefully becomes an art and sometimes it's just best to take a hard pass. But, if you roll up to that rock garden aboard the 2020 Specialized Stumpjumper EVO, you'll have to be less picky about your lines and focus instead on how much fun you're having.
2020 Specialized Stumpjumper EVO Comp Carbon 29 Features:
FACT 11m full carbon frame w/EVO trail geometry and 140mm travel
FOX FLOAT DPX2 Performance shock
FOX 36 Rhythm 150mm fork
SRAM NX Eagle 12-speed drivetrain
Specialized Butcher 29×2.6″ tires front/rear
SRAM Code R brakes (210mm rotors)
SWAT™ Door integration
X-Fusion Manic dropper post
Roval Traverse 29 tubeless-ready wheelset (30mm internal width)
Threaded bottom bracket
Weight: 32.3 lbs (S2, actual)
MSRP: $4700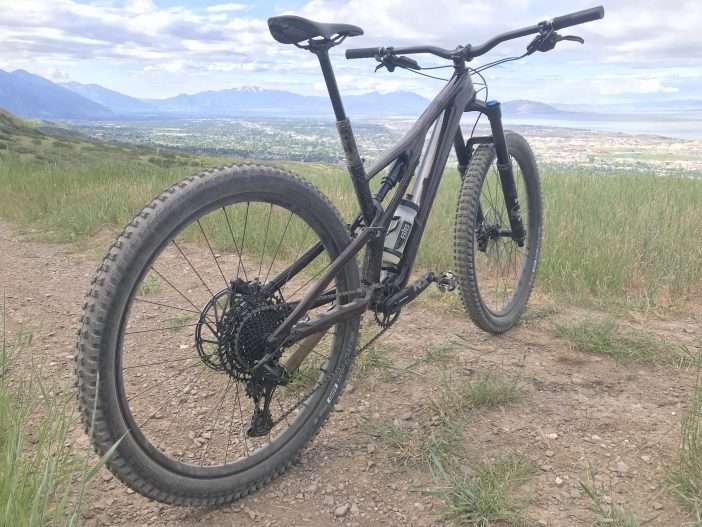 EVO is Locked-and-Loaded (even uphill)
Oh baby. When the Stumpjumper EVO arrived, I was a little overwhelmed. It had been years since had ridden a 140/150mm travel bike weighing 32 lbs. (yeowch). As I unboxed the EVO, every part began to show just what this bike was made for. 2.6″ tires, burly Fox 36 Rhythm fork, 800mm wide bars and that 63.5-degree head angle. Everything had my Lycra-clad self wondering how this was going to go down. As it turned out, it was going down and going down in a hurry.
So, for science, I reversed the stem to lower the front end a touch, set my saddle height and headed out to the backyard trails.
On long approaches and long climbs, you can feel the extra heft — I'm not going to lie. But, what has been amazing is just how balanced the Stumpjumper EVO feels. It's crazy. With that super-slack head angle, you'd think it would be an unwieldy beast, but I honestly love how balanced the EVO feels. I can honestly track stand for days on this bike. I attribute this to the low-slung frame and weight distribution, but it's flat-out amazing.
As an example, I have changed direction mid-climb and completely lost momentum (the perfect recipe for a clip-out). That re-driect process took a couple of seconds and I continued upward without a dab. I've continued to scratch my head on every climb because the EVO climbs really, really well. Again, you're not going to beat that KOM, but rest-assured, you can climb up anything. Steep, rocky ascents or long, spinning affairs are all fair game here. Short, standing efforts are also good, but you need to find that proper balance point between traction and a spinning rear wheel.
I know you're not reading this to hear how well the EVO climbs, but hear me out just a little longer.
Another great attribute of the Stumpjumper EVO is how well it ascends off-camber switchbacks. That steep seat angle allows you to get momentum and simply angulate through the switchback. It's a cool feeling as you pedal along, leaning into the uphill turn, and the bike simply comes around. In summary, climb away — the EVO will take you there.
One last pro tip on climbing aboard the EVO. I found that opening up the Fox Rhythm 36 all the time was best, while I typically kept the Fox Float DPX2 shock in trail mode for climbs and rolling terrain. The result allowed the front end to sag just a little more on ascents for a more forward body position.
Rocking the Descents
The EVO is one of those near-DH bikes that still can be ridden every day. It is a capable climber, but it's also a superstar when the trails get rocky, technical and swoopy. Let's talk about rock gardens (well, reasonable ones) for a minute. The combination of 2.6″ tires running at 18-20 psi., 150/140mm of suspension travel and a 63.5-degree head angle means the EVO doesn't shy away from the rough stuff. One section of endless baby head rocks had me picking my lines carefully aboard the Giant XTC Advanced 27.5+ and I'm just pedaling through them aboard the EVO.
As those rock gardens give way to swoopy, bermed corners, the EVO continues to shine. Tap that dropper and angulate away. Leaning the EVO into every corner is a freaking blast. It rails and exits those turns carrying crazy amounts of momentum. To keep that momentum going, go ahead and push off every roller and just let the EVO float on down the trail.
While the EVO does soak up rough terrain, the suspension travel isn't as bottomless-feeling as other suspension designs. The rear wheel travel feels controlled and smooth but still a little firm. I guess at 140mm, it still needs some ramp-up at the end of the curve.
Air time is comfortable too. It's easy to launch and land squarely aboard the EVO. I'm not hucking my middle-aged meat off cliffs or anything, but you certainly could if you are younger and more carefree. My 25-yr-old self would do just that.
How About a Little Bit of Both?
Putting both climbing and descending into a single trail segment had me pushing myself to the limit to see just how the Stumpjumper EVO Carbon Comp would perform — all 32 lbs of it. It's a short segment, but one that has rollers and a little bit of up/down. In over 30 attempts, my best time was 2:41. Well, pushing hard aboard the EVO, I matched that time.
Granted, that's a short segment, but it's one that I push myself on regularly with every bike I ride. It's a fun combination of rolling terrain with a few little climbs and descents along the way. To me, it shows, that in short segments, the Stumpjumper EVO can behave like a bike with much less travel. Pushing that kind of effort for 15-20 minutes would be another thing entirely.
EVO Comp Carbon Spec
At $4700, the 2020 Stumpjumper EVO Comp Carbon has a lot to offer. Product managers make careful choices in spec to hit price points and appease corporate bean counters. No matter the price point, I'll always wish for upgraded bits or carbon bars, but economics rule the day and the Comp Carbon spec is solid and reliable.
Let's start with the SRAM NX Eagle drivetrain. It's as responsive and fast-shifting as SRAM's top-end group and the shifting feel more natural to me than Shimano's trigger shifters. The SRAM Code R brakes deliver excellent, squeal-free stopping via those monster 210mm rotors (front and rear). I've never ridden a bike with rotors that large in the rear, but why not? Stops are consistent and smooth. And, the Code R's feature reach adjustment to suit every rider's reach.
The EVO absolutely needs a dropper post and the X-Fusion unit here has been superb. It reacts quickly and smoothly with a great lever. The Roval Traverse 29 hoops have performed like champs and nail the tubeless challenge in my experience. The Specialized Butcher 2.6's have remained seated and hold air extremely-well. Honestly, every time I check the tire pressure, I have to put in 1 psi. — even after several days in the garage.
And, without question, Specialized's SWAT Door system here is fantastic. A built-in storage compartment for energy bars, tubes or extra layers is bonkers. I love it. And, the fact that a bike of this much squish has a bottle cage inside the front triangle frankly has me giddy. I simply don't wear hydration packs unless I absolutely have to and I'm loving the SWAT.
Note: I'm 5'11" and 170 lbs. and I tested the S2 size. I've been running the fork right around 65 psi. and the shock at 165 psi. 
The Good
Full-carbon frame that's durable and capable
Can climb up anything
Descends through whatever you can throw at it
SWAT Door — 'nuff said
Reliable spec that will work well for years
Easy and reliable tubeless
So balanced — even at low speeds
Dropper has been fantastic (and necessary to get proper angulation)
Traction aplenty
Blood red color is beautiful and limited logos gives a classy look
The Bad
It's north of 32 lbs — no way getting around that
Pivot behind BB attracts mud and rocks (there's a protector, but I've got scratches from stuff gunked up in there)
I'd prefer a left-facing bottle cage (getting nit-picky)
Expect occasional pedal strikes
The Bottom Line: 2020 Stumpjumper EVO Comp Carbon 29
Aboard the EVO, I'm charging through rock gardens in ways that I thought were only possible from my 25-yr-old self. And, I'm okay with that. It's been a ton of fun railing my local single track and feeling confident that the bike can handle whatever I throw its way. What has honestly surprised me was the Stumpjumper EVO's ability to climb. No, it's not going to nab new KOM's, but it's a really good climber and remains balanced quite well for such a slack machine.
Buy Now: Visit Specialized.com or Your Local Dealer
In Summary
While the all-new 2020 Specialized Stumpjumper EVO Comp Carbon 29 is a bit more bike than I typically ride, it has been an absolute gas to ride. It has proven to be a surprisingly-capable climber with impeccable balance. And, it descends with more chops than I can dish out. I'm devouring rock gardens, drops and swoopy berms at higher speeds than ever before. This bike is definitely heavy (32+ lbs), but it's a great do-it-all bike for those who value lift-serviced or downhill above getting to the top ahead of their posse.