We're talking the primo stuff. Crème de la crème. Top shelf and all that jazz. This gear still has us giddy like a kid on Christmas morning. Memories of long bike rides, trail runs or adventures has us longing for more of that in 2022 and likely, many of these items will remain on those activities. So, without delay, we present the 2021 FeedTheHabit.com Gear of the Year.
Koo Demos Sunglasses
Sunglasses are an essential part of every bike ride. A good pair disappears while providing crystal-clear vision and wide coverage from the sun, dirt and debris. Koo hasn't been around a long time, but they have made all the right choices by using Zeiss lenses, adjustable nose pieces and large, on-point designs that look "oh-so-pro" on those of us who are decidedly not pro.
Read More: Koo Demos Sunglasses Review
---
Bontrager Aeolus Pro 51 Wheelset
Once wheels get to that magical 40mm depth, stability can become a problem. If you live in an area with strong wind gusts, you know exactly what I'm talking about. But, mid-depth wheels and beyond are also amazing for aerodynamic efficiency. The voodoo that Bontrager has employed with their Aeolus Pro 51 Wheelset is nothing short of game-changing. At a modest $1400 price, these 51mm deep wheels are fast, respectably-light and ultra-stable in crosswinds. You can even put them on your gravel bike without worry. If you can find a set, you have our blessing.
Read More: Bontrager Aeolus Pro 51 Review
---
MAAP Training Thermal LS Jersey
Thermal jerseys have a limited useful timeframe. You don't need one year-round, but when you do need one, the MAAP Training. Thermal LS Jersey is the one to have. It is stretchy and comfortable while providing just the right amount of warmth for cool rides in the 50's. The fit is pro and everything about this jersey makes it worth the price of admission.
Read More: MAAP Training Thermal LS Jersey Review
---
Ortlieb Handlebar Pack QR
This is a very easy product to recommend for people who are looking to either tour or commute and need a reliably waterproof bag. It is helpful that it's pretty sleek and looks good, a feature that we can all appreciate. The technical chops, namely its attachment hardware and IP64 rating, are excellent and confidence-inspiring. If this is the right fit for your bike, you will likely use it for years to come.
Read More: Ortlieb Handlebar Pack QR Review
---
Hoka One One Zinal
A brand new platform for 2021, the Hoka One One Zinal is lower-profile than you're used to from Hoka, but isn't one lick behind in comfort. With the Zinal, I can train in comfort or step it up a notch and race in equal comfort. Traction is superb and excellent breathability ensures you don't overheat on those summer trail runs.
Read More: Hoka One One Zinal Review
---
Specialized S-Works Prevail II Vent Helmet
On the warmest of summer days, the S-Works Prevail II Vent is my numero uno. I chose to ride it for SBT GRVL for the utmost in breathability and on every other road, gravel and mountain ride throughout the summer when I wasn't testing something else. Not only is it ultra light, but it has MIPS SL for added noggin protection.
Read More: S-Works Prevail II Vent Review
---
MSR Guardian Gravity Water Purifier
It's easy to recommend the Guardian gravity purifier for the right user. If you want heavy-duty purification for lots of people, and you're willing to pay a premium for the military-grade filtration ratings and construction, this is a great product. If you take care of it, it will take care of you. Groups and individuals looking for lighter options in most backcountry settings could make do with another, lighter MSR or Platypus gravity filter like the AutoFlow or the updated Platypus GravityWorks. But if you need the highest level of purification, this product is for you.
Read More: MSR Guardian Gravity Water Purifier Review
---
Bontrager Circuit Road shoes
When it comes to mid-priced road shoes, many leave something significant to be desired. The all-new Bontrager Circuit Road Shoes aren't perfect, but they perform like shoes that cost much more. With a comfortable fit and reasonably-stiff outsole, you can choose to go with road or mountain cleats (a nice feature). And, the BOA lacing system is a nice find at this price.
Read More: Bontrager Circuit Road Shoes Review
---
3T Exploro RaceMax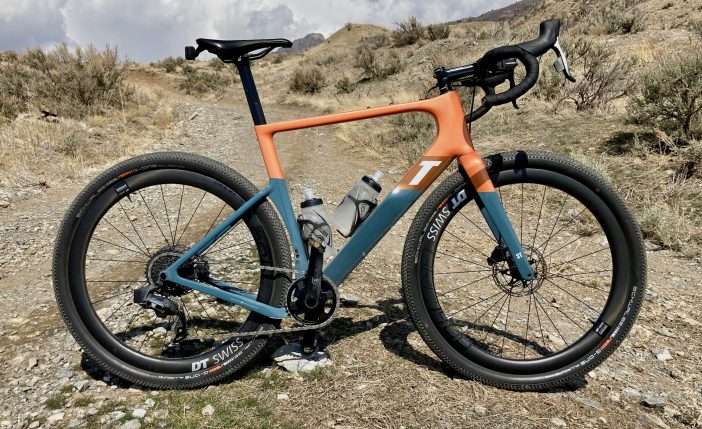 Without question, Gerard Vroomen is one of the top minds in the bike industry. With his designs, he has led the gravel charge at both Open and 3T. The aero-optimized 3T Exploro RaceMax is everything you would ever want in a fast gravel bike. The twist is that it accepts 2.25″ tires and remains aerodynamic under all conditions. The RaceMax is an absolute gas to ride and sets the bar to which all other gravel bikes are measured.
Read More: 3T Exploro RaceMax Review
---
Roval Terra CLX Wheelset
Fast, wide, tubeless-friendly and wicked-light — everything you could ever want in a do-it-all wheelset. Thought not as aerodynamic as other wheelsets, I was blown away by just how zippy the Terra CLX wheelset is for both pure road riding and even the gnarliest gravel terrain. They aren't cheap, but if you want the ultimate in versatility, the Terra CLX is an easy choice.
Read More: Roval Terra CLX Wheelset Review
---
Specialized HyprViz Race-Series Wind Jacket
Having a go-to wind jacket is essential for riding comfort. For chilly mornings, cold mountain descents or questionable weather, the Specialized HyprViz Race-Series Wind Jacket has been my ace-in-the-hole. With proper layering, I can wear it down to the upper 40's and it all packs down to nothing. Fit is decidedly racy and efficient, which is still king in my book. Oh, and that bright color… kapow!
Read More: Specialized HyprViz Race-Series Wind Jacket Review
---
SRAM Rival GX AXS Mullet
While SRAM was late to the electronic game, their wireless eTap drivetrains have continued to blow the doors off the competition. As the only wireless solution on the market, bike shops love them and riders do too. But, it wasn't until 2021 that wireless shifting came to the masses with Rival AXS. For gravel bikes, you can go traditional 2x, 1x with Rival XPLR or mullet with a GX AXS kit. Admittedly, I had some bad luck with a bum chain and initial setup challenges. But, once dialed-in, the Rival/GX AXS mullet has been fantastic. And, to get full wireless for around $1500 means thousands of everyday riders can enjoy SRAM's AXS on affordable bike builds from just about every manufacturer. Plus, going with the mullet means ultra-wide gearing for the gnarliest terrain.
Read More: SRAM Rival GX AXS Mullet