Now in its fourth generation, the Santa Cruz Tallboy is something of a legend. Since its introduction in 2009, the Tallboy has been built around the VPP suspension design. It has also maintained itself as something more than just an XC bike. Now that it's billed as the "downhiller's XC bike," how much of the original, zippy character is still there? And, at the other end of the spectrum, just how hard can you push the Tallboy in the roughest terrain you can handle? The answer is this bike can tackle just about everything in the middle of the bell curve.
2021 Santa Cruz Tallboy CC 4 X01 Features:
Progressive lower link-mounted VPP design
Fox Float Factory DPS shock with 120mm travel
Slack, 65.5 degree head angle (65.7 deg in Hi setting)
RockShox PIKE Ultimate 130 fork
CC carbon ensures the lightest and strongest carbon Santa Cruz offers
Adjustable geometry via flip chip and rear dropout
Santa Cruz Reserve 27 carbon wheelset
SRAM X01 Eagle groupset with X1 Carbon cranks
SRAM G3 RSC brakeset
Santa Cruz carbon low riser bars
RockShox Reverb Stealth dropper post
Weight: 28.05 lbs (large, actual)
MSRP: $8899 (with Reserve 27's)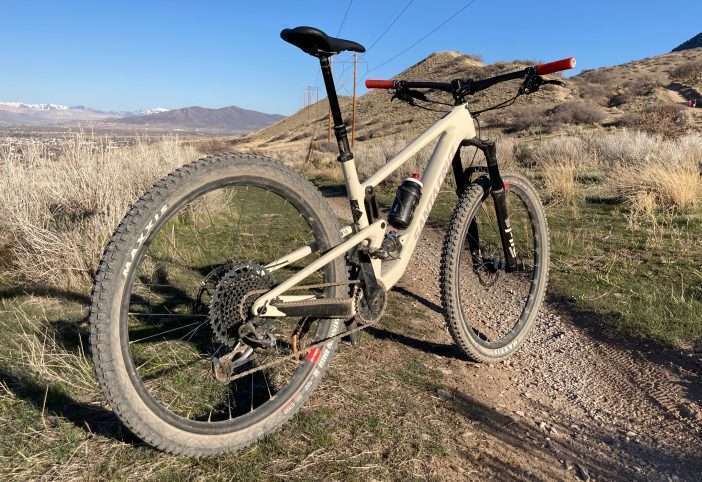 Tallboy X01 is kitted for success
In the current bike environment, it's difficult to be too choosy with the parts spec of any bike in your LBS. From high-end to entry-level, parts and components are getting difficult to come by. With that, SRAM seems to be in the best position as far as availability and it just so happens that the SRAM X01 Eagle kit was both available and preferred groupset for the Tallboy 4 test.
Outfitted with a full SRAM X01 Eagle drivetrain, mated to the new SRAM X1 Eagle Carbon crankset, there's nothing really left to be desired, unless you want the beauty of AXS wireless shifting. In addition, the Tallboy X01 came with the Santa Cruz Reserve 27 wheelset and 800mm carbon riser bars. No expenses were spared with the Fox Float Factory DPS shock, RockShox PIKE Ultimate 130 fork and Reverb Stealth dropper to round out the package. Again, this is as kitted as anyone would ever reasonably need on this bike.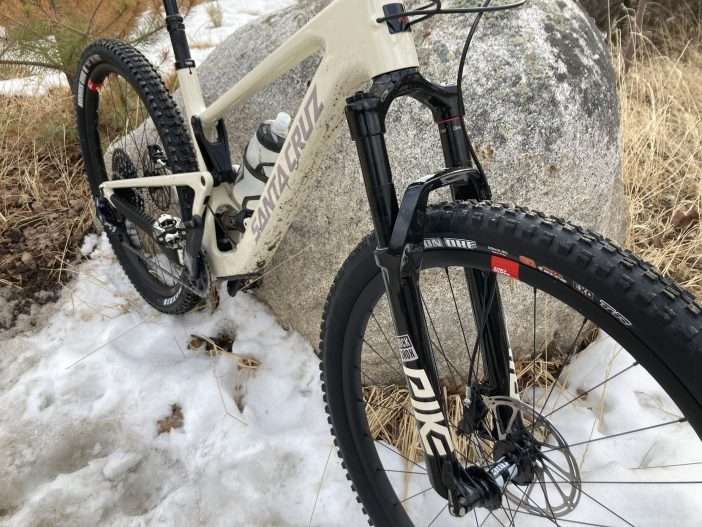 House-brand parts are becoming more common — even among high-end brands like Santa Cruz. Their ability to tap into the greater buying power and resources of the Pon Bicycle Group has delivered high-quality carbon wheels and riser bars that perform at a high level while allowing product managers to design and spec each part as appropriate for the bike and intended use. In short… Santa Cruz has spec'd quite the bike here and the foundation is something truly unique. We're talking a 65.5 degree head angle and ultra-short 430mm chainstays, mated with a long and low geometry that's uncommon in the 120mm travel space.
Okay, with all that, how has the full kit performed? Like a champ. Every component and part has performed at a high level without any fuss whatsoever. Shifting has remained fantastically crisp and fast and the progressive VPP suspension hasn't made a peep. There's no rattling or squeaks anywhere so you can focus on spanking the terrain.
Racking up the test miles
Since the Tallboy 4 arrived in the dead of winter, I had to initially be creative with my rides. As the weather has warmed, I've been able to venture deeper and deeper into the type of terrain that the Tallboy is made for. From the outset, I had the frame in the Lo setting, just to see how it behaved. No question, it feels supremely capable and smooth on rough descents, but it wasn't quite as snappy as I would like. After a few rides, I changed to Hi setting and never looked back.
Each rider needs to decide what they expect from their Tallboy and I want it as nimble and quick as possible. So, Hi linkage setting with 430mm chainstays was where I settled. Again, should you want to sled this bike out for lift-serviced or more gnarly terrain, you can do that very easily. In addition, the fork and shock are extremely-tunable with actual adjustments that can be immediately felt. It is 2021 and shock technology is leaps-and-bounds over those of just a few years earlier.
Ultimately, it's player's choice for you to tinker and dial everything in. Honestly, once I got the settings sorted, I left the shock in medium mode (used to be called trail mode) 95% of the time and felt that was ultimately the best way to enjoy climbing and descending on the Tallboy 4. I ended up dialing in the low speed compression on the PIKE to reduce fork dive on standing climbs and sprints. It really wasn't rocket science, but did take a few rides to nail it.
To be fair, I'm more of an XC rider than enduro and 120-130mm travel is about the most I would ever need. In fact, at 100mm travel, the Tallboy 2 that I rode and tested in 2014 remains something of a legend as I once nabbed Strava hardware on the 18 segments I rode on one particular ride. Now, that 100mm travel Tallboy, while legendary in my mind, is a relic of days gone by because the 2021 Tallboy 4 is built to meet the demands of today's riders and is both heavier and less zippy than the Tallboy 2. But, it remains a ton of fun on the trails — just in different ways. 
Climb up anything (for realz)
At 28 lbs, the 2021 Tallboy 4 X01 isn't the most lightweight bike around. And, I'd be lying if I said you won't notice it on long climbs, because you will. Again, I'm coming off the 24 lb. Trek Supercaliber 9.8, so an extra 4 lbs. is definitely apparent. But, most folks don't have such a lightweight bike, so 28 lbs is reasonable all things considered.
What's most beautiful about the bike's climbing ability is just how capable it is. While it's not wicked-light, it can climb up anything with panache. I typically just settle in and let the bike propel me upwards. The low-slung VPP design really contours to the terrain and maximizes your power to the wheels. Honestly, there's no need to lock things out — I just keep the shock in medium setting. Standing, when needed, is a great way to mix up your cadence and also get through technical bits. Just keep in mind that you'll still need to find the proper balance point to maintain rear wheel traction.
Even though the head angle is 65.7 degrees in Hi setting, the front end doesn't wander on any climb. I can power through technical, loose climbs and the steering remains straight. That balance point is something that Santa Cruz has nailed here. You'd think steering would flop around on these climbs, but it doesn't at all. I simply remain seated and lean forward just a touch and confidently spank all the climbs. Long, sustained climbs aren't quite as fast as I can get on a lightweight XC bike, but it's no slouch.
Further evidence of the balance of the entire geometry is that the Tallboy 4 is easy to ride hands-free and doesn't ever feel floppy. Hooray for technology and R&D because this bike is dialed. Speaking of dialing, a couple of clicks of low speed compression on the PIKE and the fork remains stable for standing efforts while staying squishy on descents. Longer-term, my hope is to get some lighter tires and a touch longer stem to try to XC this bike out a wee bit (stay tuned).
Rolling terrain
Everyone loves hero trails that have a little bit of climbs and descents for maximum enjoyment. These roller coaster trails bring out the best characteristics of any bike and that's no exception here. One such trail found at my local trail system is called Fault Line. At just shy of a mile with only 50 total feet of climbing, this little loop rides fast and requires an adept mix of dropper post mastery and standing climbs with some awesome sweeping turns around every corner.
While a PR on this segment remained out of reach of the Tallboy, it hangs with some of my best times and I'll continue to push it as the weather warms and it just might crack the top 5.
Descends like a Santa Cruz should
When it comes time to let the Tallboy rip, there's no ignoring just what Santa Cruz bikes are known for — playing with gravity. A few pedal strokes to get up to speed and you'll be able to roll through anything with absolute confidence. Sweeping in/out of corners and pointing it through rock gardens are just the beginning because this bike is a blast on descents. Be warned that you do need to get up to speed before you can enjoy the best of the Tallboy, but even at low speeds the bike remains balanced, even if the steering is a little slow.
When it comes to great descending bikes, there's nothing more fun than entering a turn at speed and exiting like being shot out of a gun. That's the feeling you'll get on the Tallboy. If it doesn't put a huge grin on your mug, you need to check your pulse because this bike is an absolute hoot to descend on.
Between those hero turns, any drops or terrain features become child's play as you can enjoy airtime, manuals or whatever you want to do. It's under these conditions that the super-short 430mm chainstays shine and really shows the genius of Santa Cruz designers. It's a blast to rip downhill. The 130mm PIKE Ultimate is a great match with the Tallboy and allows for responsive handling and maximum bump absorption. You'll notice that the suspension is tuned to absorb everything, so it feels more damp than lively through rough stuff. My body definitely appreciates that smoothness.
My Setup: I'm 5'11" / 170 lbs. and rode the size large. The fork was set at 80 psi. and the rear shock at 180 psi. The tires were setup tubeless at 20/21 psi. front/rear. I changed to the Ergon GE1 Evo Factory grips and left everything else stock. And, finding one these days may require added patience. Inventories are coming. Call your local dealer to find out more.
The Good
Rips sweeping descents
Balanced geometry allows for wander-free climbing
Traction galore
The entire parts kit is flawless
VPP has been dead silent and pivots can be user serviced
Gets you into and out of trouble without worry
Santa Cruz riser bars and wheels shine
Water bottle placement is super easy to reach
Haven't thought one bit about the drivetrain, dropper or wheels (they just plain work)
Feels planted to the terrain
Loves to manual — so fun to wheelie through dry creek beds at speed
The Bad
A little heavy for a 120mm bike
XC crowd may want something nimbler
Water bottle blocks access to shock lever (I mostly kept it in medium anyway)
Chunky tires grip well, but roll slowly on long climbs
Not quite as nimble as previous iterations
This build is pricey (but leaves nothing to be desired)
The Bottom Line: Santa Cruz Tallboy CC 4
As the Tallboy has evolved, it has become burlier and burlier. Still, at its core, it it remains a fantastic do-it-all bike that can handle the terrain most of us ride. You won't want to line up at the local XC race with it, nor will you want to point it down the DH course, but you will want to climb and descend anything found in your local trails. You can push it and it responds. And, it can both get you into and back out of trouble without batting an eye. The Tallboy 4 is a blast of a bike for the masses.
Buy Now: Available at CompetitiveCyclist.com (hopefully, soon)
In Summary
The fourth-generation Tallboy remains a blast to ride everywhere. It does yield a little to previous versions, due to the added weight. But, it makes up for it with bomber descending skills and grins for miles on flowy/fast singletrack. I'd say if you're looking to get something more efficient than your 150mm travel machine, but don't want to give up the fun factor, this is your bike. If you're wanting a whiptastic XC machine, you may want to have a look at the Blur or Highball. For the majority of riders, the Tallboy will hit the perfect balance between gravity and XC.