It's time to look in the garage, the closet and our cars to determine just what gear has become indispensable during 2022. While overall quality remains high across the board, some items rise above and represent our editor's choices for the year. As it turned out, 2022 was a good year for bike gear as only one other item made the list. Here's to more great gear in 2023!
ENVE SES AR Road Bars
The shape of the ENVE SES AR Road Bar conjures up images of the U-2 spy plane. And, it does more than just fly higher than the rest by delivering class-leading comfort and precision for any road or gravel adventure. With just the right amount of flare and width, these bars have become like an old friend. If you're already set on going full ENVE cockpit, you won't scoff at the price because you know the level of performance on offer.
Read More: ENVE SES AR Road Bar Review
---
Giro Eclipse Spherical MIPS Helmet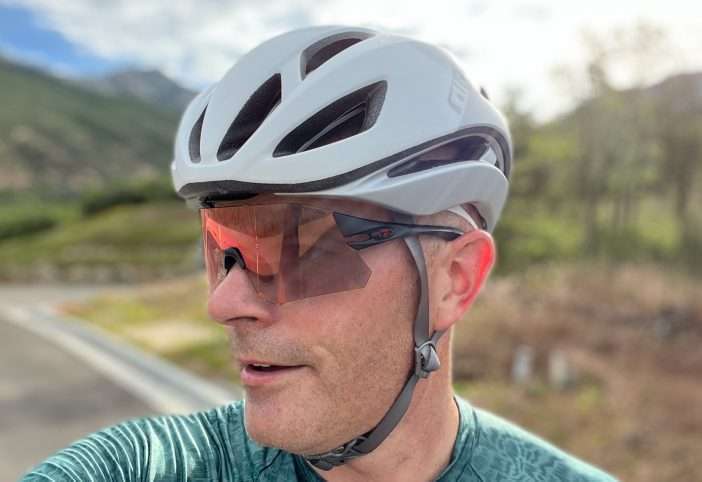 If all-out speed is your game, then the Giro Eclipse Spherical helmet is a great riding partner. Be it road, gravel or dirt, I'm confident that the Eclipse Spherical will make you faster while breathing as well as the top non-aero helmets on the market. Overall, you've got a lightweight, comfortable helmet that slips through the wind and provides class-leading protection.
Read More: Giro Eclipse Spherical Helmet Review
---
Redshift Sports Arclight Smart LED Pedals
We don't think we had more fun with a single product this year than the Redshift Sports Arclight pedals. For sheer fun, turning on front-and-rear uber bright flashies on an urban trail is hard to beat. You feel like an ambulance rolling down the road; in Seattle traffic, that was invaluable. These ones are easy to recommend and we're excited for future iterations with trimmer weights and clipless pedal integrations.
Read More: Redshift Sports Arclight Smart LED Pedals Review
---
Tifosi Rail Sunglasses
Big shields are all the rage, and with good reason. That much protection and field-of-vision is killer on fast descents or tricky terrain. The Rail will adjust to your face and stay put like glue. And the Fototec lens automatically adjusts to whatever light conditions you encounter. In a world of $200 sunglasses, the $79 price point is refreshing. When looking for sunglasses for road, gravel, MTB or trail running, the Rail are the ones I grab.
Read More: Tifosi Rail Sunglasses Review
---
RockShox Reverb AXS Dropper Post
Paired with the SRAM AXS ecosystem, the RockShox Reverb AXS Dropper is a logical companion. With the large button on the controller, it's easy to tap — no matter how rough the terrain is. Every tap responds in a jiffy to get the saddle out of your way or back in place for efficient climbing. I've had no issues with the performance after significant testing and it works just as smoothly as it did on day one.
Read More: RockShox Reverb AXS Dropper Post Review
---
SRAM Rival XPLR eTap AXS Groupset
Hitting the sweet spot of gravel gearing, SRAM's Rival XPLR kit is affordable while providing enough range to cover most gravel terrain. The AXS ecosystem is easy to live with and going 1x further reduces complexity. Shifting is reliable and smooth and available gear ratios deliver plenty of gearing for all the gravel terrain I ride.
Read More: SRAM Rival XPLR eTap AXS Review
---
The North Face VECTIV Infinite
In a short amount of time, I've come to really dig these shoes. With foot-cradling uppers and a rockered sole, The North Face VECTIV Inflite trail runners have a winning strategy. I love how nimble they feel underfoot and how each step rolls smoothly to the next. With them, I have set new PR's and my 40-something joints don't complain one bit. As an added bonus, the Matryx® uppers are breathable and bombproof — not a typical combination.
Read More: The North Face VECTIV Infinite Review
---
Pearl Izumi PRO Alpha Layer
Pearl Izumi is always looking to the best fabrics that perform at the highest levels. For lightweight warmth and moisture management, there's nothing better than Polartec Alpha Direct. As a mid layer, the warmth provided is amazing, yet it breathes extremely well. Instead of grabbing a thermal jersey this winter, I'll be grabbing the PRO Alpha Layer and pairing it with a variety of shells depending on the weather.
Read More: Pearl Izumi PRO Alpha Layer Review
---
Trek Domane+ SLR 9 eBike
As the first long-term test of a lightweight eBike, the Domane+ sets a high standard. The Domane+ SLR 9 truly feels like a traditional road bike in almost every sense. The fit is comfortable and accommodating and it responds to rider input. With a quiet, TQ Harmonic motor, the Domane+ sits in a class on its own, but it does come with a hefty price tag. The bike is an absolute blast for winter training or hill repeats and seems to push me harder than I had anticipated because you want to put in even more work to see just how fast you can be with the help of a motor.
Read More: Trek Domane+ SLR 9 Review
---
Patagonia Storm Shift Jacket and Pants
This kit merited a Gear of the Year pick not just as a stellar resort-focused, feature-rich combo; like we emphasized in our review, Patagonia's application of the new GORE-TEX ePE fabric is what really makes this stand out. It's functionally indistinguishable from GORE-TEX's traditional two-layer membranes, with great durability, waterproof performance and breathability. Kudos to both companies for pushing the boundaries in 2022.
Read More: Patagonia Storm Shift Jacket and Pants Review
---
Pearl Izumi Expedition PRO Bib Shorts
Pearl Izumi may have hit the nail square on the head with these new bibs. The Expedition PRO's have added storage, luxury feel and a superb chamois to keep you going all day long. That drop-tail design is unique as well. These have a lot going for them and sit comfortably among the benchmark bib shorts on the market.
Read More: Pearl Izumi Expedition PRO Bib Shorts Review
---
Castelli Mortirolo Gloves
Throughout the years, I've found Castelli's cold-weather gear to be the benchmark of performance and the Mortirolo Gloves certainly meet those high expectations. I have found the fit to be bonkers and on-bike performance is equally outstanding. For the right temperatures, these gloves are now my absolute favorites.\
Read More: Castelli Mortirolo Gloves Review
---
Velocio Ultralight Jacket
As far as compact wind jackets go, the Velocio Ultralight has got game. It's a little more expensive than others, but it delivers one of the best fits and fabric quality you'll find. Breathability is outstanding and sleeve lengths offer perfect coverage. No question, this is my new go-to wind jacket for summer adventures or cool shoulder season rides.
Read More: Velocio Ultralight Jacket Review
---
WTB Ranger 29×2.4″ Tires
Looking to drop weight and roll faster on the local trails, but still want capable traction? I can confidently recommend the WTB Ranger's for aggressive XC and trail riding. This tire isn't new, per se, but it quickly blew me away this year. With a round shape and widely-spaced knobs, traction is stellar for climbing and descending. And, tubeless install is a breeze for a swear-free setup.
Read More: WTB Ranger 29×2.4″ Tires Review