How do you introduce a jacket like the Arc'teryx Alpha SV? It's like trying to introduce the ice axe, or a piton. The Alpha SV is a tool, made in Canada for the harshest alpine conditions across the globe. We've already seen how the newly redesigned 2016 Alpha SV stood up to its predecessor, and now after lots of ice and rock and abrasion it's time for the scoop on the newest iteration of an iconic jacket.
Arc'teryx Alpha SV Jacket Features:
Helmet compatible Stormhood™ with laminated brim and adjustable hood cinch cords
Tall collar with chin guard
High crossover pockets
Internal chest pocket with zip
One internal dump pocket
Left bicep pocket with WaterTight™ zip
WaterTight™ zippers with Vislon front zip
Pit zips for easy venting
Ergonomic e3D patterning for additional level of articulation
Cohaesive™ hood adjustments for ease of use with mittens or gloves
N100p-X 3L GORE-TEX PRO fabric
MSRP: $749
Yes, it'll do the job
To begin, a word or two about how I used the Alpha SV. I've been glad to have around three whole months of testing in this bad boy, and before that I had taken the Alpha SV that I bought previously to such places as the top of Mt. Rainier. This new Alpha SV, though, went to quite a variety of places: the Enchantments, the Sierra Nevadas, Radium Springs, Canmoore and Banff. This isn't even to mention the regular use it got playing in and around Spokane. It's been scraped by Cascades granite, nagged at by the picks of ice tools and frozen to more than one chairlift. My main interest is alpine climbing, but you can see that it's been able to come around the block with me.
It's worth asking at the start how any jacket could be worth $750 USD (Canadians will complain that their sticker price is higher), considering all of the other gear you could buy with that dough. You could fund a dirtbag trip to Yosemite with that kind of money, for goodness' sake. But the Alpha SV's answer to the cost question is pretty simple: "I am the best you can get." For those with kids, it's Mrs. Frozone's classic line, "I am the greatest good you are ever gonna' get." And that really is the skinny — the Arc'teryx Alpha SV is the most durable, lightest and best-manufactured alpine shell available.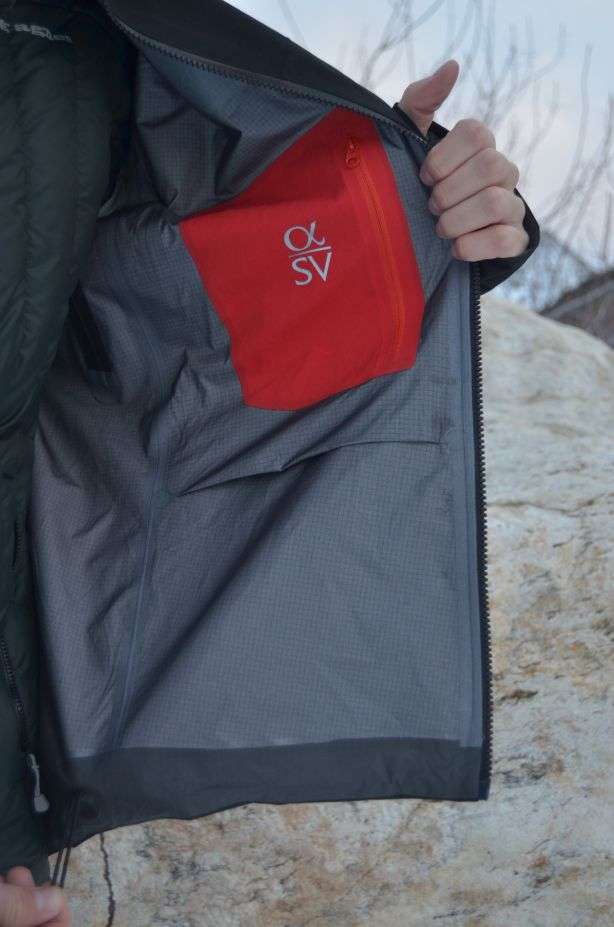 Another line to observe here is the type of people you see wearing an Alpha SV. I was in Canada ice climbing for a week recently and I had to chuckle at what the locals were wearing at the falls — all Arc'teryx, and I spotted three other Alpha SV's on the same day. It's a great tool for someone like me who works as a guide in the summers, but if you've got that Canadian spirit then it makes perfect sense to wear one around both the ice falls and downtown Banff.
I have to say, the Alpha SV is also one of the best-manufactured pieces of outdoor gear available. The Alpha SV is the last jacket that Arc'teryx is making full-time in Vancouver because it's designed for critical use like guiding. I've tested dozens of jackets, and none of them have seams that are straighter or taping that's neater than the Alpha SV. It is extraordinarily well-made.
OK, enough hype. It's a great jacket, but let's talk about how it does when you thrash it. The most obvious place to start here is the jacket's fabric, a weave that Arc'teryx calls 'N100p-X' as the face to the 3L GORE-TEX Pro fabric. This fabric is a bit of an enigma: it is an incredibly burly 100D weave that manages to be lightweight and quiet; normally when you see heavy-duty face fabrics like this in a jacket, the shell sounds like a potato chip bag (that's how the old Alpha SV was). N100p-X, on the other hand, has a relatively quiet, soft handle. Indeed it's almost waxy-feeling, as if that layer dampened the sound. I'll touch on the fabric again when we get to real-world testing.
A burly face fabric won't do any good if the interior layers aren't protected. On the inside, you'll find the signature gridded appearance of modern GORE-TEX Pro fabric. The inside of the jacket features carefully laminated reinforcement along the hem, cuffs, and helmet brim to help guarantee longevity. The interior sports two fairly small pockets, one a mesh stuff pocket and the other a zippered pocket just right for a phone. There's not a great deal of storage space inside of this sleek beast.
One of the most distinctive things you'll notice inside the Alpha SV is how sparse the seam taping is. One of the significant moves that Arc'teryx made with the 2016 redesign was to reduce the number of seams in the garment overall. This is on top of their uniquely thin seam tape, which they pushed W.L. Gore to develop earlier in the Alpha's lifetime. The result, for the user, is a lighter and more breathable alpine shell.
On the outside of the jacket, the features are all there but are very tightly designed. For example, the new system for locking the head is a single 'Cohaesive' unit on each side of the hem which integrates the drawcord pull point. This replaces the old Alpha's HemLock foam roll inserts, which were effective but undoubtedly less sleek than the new Cohaesive units. Cohaesive touchpoints can also be found on the hood adjustments. They release tension with a simple push-button feel. The other two hood adjustments (brim and collar) are the more traditional, exposed design.
Two crossover pockets provide the bulk of the Alpha's storage ability. These two pockets are large enough to welcome just about anything you'd need to stash, short of a water bottle. Notably, the pockets are steathily gusseted. This means that the pocket expands when you put stuff into it, rather than stretching tight across your chest. Most, but not all, alpine shells are built like this.
The zippers here are the new Arc'teryx WaterTight garage-less zippers, which are highly water-resistant. The idea here is that the zipper head has a cutout that snugs up and overlaps with the plastic at the end of the zipper track, creating a sort of mechanical seal instead of just sheltering the opening like a zipper garage would do. I haven't noticed a performance difference between these and traditional designs, and they do safe weight. That's a win.
The last feature to get to before we talk real-world testing is the cuff design. Arc'teryx included a die-cut velcro cuff that is structured enough to resist snagging. The cuffs themselves are sized just right, loose enough to fit over small gloves and tight enough to fit under expedition mitts. There's a slightly noticeable laser cut shaping to the cuff, helping you to get a neat seal without any uncomfortable wrinkles when you tighten them up.
Alrighty, that's it. Let's get to real-world testing. I had a blast in this jacket, doing everything from snowshoeing to skiing to ice climbing. We'll talk about overall fit, then fabric, then any features that stand out in-use.
The Alpha SV is cut large, generous enough to accommodate a belay parka underneath without compressing the insulation unduly. For my 5'11", 185lb frame, the Large that I tested almost feels too voluminous. If I wanted to wear the Alpha SV around town, I would size down because mine is so big on me that it looks like a tarp.
However, in the mountains, that translates into pure gain. The Alpha SV is carefully tailored to provide excellent range-of-motion for activities like climbing and ski touring. Underarm gusseting creates a 'no-rise' effect where the jacket's hem doesn't ride up, even when you raise your arms above your head to swing at the ice. Lateral motion is equally comfortable in the Alpha SV; you could dance in this jacket if you wanted to. That extra space is a boon here because it means that you won't feel any sharp tugs when you run out of fabric when stretching a certain way. And, like I said, there's lots of room to layer underneath.
The only snag I found with the Alpha SV's fit is one then many jackets fall prey to, and that's range-of-motion in the neck and hood with a large helmet on. I have a bulky ski touring helmet from Mammut and boy, it's a big one. Although the Alpha SV's StormHood is larger and better-suited to this type of helmet than most, I still felt some tightness at my neck if the zipper was up high or all the way with the helmet on. The solution here is practical: just unzip your zipper a bit and you won't even notice it. Arc'teryx didn't want to create a hood so large as to be distracting and they've done better than most, but you may still notice some constriction with very large helmets.
The GORE-TEX Pro bound to N-100pX fabric is a winning combination. It's incredibly strong, even for a heavy-duty alpine shell. It's a 100D fabric, which is the type of weave that you're more likely to see on tent floors, packs, or things of that nature. Your average alpine shell runs from 20D to 40D, and maybe 80D if it's exceptionally burly. But by putting the denier at 100D, Arc'teryx doubled the fabric's strength and only lost something like 3g/m2 over the previous model. This means that the Alpha SV is simply the best when it comes to things like abrasion and tear resistance.
That said, I still managed to put a hole through it. Some Cascades granite got through the shell fabric and was able to put a hole through the GORE-TEX Pro beneath. I wasn't unduly worried about this because I've used Arc'teryx's warranty program before and know it to be excellent. But I mention it because, well, nothing's indestructible. My best guess for how this rip occurred, by the way, is when a bush belay I was using gave out and let me tumble a few feet onto a boulder. Good times. I can't really fault the Alpha SV for something extraordinary like a fall.
Naturally I used this jacket almost exclusively with gloves. Fortunately all the zips slide as easily as you could ask for, but even Arc'teryx can't eliminate the awkwardness of opening a pit zip, especially with a pack on. It's always a hassle unless you've got a good friend around. The main zip and pocket zips slide very smoothly, and I think the toothier design of the main zip helps it to avoid some of the snag points that finer waterproof zipper teeth are prone to as the zipper tracks along curves and folds.
That said, the ultralight micro corded zipper pulls can be tough to get ahold of with cold fingers in expedition-style gloves or mitts. Nimble ice climbing gloves to fine, of course, but if you're often in very cold temperatures with clunky gloves you might want to swap out the zipper pulls. I have to say, one of the major benefits of the WaterTight zipper heads is that you don't need to do any finagling to make sure the head is in the zipper garage; instead, as long as it's zipped up you know you're good to go.
During my testing, this jacket shined the most while I was ice climbing at several of Canada's favorite destinations. It simply slays waterfall ice. On warm days, the fabric is more than up to fending off the constant showers, drips and drizzles. I never got wet. If I put the hood up on belay, the highly structured brow (which lacks a wire, but also doesn't need one and thus avoids the inevitable wire kinks) keeps my field of vision clear while the hood adjustments make sure the hood stays with my head.
The drop hem also keeps your butt dry if you choose a seated belay or are pressed up against the ice on an awkward angle. The single most noticeable feature, though, is Arc'teryx's extraordinary alpine fit. When you're swinging your tools into ice, you don't want to be thinking about anything except how that pick feels when it strikes. The Alpha SV lets you focus – it just doesn't get in your way.
The Good
Exceptionally strong and durable for its weight; N-100pX is an amazing fabric
Thoughtful feature selection minimizes excess weight and maximizes usability
New WaterTight zipper heads cut weight and work flawlessly
Fit for alpine endeavors is perfect, with no snags or tight points when moving
New hem lock system works very well and doesn't rely on dorky foam pieces
Cuff design and fit is perfect, adapting to lots of applications and glove types
All shock cord features work as intended
Careful brim design cuts out weight/hassle of wire brim
The Bad
The largest helmets will feel encumbered by the Alpha SV's Storm Hood
I'd prefer a wider internal stuff pocket opening for gloves
The Bottom Line: Arc'teryx Alpha SV
The Arc'teryx Alpha SV is a legendary piece of kit. At rock bottom, though, it's basically just a tool that either helps you focus on the moment or not. That said, in the lineup of alpine workhorse shells, it's undoubtedly the strongest for its weight. There are lighter shells and there are more breathable shells, but none of them are going to keep the nasties out better or longer than the Alpha SV.
Buy Now: Available from Backcountry.com
In Summary
Perhaps the best way to keep in what you want in, and out what you want out in the mountains.