We all need a good puffy jacket for wintertime, but they're not all created for the same purpose. Some are ultralight dilettantes which rip if you look at them wrong, others are burly cotton big-baffled puffies which leak goose down with every movement. And, of course, some of them are more well-rounded. Sitting happily at the top of the well-rounded category is the Arc'teryx Cerium LT hoody. This puffy has been my go-to for early season backcountry skiing and has been perfect for day-to-day use in wintery Spokane.
Arc'teryx Cerium LT Hoody Features:
850-fill goose down is light and compressible
Coreloft insulation for areas prone to picking up moisture
Lightweight Arato 10D shell with DWR treatment repels moisture
Adjustable, insulated StormHood doesn't block vision

Jacket stuffs into pocket for easy packing

Slim fit makes it easy to throw on under a shell
10.8oz claimed weight
MSRP: $379
So are those Archaeopteryx feathers, or…?
Just teasing everyone. It's goose down. Specifically 850-fill premium European goose down. We're not even 100% sure the Archaeopteryx had features. In any case, if you find yourself interested in new puffy jackets this winter, you may well want to consider the highly refined puffy that is the Arc'teryx Cerium SL. Let's get started with the insulation.
At the heart of the Cerium LT is its 850-fill premium goose down. This is seriously nice stuff; 850-fill is about as good as you can get. As everyone knows, goose down is ideal for dry, cold days where weight and space are a priority. The 850-fill goose down compresses extremely well and the whole things winds up being a little bit smaller than a Nalgene. It does this, by the way, thanks to an integrated stuff sack that's in the interior chest pocket. I like this method over having the jacket stuff into its own pocket, because half the time that results in an incredibly tight fit and it feels like you're going to bust the zipper. None of those issues exist with Arc'teryx's integrated stuff sack.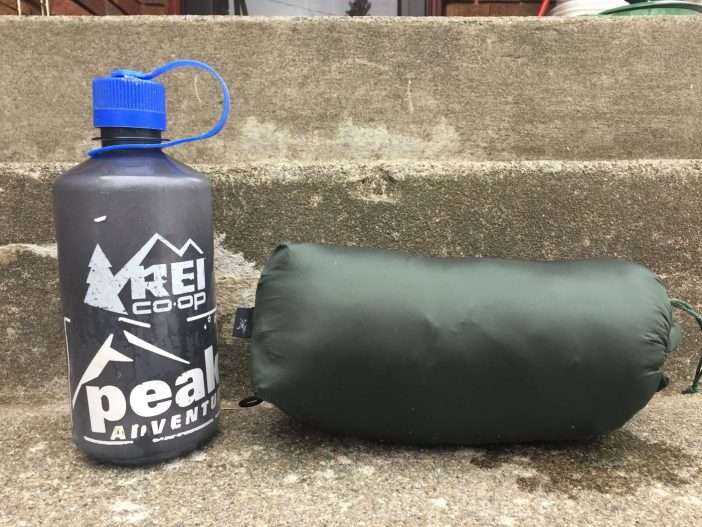 Coupled with the goose down fill is Arc'teryx's proprietary Coreloft insulation. It's an active insulator that handles moisture and sweat very well. The Cerium LT features 'Down Composite Mapping' which just means that they've placed synthetic insulation in areas that are particularly prone to moisture. These areas include the hem of the jacket, the collar and the armpits. The Coreloft comes in two different weights (80 and 100g/m2), with the lighter material in the pits. The result is a jacket that maximizes packability and performance in wet weather.
The Cerium LT's foundation is a 10D nylon weave called Arato. There's nothing particularly special about a fabric named 'Arato' but there's no doubt that tightly-woven 10D nylon is a great fabric. It's got three major perks: for one thing it's light weight; for another, it's so tight that it's largely windproof; finally, it does a pretty good job at holding goose down in the jacket. The DWR treatment, coupled with the fine weave, helps the Cerium fend off flurries and light sprinkles.
A number of customers have reported that the Cerium LT leaks down excessively. I have to say, I haven't had that issue. Generally speaking, the exceptionally fine 850-fill feathers stay in the jacket much better than lower-grade down that has stiff spines.  I have noticed some mild down leakage but it's nothing out of the norm for a new-ish puffy.
The fit of the jacket is one of my favorite aspects. The Cerium LT is cut long, both in terms of its sleeves and its hem. I think it looks really sharp, but even more than that it performs well. The long hem stays put if you happen to have this on under a harness, or if you take a fall in powder. Longer coverage also helps keep strong winds from swirling around your delicate torso, too. So, all in all, longer coverage is a great thing. It's strange to me that Arc'teryx eschewed traditional sprung toggles to hold the hem adjustment in place; instead, they have these little plastic friction pieces and take two hands to manipulate. Kind of a weird choice, but it saves weight and eliminates a part that can break.
So how does the Cerium LT do in actual use? As I said at the beginning of the review, it's been my go-to backcountry ski puffy, and I think that's a great way to put a jacket through its paces. I've also taken it for some resort skiing. Overall, it is warm for its weight and that's a great thing. The jacket weights 13oz in total with 3.4oz of that being insulation; the 850-fill goose down is worth its weight in gold. The jacket features a diminutive draft tube along the length of the zipper, and it can get overwhelmed by strong winds blowing chills into your jacket. The baffles are all stitch-through and therefore allow some wind through, like any other stitch-through puffy.
A practical aspect that really shines is the Down Composite Mapping. I love that there's synthetic insulation in moisture-prone areas around my mouth, pits and hem. Wet goose down sucks, not so much because those areas suffer when they loose insulation, but because it can take so long to dry in the field. The Coreloft replacement eliminates the issue. This is most appreciated in the armpit areas when I toss the Cerium onto my inevitably sweaty self at the top of the skin track.
Another odd aspect that affects the jacket's performance is the somewhat extraordinarily small zipper head. It's weird. The jacket uses a narrow-gauge zipper track to save weight, and one outcome is that the zipper head is small enough to be impossible to manage with gloves, and threatens to break down the road if used harshly. So, be careful with it. Arc'teryx's rationale behind this was almost certainly to save weight and stick to their ethos of functional minimalism, but I think this was a misstep. It raises bigger questions of durability when combined with the inevitable struggles of a 10D fabric over time – trips will likely be a part of this jacket's working life cycle, if you actually get out there. But, truly, they make fabric patches for a reason.
The Good
Truly excellent insulation, fabric and construction quality
The fit offers a lot of coverage to seals out Old Man Winter
Hood design fits well, doesn't block peripherals and seals nicely around your neck
Down Composite Mapping is a great performance-enhancing feature to handle moisture
Integrated stuff sack beats the 'stuffs-into-its-pocket' any day
The Bad
Small gauge zipper seems like a misstep
The Bottom  Line: Arc'teryx Cerium LT Hoody
If you need a warm, stylish puffy for this winter, Arc'teryx has you covered. They excel at crafting performance outdoor gear that also looks great around town, but the emphasis always stays on performance. The Cerium LT fits the same pattern – it performs extremely well, and looks great. For a puffy made with top-notch materials and thoughtful zoned insulation, the Arc'teryx Cerium LT Hoody is a gem.
Buy Now: Available from Backcountry.com