One word to describe the Arc'teryx Macai Down Ski Jacket: HOT (temperature). With the Macai you can effectively say goodbye to being cold while riding the resort, but it doesn't stop there with this top-shelf ski parka — it's packed full of every feature you could ever want in a resort-friendly design.
Arc'teryx Macai Down Ski Jacket Features:
Fabric: 3-layer GORE-TEX Pro fabric with tricot
750-fill-power European goose down (90g), Coreloft 100 (100g/m) and Coreloft Compact 60 (60g/m)
Removable hood
Removable powder skirt
Pit zips for ventilation
Weight: 2 lbs. 4.5 oz.
Price: $949
Macai offers insulation and warmth, not bulk
The Arc'teryx Macai Down Ski Jacket is a masterpiece for resort skiing. Top of mind for me was staying warm, especially on frozen, windy chair rides. The Macai features a combination of 750 fill down and synthetic insulation in the body and arms to fend off the cold. An insulated hood and collar round out the insulation. My first day out I completely underestimated the jacket and wore a baselayer and midweight baselayer and I absolutely roasted! I've since dialed it back and most days I only wear a baselayer.
I'm an aggressive skier and I work hard, so I heat up a lot on the descent. The Macai is so warm that the pit zips are permanently open (except for super windy days) and most chair rides I'm unzipping the jacket to cool off. The coldest temps I've been out so far have been in the single digits and cloudy and I've stayed plenty warm!
All of that warmth does come at a price: the Macai is hefty (but it doesn't look it)! Clocking in at just over 2 pounds, this is a frontside jacket only. I had one day where I wanted to hike to access a far ridge — about a 10 minute walk — and I was absolutely roasting, even with the jacket unzipped and pit zips open.
In spite of all the insulation and features, the Macai is an agile jacket. Insulated ski jackets have a tendency to be bulky, restrict movement, and generally "get in the way". I took the Macai everywhere from screaming groomers, skiing deep pow, moderate park runs, and everything in-between. The jacket didn't restrict or bind no matter what I threw at it.
Arc-teryx's legendary craftsmanship shows 100% through the Macai. The fit is great. At 6′ and 195 lbs the large fits me great. There's enough room to layer underneath without being restricted, yet, without layers it still fits well. I have a positive ape-index and sleeve length has been an issue for me with jackets. The sleeves on the Macai are long enough to stay in place, even when stretching my arms out — something that everyone appreciates.
3-layer GORE-TEX Pro keeps all the weather out. It rebuffs even the strongest wind and keeps all moisture at bay. Breathability was harder to get a gauge on with all the insulation and with how much heat I was putting out. However, the GORE-TEX Pro fabric has their highest breathability rating so you can be assured it's breathing well. I never noticed it getting swampy, yet it was still pretty warm.  Pit zips were a necessity to dump heat effectively.
All zippers are water tight, providing an extra level of protection for your goods. One thing to remember, the zips are water resistant, not proof. I would have liked to see zipper pulls that were more stout. In cold conditions I ski in full leather work gloves and it was hard to feel the zipper pulls without either looking or taking off my gloves.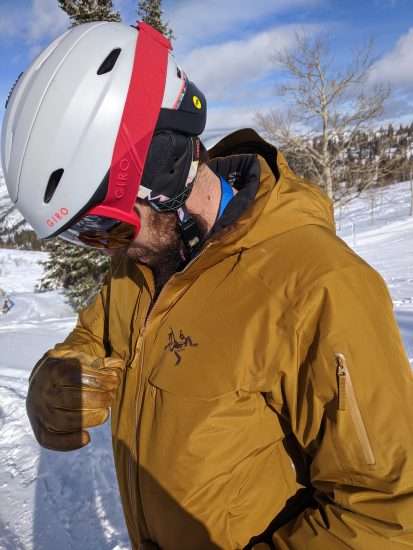 The pocket game on the Macai is good, not great. A total of five pockets will keep you organized. A small pocket on the left sleeve is built for RFID passes but also fits my keys well. The chest pocket zips on the top, making it harder to access what's inside. It also isn't large enough to fit your phone. My plus-sized phone didn't fit and my wife's iPhone 6 didn't fit either. I'm all for low phone usage when skiing, but when I'm having a proud-dad moment watching my kids and I want to document it quickly, that's when a good, phone-friendly chest pocket comes in.
The two handwarmer pockets are lined so your hands actually feel cozy when using them. Inside the jacket there's one zip pocket and a mesh dump pocket as well. Overall, there are enough pockets to keep you organized.
Within one of the handwarmer pockets is my favorite small feature: a goggle chamois on an elastic cord that's actually long enough to reach your goggles without having to take off your helmet! No more dropping cloths or getting by using the backs of your gloves.
The Macai features an insulated, helmet-friendly hood that actually works. At first, I wasn't so sure if the insulation would actually help over the helmet but my head stayed noticeably warmer when in use. The helmet also moves with your head as you look around. To wrap things up, it's also fully removable if you want to rally without it.
The powder skirt is stretchy and coated with rubber to keep it in place. I usually don't ski with powder skirts as they always slide up. I used the Macai's for half a day and noted that it stayed in place, so I embraced it and it sealed out the elements like a champ. Note that it is also removable if you wish.
Last up, the Macai ranks high on the style index. Some may argue that style doesn't matter, however, admit it… you want to look good and the Macai delivers. Arc'teryx is known for low bulk, flat seams, and a generally smooth appearance. They were able to hit all of those points with an insulated, full-featured, fully weatherproof ski jacket!
The Good
The insulation keeps you super warm!
Fully weatherproof
Construction and materials are top of the line
Hood adds warmth and moves with you
Collar and removable hood gives options
Excellent sleeve length for proper coverage
The Bad
Chest pocket is too small for your phone
Zipper pulls are hard to pull with full gloves on
Eye-popping price tag
The Bottom Line: Arc'teryx Macai Down Ski Jacket
The Arc'teryx Macai is going to keep your warm, dry, fully weather protected, and looking good while your skiing. Hands down, it's worth every penny — particularly if you are cold-blooded and need a sharp-looking, ultra warm ski jacket.
Buy now: Available at REI