For some reason, Americans have a fascination with Australia. Whether it's Crocodile Dundee, Bluey or Outback Steakhouse, we love our Australian accents, music and pop culture. As many cyclists know, the island-continent is also home to a solid cycling culture and a few notable cycling brands. Attaquer is known for their attitude, fresh styles and collaboration efforts, but also for their functional and kits. I've had the Attaquer All Day Jersey and Bib Shorts in for extensive road, gravel and mountain bike testing this summer and it's definitely a unique offering in the kit space.
Attaquer All Day Jersey and Bib Shorts Features:
Built for long days in the saddle
Flatlock seams for improved fit
Jersey features anatomical wraparound design, hidden zip pocket and reflective materials
Bib shorts feature Signature chamois, wide straps, mesh uppers and a modern length
Pre-dyed fabric for high-intensity, long-lasting colors
Made in Italy from 100% recycled nylon
Tested: Parametric White/Black jersey and Navy/White Reflective Logo bib shorts
MSRP: $140 (jersey), $245 (bib shorts)
Fabrics and jersey performance
The All Day collection is now made from 100% recycled materials and handcrafted in Italy. This collection of bibs and jerseys are available in classic colors with both retro and 80's rock-and-roll styling. The Parametric jersey design tested reminds me of a Journey album cover from the 1980's. White was the color choice to remain cool and collected on the warmest summer days.
The All Day Jersey is made from a combination of two nylon materials in the body/back and sleeves/sides. With super-stretchy front and back panels, the jersey stretches to contour your body. And, the mesh fabric aids in airflow and breathability with modern sleeve lengths.
I was a little conservative with the jersey sizing — thinking it would be ultra-racy. In practice it isn't as snug as I thought and I could have sized down to a medium for a more compressive and racy fit. As it was, though, I appreciated not being a sausage as I wore the jersey on the road, trails and gravel.
While the collar looks low-profile in photos, it is taller than I imagined and tends to creep upward during the ride. This is particularly noticeable when riding in an aggressive position. As mentioned, the modern sleeve length looks great and the mix of nylon materials feels ultra-comfortable next-to-skin. The jersey moves with you and can provide excellent compression.
On the bike, the full-length zipper is easily manipulated up/down with a single hand. I'll say that the jersey does breathe reasonably-well, but the solid nylon front and back panels get saturated and sticky on long rides or in humid conditions. It reminds me of the MAAP Pro Evade Jersey I tested a couple of years ago, which turned into a body sticker while gravel riding in Oklahoma. On the plus side, I can wear this jersey every day for a week before it starts getting stinky.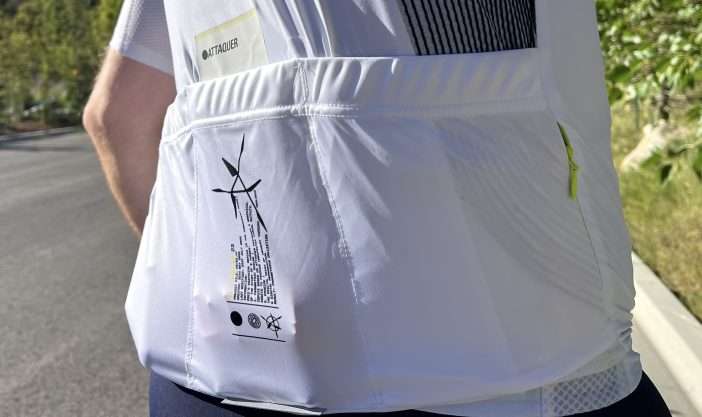 Jersey pockets are an important part of the livability of any jersey. These pockets are not bellowed, but can still accommodate plenty of dry goods on any ride. The thick and wide elastic at the openings isn't something I've ever seen before, but it does keep items from escaping. Unfortunately, the pocket height makes it difficult to access the center pocket as the elastic curves inward. There is a zippered sleeve, but it's mesh-lined, which won't protect items from perspiration.
With 360-degree silicone at the hem, the All Day Jersey stays put nicely. The length has been shortened with this year's update, but I found it plenty long for coverage. Lastly, the nylon front/back fabric has a rough time keeping the logos in place. Between ride wear and washings, the back logo now says AQUIR and the front is just AQ. The dyed sleeves remain perfectly-branded to highlight the "Advanced technologically technical advancements with quantum ultrasonic energy resonance. Patent pending." message. (Poking fun at the ridiculousness of some cycling kits.) Wrapping things up, I quite like the white/navy combo, so with that, let's dive into the All Day Bib shorts.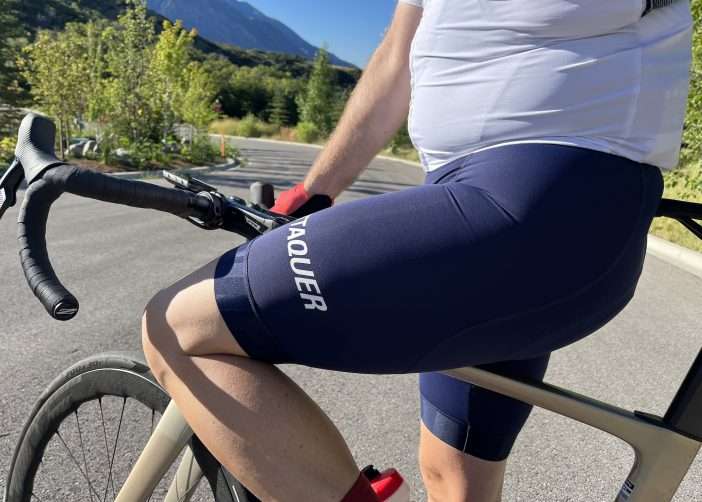 Double-tapping the All Day Bib Shorts
As mentioned, I assumed the All Day kit would be very European-fitting. But, when the size large bib shorts arrived, I was swimming. The length and diameter were just too much. A quick swap for a medium size put me in immediate heaven. When I dive into a pair of bib shorts, I focus on three things: the chamois, the uppers and compression. Initial impressions were putting off good vibes in all three categories and I was excited to get these out on the road.
The bib shorts lowers are something special. With a perfect leg length and a wide leg gripper, these look and feel amazing. Tops on that is the compression the fabric provides. I'd call it the perfect combo of resistance and stretchiness. I know of few other pairs of bib shorts that offer this level of compression. Topping it off, the flat seams on all thigh panels further aids comfort and consistent stretch. In short, fit and compression is class-leading.
Moving onto the uppers, the mesh back panel and shoulders are connected to frontal elastic. These straps are wide and comfortable. Throughout all my testing, they have proven to be chafe-free and soft next to my skin. The straps also do a great job keeping the bib shorts properly in place.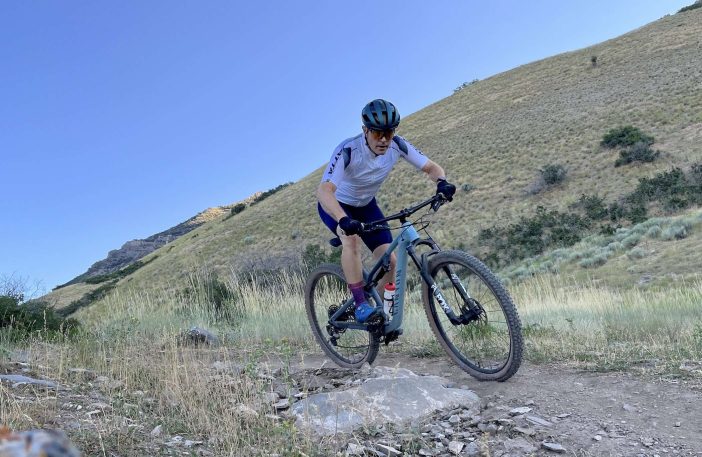 Heading to the chamois is where these otherwise class-leading bib shorts fall short. I ride a lot of miles and my seasoned backside can handle a variety of chamois. But, I know what makes a great chamois and the Attaquer Signature chamois is just okay. It has enough padding and comfort for shorter rides, but lacks chutzpah for rough terrain or long road rides. I feel like it could be thicker and have more body-mapped thickness and density. As my last pair of summer bib shorts for the season, these still fall short of the overall performance of the $165 Pearl Izumi Attack Air Bib Shorts, but are more stylish and sophisticated.
Fit: I'm 5'11" and 173 lbs, wearing the size large All Day Jersey and medium All Day Bib Shorts.
The Good:
Love the overall cut of both the jersey and bib shorts
Front zipper is easily moved up/down as needed
Long, modern leg length
Leg cuffs are comfortable and keep everything in place
Excellent leg compression
Jersey fabric stretches with every movement
Mesh panels aid in breathability
Ultra-comfortable straps and upper design
Stays stink-free after repeated use between washing
The Bad:
Chamois is good overall, but could be better at this price
Branding details have fallen off the front/back fabric of the jersey
Front jersey panels get sticky when saturated on humid rides
Pockets can be difficult to access — especially center one
Wished for a shorter collar
No water-resistant fabric for the zippered sleeve
The Bottom Line: Attaquer All Day Jersey and Bib Shorts
Attaquer's mix of edgy and classic delivers a unique experience in road bike kits. I absolutely love the fit and materials used on the All Day Bib Shorts. With incredible comfort and compression, I'm smitten by the design, but wished for a little thicker chamois. The stretchy and comfortable jersey stays stink-free for days and gives off 1980's rock vibes, but the front/back panels do get sticky on humid rides. Overall, the Attaquer All Day Jersey and Bib Shorts are very good overall, but at this price point, I would hope for a little more.
Buy Now: Available from Attaquer Cycling