It seems to me that duffels have been making a comeback in recent years. Previously they were thought to be un-sexy, the lesser counterparts to various rolling, excessively-strapped ways of toting around a load of belongings. But the new wave of ultra-burly, brand-emblazoned duffels is just as popular with expeditionists as it is high schoolers on spring break. I wanted to test Big Agnes's offering, the Big Joe 110L.  So, I did – on a trip to Mexico this April.
Big Agnes Big Joe 110L Duffel Features:
Top-loading zip design allows for ease of access to the entire bag as well as allowing the bag to stand upright when packed
Flush side-carry option makes for easy maneuvering
Zippered interior pocket with exterior access
Adjustable padded straps can be configured as backpack straps or shoulder straps
Tons of webbing loops for lashing
Lock-compatible zippers for securing your things during travel
Four padded grab handles
Easy grip zipper pulls410D
Non-PVC, TPU coated fabric allows for fusion welding which eliminates the need for additional adhesives
100% waterproof, fusion welded seams
Highly water resistant TPU laminated YKK zippers
MSRP: $159.95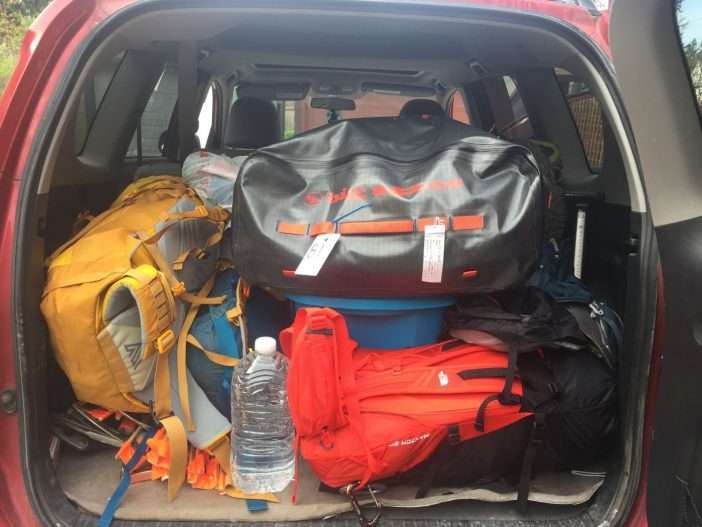 Versatility + Durability = No Liability
In my mind, the basic categories for a duffel should be how much junk you can cram in them, and how durable they are. Part of the 'durable' thing has got to be durable waterproofing, since half the time my gear winds up in the back of a buddy's Tacoma driving through a rainstorm on I-90. That may or may not have happened last weekend on the way back from Mt. Hood, too.
However, above and beyond that, it would be nice to have a couple of extra qualities: how about a little bit of organizational features, and maybe some versatility in the strap design? That, it seems to me, would take a duffel from good to great. Enter the Big Agnes Big Joe. It's big, it's waterproof, it's durable, it has pockets, and you can do fun things with the straps. What's not to love??
I particularly like what Big Agnes was able to do with a pretty simple strap layout. For example, other companies who have made similar duffels have dedicated, pop-out backpack-carry straps. They work well and they're fairly comfortable, but they're not exactly versatile. The Big Agnes system uses two removable straps that can be used in a couple of different configurations. For example, they can be used like normal carry straps, where the two pads velcro together to be slung on a shoulder. Or, you can pop them off and stretch them across the bag to work as compression straps. That's particularly nice if you've packed something delicate down in your clothes, like a camera, and want to hold the contents in place. Another option is to sling the straps vertically, up and down the length of the bag, and wear it as a backpack.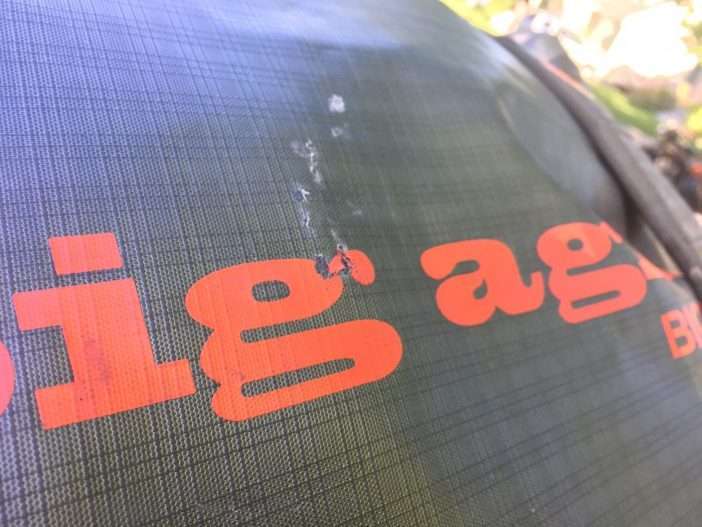 So, in short, you've got options. You have two straps and a ton of lash-in points, and it's really up to your own creativity. Kudos to Big Agnes for making a versatile product.
In terms of durability, this duffel is quite durable but there are, technically, some more durable bags out there. The Big Joe comes in at 410D, which is an incredibly strong weave. It's puncture- and abrasion-resistant, so ready for abuse. However, by contrast, the equivalent Patagonia duffel bag is a 900D weave. Similarly, a The North Face Base Camp duffel has two weights, 1000D and 810D. Does that mean the Big Joe's fabric is weak? No, but it does mean that there are stronger fabrics out there.
In my own experience, the Big Joe has held up well to both abuse and weather. I've tossed in ice axes and ice tools, drug it on the concrete ad smooshed it at the bottom of my over-filled RAV4. However, after about two months of use, the bag already has abrasions that have worn through the external PU coating. The inside is also coated, so it won't leak – but it's definitely worn. See the photo above.
In terms of design, this duffel is good but it has some quirks. The duffel basically has a fat side and a thinner side. It naturally wants to rest on the fat side, just because it's a broader, better base and therefore not as tall. However, if you want to completely open up the main zipper, it needs to be sitting on the thinner side and is therefore a bit unstable. If you just want to open it up partially, great – you can leave it on the flatter base, but the zipper will be offset from the center so it'll be hard to reach stuff on the far side.
I'm not sure if I'm really convinced by the zipper placement. One of the downsides of having the main zipper open near the top of its longer dimension is that your gear is, correspondingly, deeper down from the opening. if it were a plain zip along the bag's broad, flat top – well, you wouldn't have the depth problem.
I mention these aspects of the duffel knowing full well that there's not really a duffel that completely eliminates any of these problems. Every design inevitably makes some sacrifices, and Big Agnes made their own calls. For example, the placement of the zipper offers an enormous main opening – and that is certainly a good thing, whatever quibbles I might have.
Finally, the pockets – they're great. Two large interior mesh pockets allow you to see their contents and get what you need. Both pockets are served by a single zipper, so you have to zip all the way across to access the second pocket. You can also access one of the pockets from a waterproof external zipper, so it's a great spot for things you might need on the  fly while traveling.
The Good
Zipper design leaves a huge opening to get your stuff out of
Very versatile strap design. I like that the same straps can be for compression or two types of carrying
Fully waterproof and quite durable
Pocket design is convenient
The Bad
Sitting the bag upright requires putting it on a smaller side, which feels out of balance
More durable duffels exist
The Bottom Line: Big Agnes Big Joe 110L Duffel
Big Agnes' contribution to the competitive world of heavy-hauling duffels is great. I'm very impressed by how durable it's been, and how convenient and versatile the strap design is. Every duffel is different in terms of what it offers for features and useability, so check the Big Joe out in stores to see how well it fits your needs.
Buy Now: Available from BigAgnes.com