Black Diamond ventured into the world of climbing shoes in 2017. The climbing world was skeptical. Good shoes don't just happen right off the bat, and there's nothing climbers are more picky about than their connection to the rock. In my circles, there were dismissive murmurs. 6 years later, they've really found their groove, even launching a mid top shoe that looks a whole lot like a TC-Pro-fighter – the Aspect Pro. After a summer of goofing around in Black Diamond's Aspect Pro climbing shoes, I've left any skepticism behind.
Black Diamond Aspect Pro Climbing Shoe Features:
Black Label Fuse edging-specific rubber compound and forefoot construction
Activated slingshot and midsole using a high elasticity tension rubber
Full-length, stiff midsole provides comfort on long days
Extra protection in toe box for added durability
Ecco DriTan™ leather upper is processed using moisture already present in hides. It uses far less water and fewer chemicals than regular leathers
DriTan™ leathers save 20 liters of water per hide.
Low-waste molded rubber components round out upper construction
Mid-height design provides extra ankle protection for crack climbing
MSRP: $199.95
A True Mid-Height Competitor
Rock climbing holds a funny little paradox. As climbers, we seek out inherently uncomfortable situations – odd pinches as we jam, endless scraping up chimneys, fatigue of all kinds in all places, and exposure to the elements, whatever they may bring. So much so that my brother quipped that alpine climbers have low body fat just from constantly shivering. It's not far off. But uncomfortable feet? Get out of here. We do not tolerate that. Apparently, neither does Black Diamond.
I've worn shoes that were too narrow at the arch, leading to cramping on the outer edges of my feet, shoes that held aggressive shapes that could not be made comfortable by sizing or lacing changes, and shoes that in spite of all other fit adjustments maintained a wearying bagginess in the heel cup. The Aspect Pro falls victim to none of these pitfalls, nor any other I could find – even the odd achilles pressure that often accompanies defined heel cups like theirs.
Their lacing is accommodating, their toe box is of a comfortably moderate width, and they conform nicely to the foot in all areas. All around, it's a shoe designed for long days, and they have the comfort to make that possible. That said, getting the right size is always key, and nothing can replace an in-person fitting. I ordered online and tested my normal size (EU 44), but found them just a tad too tight, which led to some big-toe pain at the end of long days… which is just good, old-fashioned my fault. Sad for me, but let's just call my pair "extra precise".
All the comfort in the world isn't worth a dime if the shoes don't predictably stick to the wall though. These do. They use BD's Black Label rubber, which is comparable in stiffness to the Vibram XS Edge rubber that shoes like the La Sportiva TC Pro employ. The compound is sticky and does well on edges and in jams alike. After a long Summer of Squamish granite climbing, local crumbly sandstone outings, and other volcanic and pyroclastic climbing around Washington state, I can confidently say that these shoes stick well across rock types. If I were off to Joshua Tree, I might opt for a compound that was a tad softer, but I'd consider large-grain granite areas an exception to the rule. The Aspect Pro covers a large variety of rock adeptly.
Performance on rock is equal parts rubber compound and overall design of the shoe's shape. The Aspect Pro is moderately downturned. Between the two ankle-covering extremes of the TC Pro pure-flat sole (which tends to banana out over time) and the 5.10 Grandstone concave arc of mild aggression, the Aspect Pro takes the middle path with a very slightly downturned toe. The result is an ability to lock into features on light overhangs without sacrificing the shoe's fundamental purposes: edging and crack performance. Add a snug heel that keeps you from sloshing around, and you have a predictably-fitted multipurpose trad shoe.
The bulk of my testing for the Aspect Pros was enjoyed on Squamish trad lines. Going into things, I expected a well-rounded crack machine with solid edging capabilities. The shoes delivered in those categories, but something that really stood out to me was their ability to smear. I felt quite secure smearing in the Aspect Pros, more than I usually do, even on polished trade routes where the cruxes relied on iffy smearing foot magic. I found that notable, surprising, and often relieving.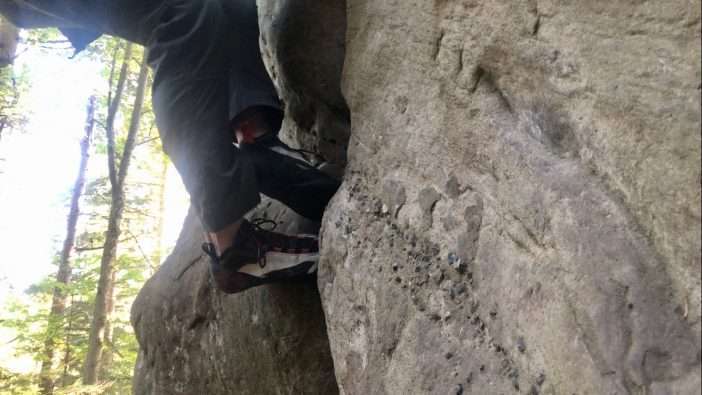 What else should be said of the Aspect Pros? Well, the laces are unusual in that they're ribbed, but they lock together nicely, and I couldn't find anything wrong with them. I thought I might, but nope; they're great. The outers are leather, which have worn nicely and should result in a longer lifespan than other microfiber options. The tongue has a light, flexible wire mesh material on it (the same material guarding my precious ankles). I managed to rip it when pulling my shoe on with apparently too much nervous excitement. It was disappointing, but non-critical. And lastly, the shoes look fun – kind of reminiscent of cross country ski racing boots somehow.
Fit: As I said above, I tested a pair in my normal size, Euro 44 (US Men's 10.5) and found that they fit on the tighter side, which led to some big-toe pain on longer days. I don't find that to be the fault of the shoe – my toes just hate me, and the feeling is mutual. Consider sizing up by a half for long-day comfort.
The Good:
Black Label rubber compound is a real contender
Just the right amount of downturn in the toe
Excellent performance for cracks, edges, and smears
Leather uppers take abuse, but don't show it
Laces lock nicely
Generally comfortable fit
Love me some ankle protection
The Bad:
Tongue material is not as durable as the rest of the shoe
The Bottom Line: Black Diamond Aspect Pro Climbing Shoe
Going into testing, I thought I'd have a longer list in my "The Bad" section, but no. These shoes really surprised me with their consistent performance. They fit comfortably, which is a great first step, but they followed through on the rock. Their rubber compound and general design made them a natural for cracks and edging, but also a surprisingly good choice in the smears. Is it a TC Pro beater? Honestly, I think so.
Buy Now: Available at Backcountry.com