Black Diamond's Firstlight tent series, torchbearer of the venerable Bibler lineage, has been a mountain shelter staple for years. The newest iteration promised to shore up the leaks in previous design and make the shelter a more versatile and comfortable tool while retaining its ultralight, minimalist roots.
Black Diamond FirstLight 2P Tent Features: 
Two-person design with single door entry and optional vestibule for gear storage
Two internal DAC Featherlite® poles
Two interior mesh pockets
Zippered mesh panels at rear and door for ventilation
Proprietary NanoShield™ single-wall fabric and 70D poly floor in Carbon color way
Sil-Net seam sealer required (one tube included, additional tubes sold separately)
Ground cloth available separately
Comes with repair tube for tent poles
Average Packed Weight : 1545 g (3lb 6oz)
Minimum Weight : 1355 g (3 lb)
Dimensions :  208 x 122 x 106cm (82 x 48 x 42)
Area : 2.5 m2 (27.3 sq ft)
MSRP: $369.95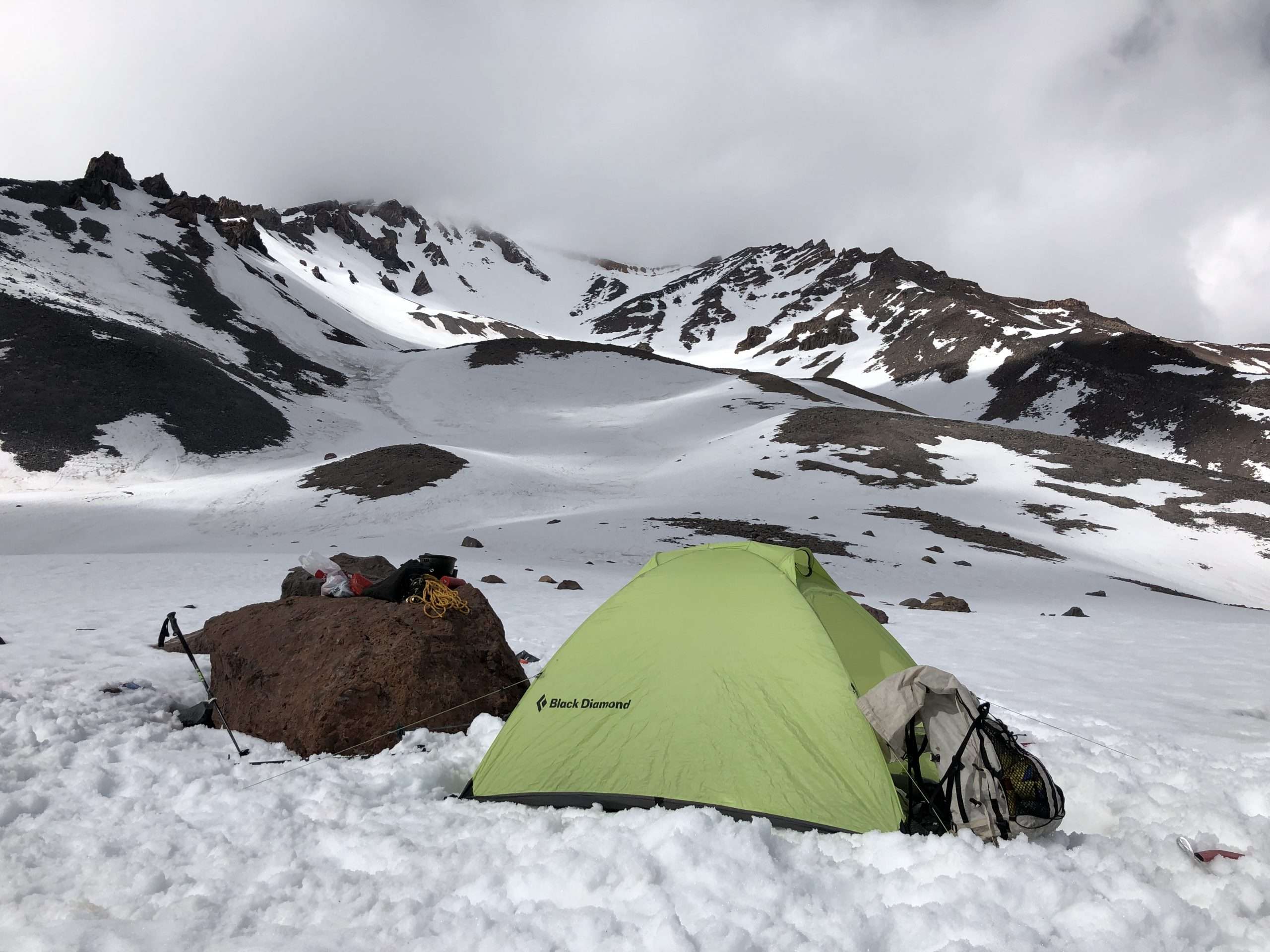 Building on a long history, and long-standing flaws
The design of the FirstLight is old, and well-tested. Back to Barry Blanchard and Mark Twight's 1988 attempt on the Rupal Face and further, the 'Bibler style' (crossed poles inside of a single sleeve) has been conquering the high mountains in style. And, it remains the category-defining design of lightweight, single-wall shelters. Still, that doesn't mean it doesn't have warts.
I have spent many, many nights in Black Diamond Firstlight tents over the years. They remain a staple in the mountain guiding community for their utility, weight and simplicity — Baker, Rainier, Shuksan, Shasta and Whitney are constantly speckled with the trademark day-glow green of Firstlight tents. Exceptionally burly for their svelte weight, they survive harrowing storms, and, at two pounds and change, allow everyone to sleep by themselves. They are also affectionately known as "Firstleaks." The old Sil-nylon blend tent fabric was never that waterproof. The seams also weren't sealed in the factory and the poles would punch out of the tent corners if you got ham-fisted with them.
Here are two photos of the new Black Diamond Firstlight and the old, so you can see the difference in ventilation.
Change for the better, mostly
This new model is meant to fix the aforementioned problems. And it has. A new Sil-nylon blend is significantly more waterproof (to the point of being almost air-impermeable) and the corner reinforcement has been significantly beefed up from previous models. This is excellent. Having sat out several wet, cold spring storms in the new model, I have experienced no leaking. Even though Black Diamond claims the seams still need to be seam-sealed, I haven't yet seen any of the leakage I experienced with the old tent design.
The vents have also been changed. BD added a zipper to open and close them, but, bizarrely, removed the bug netting. This means you are faced with stuffiness or bugs. The door retains its inner-zip bug netting, which provides significantly more ventilation, but in rough weather this is not an excellent option. This ventilation change is not for the better. Some sewn-in bug netting would substantially improve the situation, but would also complicate the design. If you are heading above the bug line, it's no big deal, but if you plan on using it at a buggy alpine lake, plan on using the mesh door for ventilation.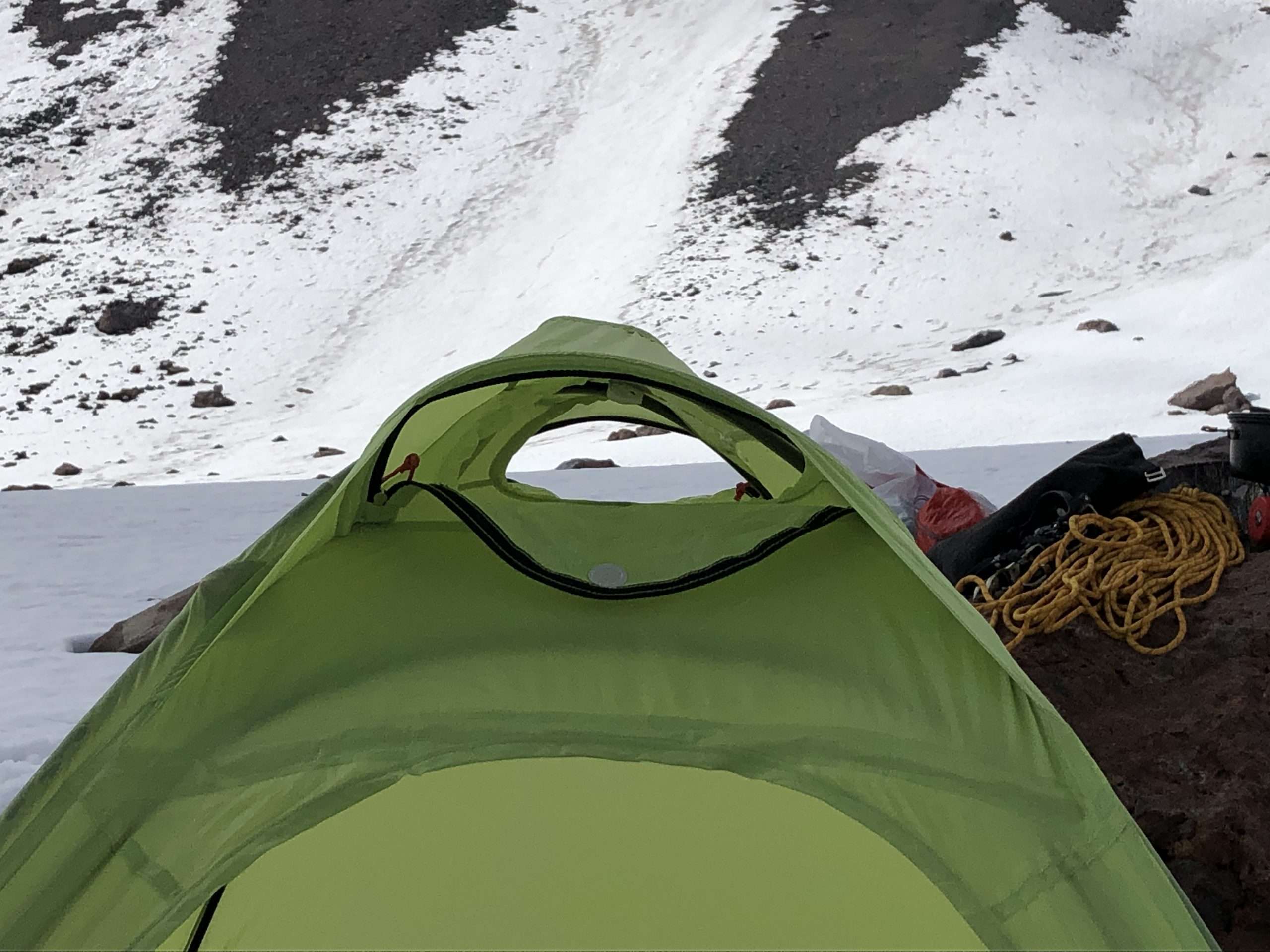 Houston, we have ventilation issues
One other odd effect of the design update is how water resistant the new FirstLight fabric is. When I stuff the tent into the stuff sack, I have to go door last, otherwise the captured air in the tent remains, umm… captured. The other affect I've noticed, corroborated by a few others, is that the tent does not breathe as well. On cold storm evenings when I've zipped the tent up completely, I've felt genuinely short of breath. With how small the tent is, even for one, I was able to consume oxygen faster than air was able to exchange with the outside atmosphere.
This is not good. Paired with the meshless top vents, this phenomenon presents a conundrum. If it is snowing, how do I vent the tent well enough to sleep through the night without flooding myself with precipitation? Thus far, cracking the front door has worked well enough, but I really wish the upper vents had enough mesh to hold out snow and bugs, at least. I may sew mesh in outside the zippable flaps, but that is a rather unsatisfactory situation for a tent from a major manufacturer, arguably the most experienced makers of mountain tents out there.
Perhaps the FirstLight would be best served with the optional vestibule? It would add another 1 lb. 6 oz. to the overall package, but could allow for a little more flexibility in ventilation options and make this 2-person tent actually sleep two people and their gear. Just a thought.
The Good
No longer the FirstLeak, thanks to new NanoShield waterproof fabric blend
Stronger corners will extend the life of the tent
Zippable top vents let you keep the warmth in
Vestibule attachment remains
Comfortable 1 person tent
Retains the core of what makes the Firstlight an industry standard
The Bad
The tent fabric doesn't breathe at all, leading to sometimes dangerously stale air
The top vents are un-meshed, impairing venting in buggy or stormy conditions
Very cozy 2 person tent
The Bottom Line: Black Diamond FirstLight 2p Tent
It is hard not to recommend the FirstLight. It is an incredible tent, brilliantly designed to thrive in gnarly conditions, and this new model fixes all of the problems with the old models, and generates some new ones. One of the new problems is so close to a deal-breaker for me. If I can sew mesh into the upper vents, this tent will return to the absolute top of my personal quiver, but for now, it honestly scares me a bit. Maybe it has an alternative use as a hypoxic training chamber?
Buy Now: Available from Black Diamond