Standard drop bars and stems are certainly tried-and-true, but integrated cockpit options are becoming more common. Aerodynamics lead the list of benefits, closely followed by added steering precision, lighter weight and a sexy, integrated design. Black Inc, is the component brand of Factor Bikes and their Integrated Barstem has delivered a superb experience aboard the Factor O2 Disc.
Black Inc Integrated Barstem Features:
Integrated carbon bar and stem
Full carbon with no alloy inserts
Titanium screws with aluminum nuts
80mm reach and 125mm drop across all sizes
3-degree flare at the drops
2-degree backsweep in the tops
Negative 6-degree stem
Compatible with latest Di2 bar plug junction box
Standard on every Factor and available separately
Includes out front Garmin mount
Widths: 38, 40, 42 (tested) and 44cm
Stem Lengths: 90, 100, 110, 120, 130mm
Weight: 317 grams (42×110)
MSRP: $650
Integration is the new black
If you haven't seen any Black Inc components in person, you're missing out. The quality on display yields to nobody and offers the most complete look for Factor Bikes. There are plenty of integrated bar/stem combos on the market with each one delivering something for everyone. With the Black Inc Integrated Barstem, you get an aggressive layout with added livability that we all need.
With many carbon bits, you still have alloy inserts that add weight and can change the natural characteristics of carbon fiber. While the Black Inc Integrated Barstem is still light, it's not the lightest bar/stem combo on the market. But, like any bike or component, the race to the bottom is not always the ideal path. Instead, it's all about overall ride and that's where the Integrated Barstem shows what it's made of.
Tested in a 42cm width, I did feel a little more narrow than I'd prefer (I typically ride a 44cm), but it is a wider 42 than most. Something else unique here is that Black Inc chose to stay with a standard -6 degree stem, instead of something more aggressive. That move made it so I could get into the proper position on the Factor O2 Disc. Depending on the bike you're putting this on, you'll likely will be well-served with the the -6 degree drop in concert with your proper width.
Aerodynamic benefits are always spoken about with integrated bar/stems. Though hard to measure on the road, just know that you're getting increased aerodynamics here with cables tucked neatly inside or underneath the tops and the wing-shaped top design to optimize airflow (of course, my Di2 junction box kind of kills that a bit).
Speaking of cable routing, you can run internal or external due to having both internal routing and cable grooves. I love that Black Inc has done that as it makes it easier to upgrade without having to re-route everything. Disassembling hydraulic brake lines is no walk in the park and with these, you don't have to. Additionally, the bars are compatible with Shimano's latest end cap junction box (not tested).
While these are a standard 6-degree negative rise, the bar position remains a touch aggressive with no ability to rotate the bars upwards (obviously). I did initially feel that additional drop to the hoods, but after a few rides, it felt natural as my body adjusted. I have not experienced numb hands with or without gloves and really enjoy the overall feel of these bars.
Dancing around the Black Inc Integrated Barstem is a breeze, thanks to the short 125mm drops and 80mm reach. When riding on the tops, the 2-degree backsweep keeps your hands in a more natural position and the 3-degree flare in the drops provides wrist clearance for aggressive moves down there. Speaking of the drops, they extend back farther than other bars I've got for added hand positions. And, the variable-radius shape makes for comfortable hand placement on long descents.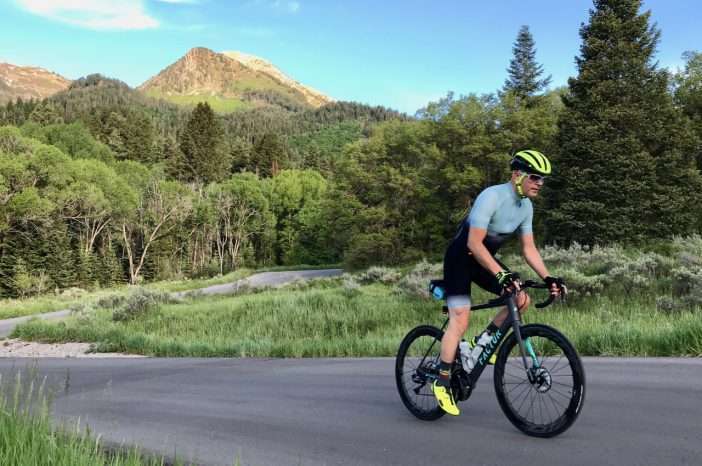 Flat tops are so much more comfortable and these are no exception. I noticed the added steering precision, but these do provide a stiffer ride than some carbon bars. They are certainly smoother than alloy bars, but the simple fact that the bar and stem are integrated provides obvious stiffness. So, as far as comfort goes, expect the Integrated Barstem to provide some (primarily in the natural hand positions), but there are certainly more comfortable bars, like the Enve Compact Road Bar or the Bontrager Isocore VR-CF.
For those who like their bars slammed, there is an internal 5mm recess at the topcap to allow for a flush mount. I'll leave that look to the pros, but it does look sweet if you can get into that kind of body position. It's worth noting that all testing was done with the included Black Inc bar tape, which is thin and tacky.
The Good
Integrated look is bonkers awesome
Great shaping with comfortable hand positions
Internal and external cable routing supported (LOVE this!!)
Added steering precision
Takes guessing game out of stem/bar adjustments
The Bad
Still a slightly-aggressive fit
Garmin or bust (other options are available but hard to come by)
The Bottom Line: Black Inc Integrated Barstem
Available as standard-issue aboard the Factor O2 Disc, or as an upgrade, the Black Inc Integrated Barstem is clean and stiff for precise handling. But, they remain easy to live with due to the flat tops with slight backsweep and the variable-radius drops. With or without gloves, these are great bars.
Buy Now: Available at CompetitiveCyclist.com