As one of the first body/wind interfaces, the humble bike helmet can do a lot to save watts and improve efficiency over long rides. While you could spend thousands on an aero bike, you could cheat the wind by simply upgrading your helmet. Bollé may not be the first name that comes to mind when it comes to helmets, but it should. Their mountain and road helmets feature the latest technology and conveniences, and, in the case of the Bolle Furo MIPS, it features the safety of MIPS in a cool, aerodynamic package.
Bollé Furo MIPS Helmet Features:
Kamm Tail design for aerodynamics
Removable aero shells
NACA Duct for improved airflow and aerodynamics
Roll cage reinforces helmet and allows for ventilation
360 fit system
Integrated MIPS liner
Sunglasses dock
Sizes: S (52-55), M (55-59), L (59-62)
Colors: Black, White/Black (tested)
Weight: 340 grams (Medium, actual)
MSRP: $229
Furo MIPS is slippery and protective
The blunt face of a helmet serves as a primary hindrance to speed and aerodynamics. Just imagine if your helmet was square-faced, how much drag you would feel? The answer is "a lot." With that, helmet manufacturers spend a fair amount of time optimizing their top-end helmets to allow air to flow more smoothly over the helmet surface. The fastest helmets are elongated and often have fewer or alternative-style vents. That said, nobody wants to wear a TT helmet on a hot summer day, but conversely, nobody wants to wear a helmet with tons of drag either. Finding that line between breathability, comfort and aerodynamics has most often resulted in adopting a Kammtail design.
A Kammtail is essentially a truncated airfoil design. Instead of being a full teardrop, it truncates the trailing edge of the airfoil in such a way as to reduce the length of the shape while still maintaining much of the original aerodynamics. The diagram below from TrekBikes.com below clearly shows the differences between round, traditional airfoil and Kammtail.
Now that you understand the beauty of a Kammtail shape, you can have a better appreciation of the profile of the Bolle Furo MIPS helmet. It's trailing edge is elongated, then truncated for optimum airflow, with huge rear vents to allow air to evacuate from the helmet. In practice, it works great. Overall, the airflow is pretty quiet and the vents can be left open or closed for more or less airflow.
While the vent covers can be removed mid-ride, the two side covers are pretty long and are a little difficult to stash away. They do stay put in a jersey pocket, but it's not ideal, since a good portion of the pieces will extend out of your pocket. Just removing the center cover is enough to allow a touch more air to flow, so that's the one to put in/out if you start a ride with all vents covered. For cold morning rides, the vent covers are a lifesaver, and dramatically extends the versatility of the helmet.
So, yes, I love the removable vent covers to adjust airflow, as needed. You will need to store them somewhere in the summer months, so make sure and keep them in a good place for when temperatures drop. Bolle isn't alone in offering removable vents, but they do work well in the Furo. I have tried to remove the large covers while in the saddle and I don't recommend it. The small, center cover can be done easily, but you'll likely want to park it for 30 seconds to remove or insert the large covers.
Okay, so ventilation is great. And, it's adjustable. I'm even liking this helmet for mid-summer temperatures (which isn't always the case for aero helmets). Of course, the POC Ventral Air SPIN, with its gaping vents, will be best for the hottest days, but the vent placement and large rear exit vents allow a significant amount of airflow.
Fits like a glove
Let's talk about fit for a moment. As with other high-end helmets, the Bolle Furo MIPS features a dial to snug the helmet securely to your noggin. The Bolle-branded dial works well, but lacks the refinement you'll find with a BOA fit system.  That said, you really adjust it once and don't think about it that much after that. Further, I have found the padding to be very comfortable against my shaved head and they do a good job of soaking up moisture. I do still get a few sweat drips onto the inside of my glasses, but it's not as bad as some helmets.
Throughout the course of my several months of use, I wore several pairs of sunglasses with the Furo MIPS and they all work like a charm. Of course, Bolle would love you to use the Bolle Lightshifter's, but you can use any glasses you prefer. Part of the excellent compatibility is the fact that the Furo MIPS sits a little higher on your head, thus leaving ample clearance for the sunglasses arms and larger lenses. There is a docking station for your glasses, but it honestly works best with the kinked temples found on the Lightshifter.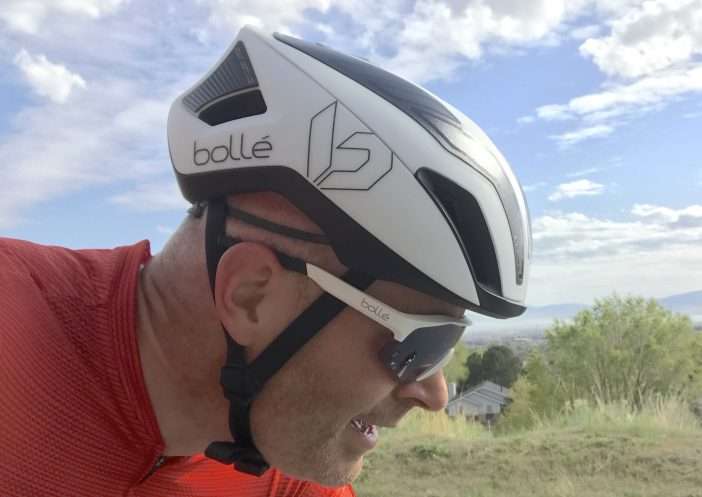 I've spoken a lot about MIPS over the years. It's the current gold-standard in bike helmet safety. The built-in liner acts as a buffer between the helmet and your head in the case of an impact. I've had the "opportunity" to test it in person and that impact and subsequent slip was reassuring. I believe in the technology and the Virginia Tech safety ratings confirm that MIPS will provide the best protection should you crash.
Overall construction on the Furo MIPS is solid, with shell material covering all the foam around the crown and other high-touch areas. This one will withstand the trunk treatment just fine. In addition, the straps are thin and comfortable with an adjustable yoke for a superb fit. The buckle is easy-to-use and the straps sit nicely against my face.
The Good
Removable vent covers expand the use of this helmet
Aerodynamics you can feel
Good ventilation in mid-summer
High compatibility with a variety of sunglasses
360 fit dial creates a secure fit
MIPS offers awesome safety
Awesome for winter use
The Bad
Vent covers aren't easily stashed
In extreme heat, you may want something with even more vents
The Bottom Line: Bolle Furo MIPS Helmet
Aero helmets can be tricky and not very versatile, but the Bolle Furo MIPS remains versatile, slippery and comfortable for year-round use. It remains quiet at high speeds and fits like a charm.
Buy Now: Available at Amazon.com