Today's cycling sunglasses are trending on the large side. It's partly a 1980's retro nod, but mostly because these large shields provide uninhibited vision and protection under all conditions. Bolle's latest Lightshifter Sunglasses do all that and have unique features that cyclists will appreciate.
Bolle Lightshifter Sunglasses Features:
Adjustable nose piece with three settings
Interchangeable lens
Anti-fog treatment P80+
Oleophobic treatment
Thermogrip rubber temples and nose pads
Available in prescription models
Available with Phantom NXT Photochromic lens
MSRP: $124-$194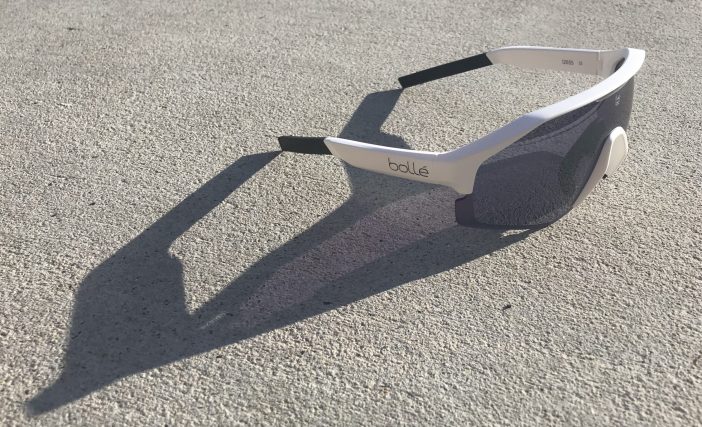 Lightshifters feel like a spa for your eyes
After years and years of wearing sunglasses for outdoor activities (and cycling, specifically), I'm partial to semi-rimless frame designs. I prefer them for a number of reasons; with uninhibited vision being tops on that list. I don't want anything blocking my view of road debris, potholes or obstacles. As an added benefit, the lenses are easier to clean and water can pass right off the lenses without pooling up on the lower frame. With that, the Bolle Lightshifter's already checked off some of my most important boxes right out of the gate.
Bolle labels these as having a small fit, so if you have a large noggin, you might want to look elsewhere. I have an average-sized head and found the fit to be superb. The frame flexes just slightly to accommodate my head, but it's no brain squeezer. I can wear these for long periods of time without any discomfort. Part of that, I think, is due to the kinked temple arms, which allow the arms to sit at just the right part of the skull. As an added benefit, this also prevents the arms from interfering with helmets that provide full coverage.
I've worn the Bolle Lightshifters with the new Bolle Furo MIPS, Bolle Trackdown MIPS and Bontrager Starvos WaveCel helmets and found them to work great with all three. Under some rough terrain, the tops of the Lightshifters will impact the underside of the helmet, but only on occasion. Sometimes that was a result of not having the helmet as snug as it could be (a quick dial usually fixed that). But, you can also use the handy adjustable nose piece to change how the glasses sit on your face as well. All helmet straps worked well with these and didn't interfere with the fit.
Field-of-vision with the Lightshifters is, as you can imagine, outstanding. Wherever my eyes need to look, these lenses have me covered with crystal-clear vision. I chose the Phantom Court lenses and, while they are made for maximum visibility on the tennis court, I have absolutely loved the crisp clarity I get on the road and trail. I truly feel like my eyes are going to the spa every time I put them on. The blue/grey lens color allows my eyes to relax and just feels refreshing all day long.
While the lenses play a huge role in that eye comfort, there's also a large vent right in the middle-top of the lens that allows a calculated amount of airflow. That one-two punch of lens color and airflow is what makes these so awesome. In fact, try as I might, I could not get these to fog up at all (a first). I can fog up every pair of glasses I've owned on cool, humid mornings, but not these.
However, that airflow has proven to be a little bit too much for my eyes on fast descents with the cold mountain air causing my eyes to water. Well, darn. I guess you can't win them all. Everyone's eyes have different thresholds when it comes to watering, so keep that in mind as you consider these.
The Phantom Court lenses tested feature NXT Photochromic technology that changes the VLT from 29-15% based on conditions (learn more about Phantom here). It's a subtle change that you don't even notice and happens in less than 30 seconds. I appreciate just having a single lens that can cover all daytime riding conditions. Another nice feature is the added lens protection around the lower edges of the lens. This is the area that typically scratches first and the narrow coverage along the edges will keep these lenses fresh for years to come.
I truly love how well these stay put on my face. They don't move at all — no matter how rough the terrain. I've worn them road, gravel and mountain biking as well as trail running. Put them on and there they'll say.
The Good
Large lens provides excellent coverage
True fog-free performance
Rubberized tips and nose keep things in place
Adjustable nose piece
Make my eyes feel refreshed
Photochromic lens allows all-day performance
Great for cycling and trail running
The Bad
Watering eyes at highest speeds (40 mph+)
The Bottom Line: Bolle Lightshifter Sunglasses
With a bevy of sunglass options for riding, there are better and best choices. The Bolle Lightshifter, in my mind, is one of the best choices out there if you have a narrow or average face size. The field-of-vision is outstanding and color clarity is superb. And, I'm not kidding when I say the Phantom Court lenses really feel refreshing and cool every time I put them on. It's like going to the eye spa on every ride.
Buy Now: Available on Google Shopping