For quite some time, I've recommended Bontrager's wheelsets. On a ride with a friend from SRAM, another rider asked my opinion on wheelsets. I looked at my friend, then told him to take a look at Bontrager's offerings. We had a good laugh about that, but it stands true to this day and the Bontrager Aeolus Pro 51's are again a great example of just why Bontrager's wheels are so easy to recommend.
Bontrager Aeolus Pro 51 TLR Wheelset Features:
Pro OCLV carbon layup
Optimized rim profile for aerodynamics and stability
Reliable hubs with DT Swiss 350 internals
Versatile 51mm depth
23 mm inner and 31.3 mm outer width
Centerlock rotor compatibility
Lifetime warranty with 2 years CarbonCare
Disc only design
Weight: 740 g (front) and 875 g (rear), 1615 g total — TLR strip is an additional 65 grams each
MSRP: $1399.98 (set)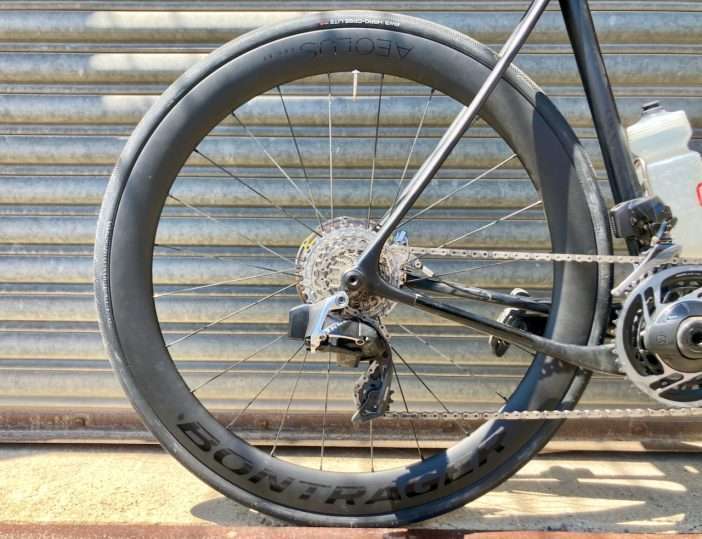 Stable, fast and versatile mid-depth wheels
While attending the virtual product launch this spring, Bontrager made some significant claims about their new wheelsets. I have long been a fan of their wheels, but these wheels made the previous designs look like amateur hour on paper. With 3D modeling technology that allowed for thousands of micro-iterations, the shapes are unique to each wheel depth and are optimized for the intended use. At 51 mm deep, the Aeolus Pro 51's represent the Goldilocks model in the line and are easy on the wallet at $1399.
As with the Aeolus wheels in the past, these stick with proven DT Swiss hubs (350's here instead of the 240's on the Aeolus RSL's) for smooth, serviceable hubs. The bladed, straight-pull spokes further optimize aero performance and keep the weight down to a reasonable 1615 grams. No, they don't win any weight weenie awards, and they are barely lighter than the Vision SC55's, but the overall shape takes the prize over comparable wheelsets on the market.
I'll admit that mid-depth wheels (40-60 mm) do look awesome on just about any bike. And, even on my Open UPPER gravel bike, they can turn heads. Looks aside, this depth wheel set is well-suited to just about any type of riding, so that's what I've proceeded to do. Fast flats, rolling terrain, long, alpine descents and, most importantly, endless road climbs. I'll admit that the Bontrager Aeolus Pro 37 remains my top choice for long climbs, but these don't yield that much much on the climbs and perform swimmingly everywhere else.
Without question, my favorite attribute of the Aeolus Pro 51's is their stability. They are rock solid! Crosswinds don't even phase these wheels. I have shallower wheels, costing much more than these that get blown around in crosswinds while the Aeolus Pro 51's don't move at all — no matter the yaw angle. If you've ever felt crosswind-induced instability, but want a deeper-section wheel, these are the wheels for you. I love the confidence I have when descending notoriously-blustery mountain descents. It's a concern that has now been completely eliminated and should allow more novice riders to enjoy the benefits of a deeper wheel profile.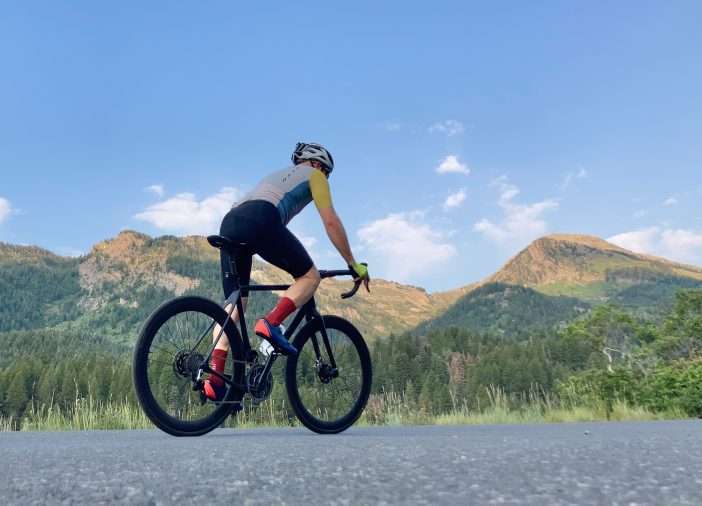 The same analysis that optimized these for stability has also further optimized them for speed and aerodynamics. I feel like I can spin them up quickly and maintain momentum like a freight train. On rolling hills and flats, I can push myself to the limits. Unfortunately, I don't have an aero road bike in the stable at this time, but if I had something racier, I'm sure I could challenge most of my PR's on rolling segments.
Speaking of efficiency, these roll among the upper end of the pack in my standard roll-to-stop testing. Several wheelsets costing two or three times as much may roll a little more efficiently, but the overall value of the Aeolus Pro 51's quickly erases those micro gains.
During my testing, I used the all-new Bontrager 28 mm AW3 Hard Case Lite clinchers and Bontrager R3 32 mm tubeless tires. I'm fine with the added weight of the TLR rim strips, so I used those with both tire options. I could mount or dismount either tire by hand and with the rim strips, tubeless is an absolute breeze.  Tire pressures were in the 70-75 psi range on the AW3's and 60-65 psi range for the R3's. With that 23mm inner width, I could roll lower pressures and the tires fill out to a plump 29.4 and 33 mm wide, respectively. The wheels have now taken on everything I can throw their way — including gravel.
So, let's talk about gravel then. As an update (2/2/2022), I can say that these wheels are also pretty stellar for gravel — if you're okay with dings and scratches on the face. With that much exposed carbon, you're bound to have lots of rock dings and such. If you're okay with the prospect of superficial dings and scratches on these pretty wheels, I say go for it. The 23mm inner width allows the Zipp Tangente Course G40 tires to measure out to 42 mm and provides a solid foundation for even the roughest gravel courses. I will add that with that big of a tire on there, you do notice crosswinds quite a bit more (but, there's nothing you can do about that if you want a nice gravel tire).
The Good
STABLE in crosswinds
Easy on the wallet
Nice all-around depth
23 mm internal width supports wider tires better
DT Swiss internals add confidence
Tubeless setup is a piece of cake
TLR rim strips are durable for multiple tire changes
Exposed nipples make for easy servicing
The Bad
A little sluggish compared to shallower, lighter wheels
Availability may continue to be spotty for awhile
The Bottom Line: Bontrager Aeolus Pro 51
Not only do mid-depth wheels look awesome, when properly engineered, they perform awesome — even for average cyclists. Yes, we all dream of deeper wheels and the performance gains they provide, but even at 51mm deep, similar wheels to the Aeolus Pro 51's will get tossed around in crosswinds. I can set these up tubeless in a jiffy and they roll very well. Aside from a little sluggishness compared to the fastest wheels on the market, these are a well-sorted, do-it-all wheelset for the majority of riders looking for added comfort and aero gains.
Buy Now: Visit TrekBikes.com 
In Summary
Bontrager has optimized these new wheelsets to the Nth degree and it shows. For $1400, the Aeolus Pro 51's represent a new benchmark in aero carbon wheelsets for the masses. You'll see these spec'd on several Trek bikes for 2022 and they are a worthy upgrade to any premium bike. Most of all, I can't state enough just how stable these are in crosswinds! That rim shape instills confidence in a way no other similar-depth wheels have done in the past.