Bontrager's WaveCel technology isn't new any longer. Their collapsible, shearing protective honeycomb-like material provides significant benefits in all the flavors I've tested. Now, the venerable Circuit helmet gets the WaveCel treatment with a few other twists for good measure.
Bontrager Circuit WaveCel Helmet Features:
WaveCel advanced helmet technology
BOA® Fit System lets you easily secure and adjust your fit with one hand
Blendr magnetic mount system easily integrates a GoPro camera and Bontrager lights
Made of 50% post-consumer recycled polystyrene
FlatStrap semi-fixed strap dividers lay flush and move fore and aft for a perfect fit
Soft, comfortable, moisture-wicking, and washable helmet pads
Crash Replacement Guarantee provides free replacement if your helmet is impacted in the first year of ownership
Complies with U.S. CPSC safety standards for bicycle helmets for persons age 1 and over
MSRP: $159.99
Catch the WaveCel circuit
Bontrager's use of their proprietary WaveCel technology has been met with mixed reactions. The technology is undoubtedly good, but it's not without some limitations. After using the new Circuit WaveCel for about 6 months, I'll call out all the good and bad of this particular rendition.
So, what is WaveCel really? Bontrager developed this honeycomb-like structure to protect the user from both impacts and rotational forces. Not readily seen is a shearing layer within the WaveCel that will break loose and slide when a rotational impact is encountered. Rated 5-Stars from the prestigious Virginia Tech helmet ratings, the new Circuit WaveCel performs as advertised. For $150, there's a lot to be excited about here.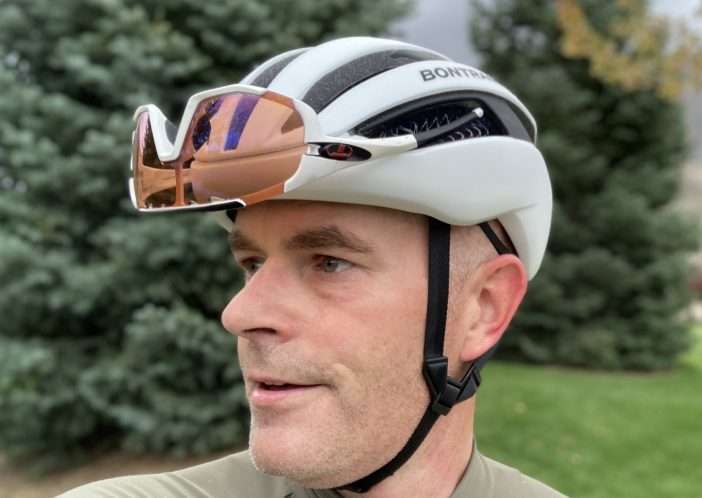 To further extend the capability of the Circuit WaveCel, Bontrager has added Blendr magnetic mounts for lights and cameras. The magnets are strong enough to keep things in place and provide ample options for front or rear-facing lights — or even a GoPro. Frankly, however, I prefer keeping my Bontrager Ion and and Flare lights on my bars and seatpost, but it's an option if on-helmet is your jam.
WaveCel material does offer excellent protection, but also does prevent natural airflow. Try as they might to convince me otherwise, it's still not as airy as any open design. But, don't let that prevent you from nabbing a new Circuit WaveCel, it has some benefits. Primarily, I love wearing this helmet on cold days and cool mornings. The indirect ventilation noticeably reduces the cold on my shaved head.
Interestingly, this new helmet shape and internal volume is nearly identical to the same-sized Bontrager Specter WaveCel helmet, but feels more roomy. I can move the helmet laterally on my head much more with the Circuit. The major difference I see is the pad placement. In addition to that extra movement, I do notice the WaveCel material touching my bare head when first putting on the helmet, but don't feel it while riding. I think a little extended padding could help with both fit and initial skin impact.
Bontrager does make their helmets to extend down the head further than other manufacturers. This means you get added coverage, but it does also mean oversized sunglasses (like the Tifosi Sledge and Koo Demos) may tap the underside of the brim during rough sections. Worst case, the helmet will actually cause your glasses to dig into your nose bridge. Properly adjusting the Boa fit system can prevent much of these issues. Fixed strap yokes prevent you from fiddling and should clear your ears and place the straps in the proper location (for most people). A standard buckle keeps the helmet in place.
Sweat management is always a key component of any helmet design. Unfortunately, I'm finding that sweat gathers and drips right inside my sunglasses — dang. It's not as bad as the worst helmets I've tested, but it could be improved. My suggestion is to bring your sunglasses with you to the shop when you try it on.
The Good
5-star safety protection
Great for cool days
Excellent coverage
Fit system is superb
Blendr mounts for flexibility
The Bad
Ventilation isn't ideal for mid-summer rides
Could use additional interior padding
Blendr rear mount may not be strong enough for rough terrain
The Bottom Line: Bontrager Circuit WaveCel
The updated Circuit helmet really is a great do-it-all helmet with tons of safety and style. Ventilation isn't WaveCel's strong suit, but I appreciate it for cool rides and have a better-ventilated helmet available for the hottest of rides. Using Boa's fit system is always a win and I'm glad to see it again here.
Buy Now: Available from Trekbikes.com
In Summary
The original Circuit was a go-to for years. And, the update should prove to be much like the original in many ways. Safety is, of course, paramount and you get that with the WaveCel design, but ventilation is still lacking for the hottest of days. Blendr mounts do add versatility and the Boa fit system is always great to see.