Adding both a suspension lockout lever and dropper post isn't an easy endeavor. You can go for a mixture of twist grips and levers, or you could go for something like the new Bontrager DropLock. This combo lever allows you to operate both the suspension lockout and dropper post from a single unit.
Bontrager DropLock Remote Features:
Integrated dropper and dual-remote lockout lever for a cleaner cockpit
Single lockout lever controls both on/off
Removeable dropper lever
Compatible with mechanically activated droppers and suspension lockout systems
MSRP: $119.99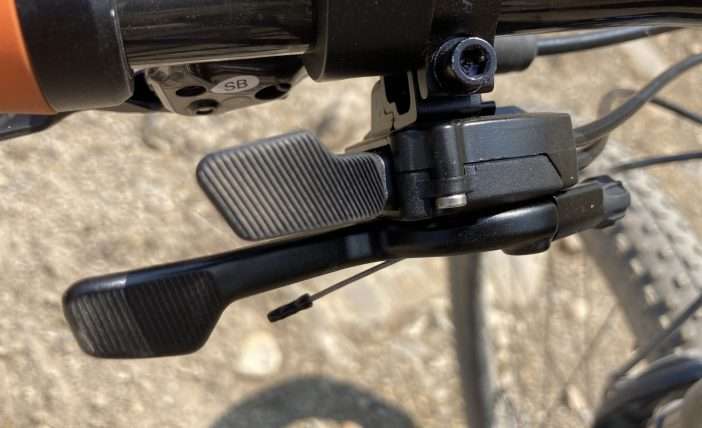 Lock, drop and roll
If you've got an XC race bike, you're probably in love with the suspension lockout. With it, as you know, you can lock everything out just before that sprint finish to eke out every last ounce of power. But, what about technical descents? The lockout quickly becomes useless and a missing dropper post could actually cost you more time than a lockout could ever provide.
RockShox does have the TwistLoc, which can lock out just one or both the front/rear at the same time. But, like most people, I'm pretty picky about my grips and that just won't do. Enter the Bontrager DropLock Remote, which can simultaneously lock/unlock both the fork and rear shock while also allowing you to activate the dropper post — all within a single unit.
With the move to 1x drivetrains, the left side of the handlebars has been freed up for dropper posts, but lockouts also vie for that space. The DropLock is very welcomed on modern XC race bikes, like the Trek Supercaliber 9.8. After riding and loving the Supercaliber, I was determined to find out just how much faster I could be on the descents with a dropper post.
So, the Bontrager Line Elite dropper post arrived, along with the DropLock and I took the Supercaliber to the local Trek dealer for assembly (because fishing cables through a frame is not my forte). The result is a mess of cables, but glorious lockout and dropper at the same time.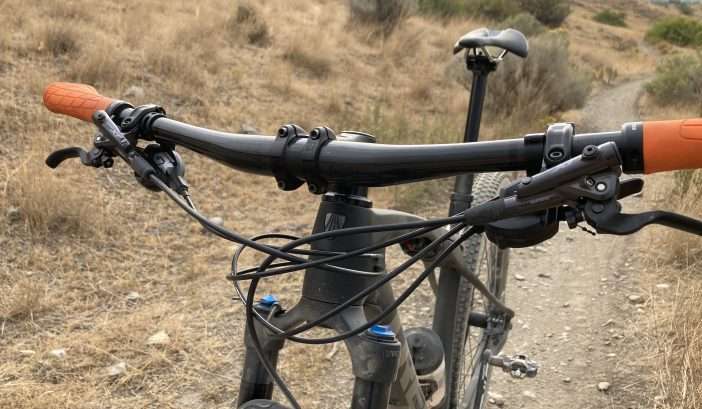 The DropLock operates a little differently than a typical lockout since the lockout lever is a push on/push off affair. But, the dropper lever works just as you'd expect it to work. Let's talk about the lockout. Coming from the standard lock/unlock lever on the Supercaliber, it took some getting used to (and I haven't quite mastered it 100% of the time). Effectively activating the lock/unlock requires more force than the standard lockout lever. I found that I can't just use the tip of my thumb to engage it, but instead have to use the meat of my thumb to depress it enough. The amount of lever throw is good, it just requires solid force to lock/unlock.
Because of the added force to lock and unlock, I have found myself using it a little less (but, on the Supercaliber that's not a bad thing). It does effectively lock out both front and rear at the same time, but can be configured to just lock out your fork or shock alone.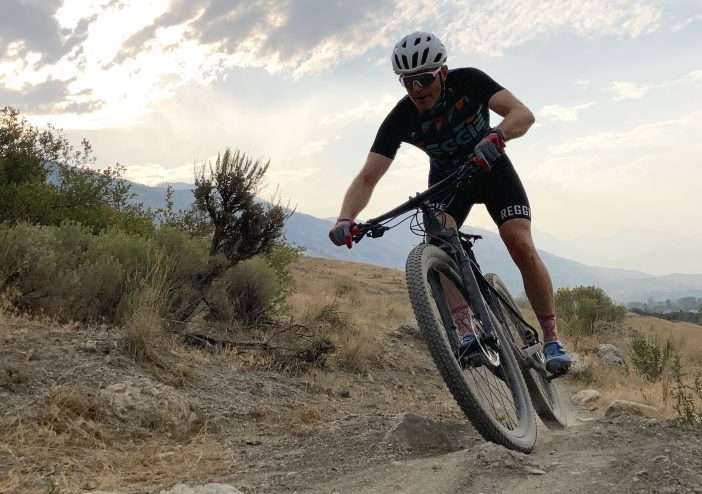 With the dropper lever, everything has been superb. The lever action is responsive and the Line Elite dropper responds accordingly. In head-to-head descents with and without the dropper post, I'm decidedly faster with the dropper. For most climbs, I'm immediately dropping 20-30 seconds from my previous times. The benefits of a dropper post far outweigh the slight weight increase and they also outweigh the less-than-ideal lever situation because there is a case for both lockout and dropper.
The Good
Suspension lockout and dropper lever, all-in-one
Dropper lever is easily operated
Eliminates tricky grip-based lockout systems
Turns your XC bike into a capable descender
The Bad
Lock/unlock lever requires deliberate force
You'll have yet another cable
The Bottom Line: Bontrager DropLock Remote
If you have a Trek Supercaliber or other XC race bike that features a lockout, the Bontrager DropLock lever is worth a shot. The benefits of dropper posts is obvious and can even yield significant benefits for short descents, like those on most XC courses. I'm a fan of having both lockout and dropper — even if the lockout mechanism isn't a slam dunk.
Buy Now: Available at TrekBikes.com