It's true, there are a plethora of handlebars out there with variations in materials, drop, reach, flare, aerodynamics and more. In the end, it's one of those pieces of kit that's highly-personal, but most riders will find little to complain about with Bontrager's latest set of all-day bars, the Pro IsoCore VR-CF.
Bontrager Pro IsoCore VR-CF Features:
OCLV carbon with IsoCore continuous inner-laminar technology
Replaceable IsoZone EVA pads maintain original grip diameter
Variable Radius Compact Flare (VR-CF) bar shape offers greater comfort in all hand positions
IsoCore technology decreases road vibration by 20% over traditional carbon bars
Compatible with clip-on aero bars
Includes four replaceable EVA IsoZone pads for tops and drops
Specs: 123mm drop and 93mm reach
Widths: 38, 40, 42 and 46cm
Weight: 249g (42cm)
MSRP: $325
Perfectly-paired with the Domane SLR
Last year, Trek launched their new Domane SLR platform. This new bike broke new ground in many ways with an all-new adjustable IsoSpeed Decoupler in the seat tube and one in the head tube. The result is a thing of beauty as far as comfort is concerned — I should know, I've been riding the SLR Disc with the Pro IsoCore VR-CF's for 6 months.
Domane SLR smoothery aside, the new Pro IsoCore VR-CF aims to further reduce road chatter while being race-stiff. Those two demands can often conflict, but Bontrager has really done a great job of melding the two with these new bars. IsoCore has been used in Bontrager's top-shelf bars for a few years and is essentially a sandwiched material aimed at reducing vibration. In addition, these bars are built with divots specifically designed to accommodate IsoZone EVA pads in the drops and tops to keep diameters the same while further enhancing dampening.
Keep in mind that these bars are available in both short-reach VR-SF (128mm drop / 75mm reach) and compact VR-CF (123mm drop / 93mm reach) shapes. You'll want to be sure to select the best shape based on your body shape and bike fit. And, the 93mm reach on the VR-CF is pretty long by today's standards so double-check your measurements as you may need a shorter stem.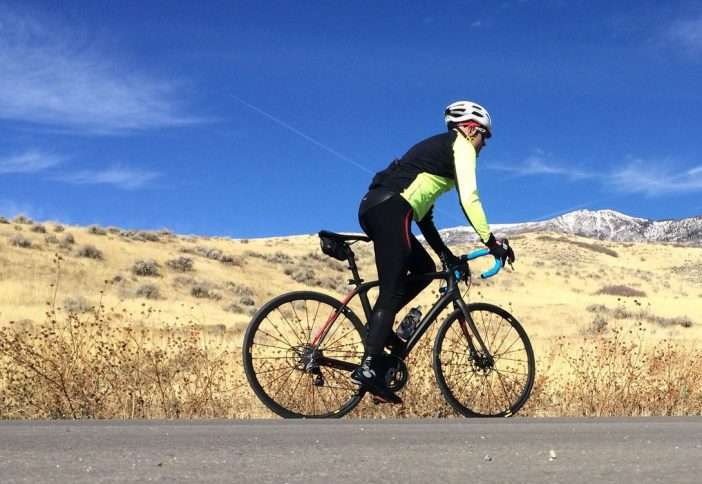 Installation
Once you select the proper stem and bar shape for your bike, it's time to install. As with all carbon components, a good bit of carbon friction paste should be used as well as a torque wrench (I used the Park Tool Adjustable Torque Wrench). My stem choice has been the Bontrager Pro Blendr in a 110mm length, which pairs nicely here. However, any 31.8mm stem will work just fine.
With a good dab of friction paste, I then roughly aligned the bars and placed the brake levers in position. At this point, it's critical to know your fit measurements or at least have another bike to compare with. The IsoZone EVA pads can then be installed and the cables attached in a couple of places with electrical tape. As with all carbon bars, the Pro IsoCore VR-CF's feature grooved cable guides on both the front and back and I was able to get the cables in place from my SRAM Red HydroR shifters without too much trouble. Once set, I wrapped them and then tweaked things as needed.
Performance
Previously, I have ridden the Bontrager Race X Lite IsoZone VR-CF bars and the Pro IsoCore VR-CF's offer more reach and a slightly revised shape. In addition, the Pro's carbon layup feels stiffer and more responsive. The entire test has been performed aboard the new Domane SLR Disc for a brand-unified look. With the short top tube of the Domane SLR, I've been able to make the 93mm reach work just fine with a 110mm stem.
Carbon bars and stems can significantly improve the ride characteristics of any bike. I feel like the ultimate is both a carbon bar and stem, but if you're going to just do one of them, a good set of carbon bars (like these) will do wonders.
As I've put more miles on the Pro IsoCore VR-CF's, I've been able to ride quite comfortably. Road chatter is certainly reduced, but not eliminated. While the IsoCore/IsoZone combo does go a long way, these are still built for racing and are responsive first and comfortable a close second. All-out sprints and hard-charging will be met with absolute stiffness here, but the comfort shines through as the drone of rough pavement attempts to fatigue your hands.
The ovalized tops do offer a slightly more ergonomic perch when riding there. Of course, there are bars that offer a wider, flatter top design, but the combination of IsoZone pads with your chosen bar tape (thicker for more comfort or thinner for more responsiveness) should deliver the results you're looking for. I chose to wrap them with the Fabric Knurl tape, which offers a medium amount of comfort and just the right amount of bar feel.
The shape is quite nice and I've been able to dance from the hoods to the drops and then to the tops quite easily. With the proper fit, however, I spend most of my time in the hoods and have found these bars to be excellent on all roads and terrain.
The Good
Performance-oriented design and feel
Noticeable road chatter reduction
Replaceable IsoZone pads
Great shape that feels instantly natural
Available in a wide range of widths
The Bad
Still pretty stiff — don't expect a magic carpet
Comfort features do add about 50g
Flat tops are always my preferred choice (but I don't spend much time there anyway)
The Bottom Line: Bontrager Pro IsoCore VR-CF
When looking for a set of bars to go with my Domane SLR Disc, these were the natural choice. They are responsive, yet subtly-comfortable and stay on brand. However, these are not just for your Trek and should be considered for anyone looking for a performance-oriented bar with a longer reach and an extra bit of comfort.
Buy Now: Available at Your Local Trek Dealer or TrekBikes.com
When you're in the market for a new set of bars, there are a number of items to consider. If you're going carbon, ride quality should be one of your top considerations. If the Bontrager Pro IsoCore VR-CF is the right shape for you, you'll be rewarded with a responsive and smooth cockpit.