It's that time. Time for long-sleeve jerseys and a variety of other layers to combat cold mornings, chilly afternoons and the upcoming winter riding months. Bontrager has come to the rescue with their new Velocis Thermal Long Sleeve Jersey.
Bontrager Velocis Thermal Long Sleeve Jersey Features:
Thermal fabric is engineered for maximum warmth and breathability
Full-length YKK zipper with draft flap allows temperature regulation
Three open-back pockets
Elasticized silicone printed gripper keeps the jersey in place
Fitted cut provides streamlined body fit for enhanced performance
Size tested: Medium (5'11" – 170 lbs)
MSRP: $99.99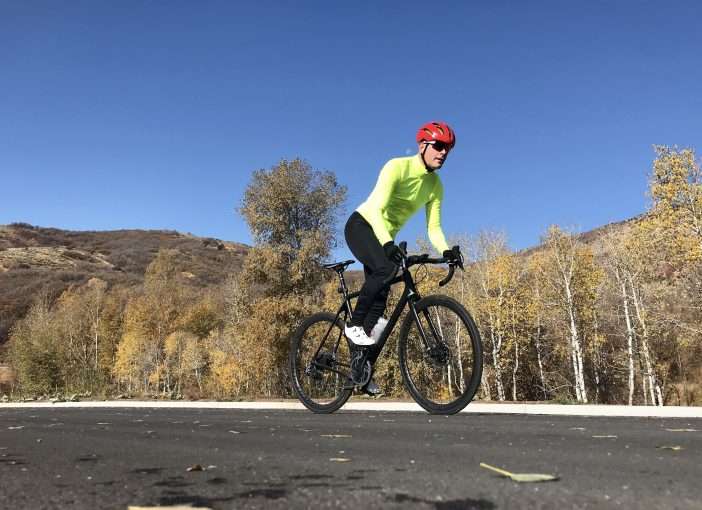 Function, warmth and comfort
I've always been a fan of long-sleeve jerseys and I have a tendency of wearing them earlier and longer into and out of shoulder seasons because most of them breathe well enough to handle it. With the Bontrager Velocis Thermal LS Jersey, you do get a cold-weather jersey that nails it as an outer layer, under a vest or under a variety of jackets.
As an outer layer with temperatures in the 50's, it excels. With a form-fitting shape and good pockets, it's an excellent choice for shoulder-season. Those pockets aren't as easily-used as a summer jersey. Much of that is due to the fleece-backed material, that has a tendency to grab items on their way in or out. That said, pocket access is generally accepted as less-than-ideal when it comes to thermal jerseys (so, it shouldn't be surprising). Just bear that in mind and realize that you can't quite load the Velocis Thermal up like a Sherpa.
Bontrager's choice of thermal fabric is spot-on. Next-to-skin comfort is outstanding and the Velocis Thermal does a great job of encouraging breathability. The entire jersey is constructed of the same thermal fleece material, so there aren't any mesh panels to aid in moisture transfer. I haven't had significant issues with this — both alone and as an under-layer — but, in warmer temperatures, added breathability would be desired. By that point you should be opting for a lighter-weight LS jersey or a SS jersey with arm warmers anyway. To sum up, under ideal use and temperatures, breathability is excellent.
While the Bontrager Velocis Thermal Long Sleeve does a great job as an outer layer when temperatures are right, it's also an outstanding base or mid-layer. I've worn it alone and with a sleeveless base layer and a cold-weather jacket on top like the Pearl Izumi PRO AmFIB Shell, GORE C7 Shakedry Stretch or Bontrager Velocis Subzero Softshell. Due to the tight fit, a long-sleeve base layer can't be worn underneath.
The silicone-printed hem is awesome. And, I dig that it goes all the way around instead of just in the rear. Because of that, the Velocis Thermal stays put really well. In addition, the sleeve length on the size medium is generous and I couldn't be happier. Many times, sleeves end up being too short, but not here. That length facilitates a proper glove/jersey connection. And, the sleeves block the wind better than the Assos Millet GT does, for example. Up top, the collar is the perfect diameter and height. It fits snug, but stretches to allow freedom-of-movement on the bike (e.g. head on a swivel).
The Good
Next-to-skin comfort
Extra sleeve length is great
Silicone gripper all the way around the hem
Zipper is easily pulled up/down one-handed
Collar height/diameter is perfect
Offers a touch more wind protection than other LS jerseys
Hang loop in collar (all jerseys should have this)
The Bad
Fleece-lined jersey pockets make access difficult
The Bottom Line: Bontrager Velocis Thermal Jersey
When it's time for long-sleeve comfort, the Bontrager Velocis Thermal Long Sleeve Jersey is a great choice. With ample sleeve length, a form fit and a perfect collar height/diameter, this one is optimal for a mid-layer our outer layer when temperatures are in the 30-50 degree range.
Buy Now: Available from TrekBikes.com