The advent of gravel riding and racing has brought some new elements to hydration packs. The traditional, low-carrying hydration packs won't work for cyclists who also want to have access to jersey pockets. With that in mind, the Camelbak Chase Bike Vest is here to the rescue.
Camelbak Chase Bike Vest Features:
1.5L CRUX™ Reservoir: Faster flow rate for better hydration
Front Harness Pockets: Conveniently located for quick access
3D Vent Mesh: Multi-directional air flow and cushioning to maximize comfort and breathability
Dual Adjustable Sternum Straps: Offer a range of adjustments for a custom, comfortable fit and increased stability
Stretch Overflow Pocket: Quickly stash or shed a layer or rain shell
Quick Stow Compatible: Optimized to fit Quick Stow flasks in front harness pocket
MSRP: $100
Carry more without being burdened down
Traditional hydration packs are great and all. I have an arsenal of them for every purpose. Now, the Camelbak Chase Bike Vest sits among them, but for a different purpose — long-distance adventures on two wheels.
With the popularity of gravel racing and riding, the Chase Bike Vest is a killer option and was used by several athletes in this year's Dirty Kanza 200 race. Since it carries higher (hence the vest name), the Chase Bike Vest feels less burdensome on the bike. Based on Camelbak's running vests, this one is not only home on two wheels, but hiking and trail running s well.
But, since this is a bike vest, it does have a few bike-specific features: notably, more pockets for tools, tubes and gear. Those additions don't make it bulky at all, but do a great job of compartmentalizing everything — from flat repair tools to nutrition and extra layers. It really does have everything you would want for a long ride with the added carrying capacity of your existing jersey pockets (though difficult to access while on the bike).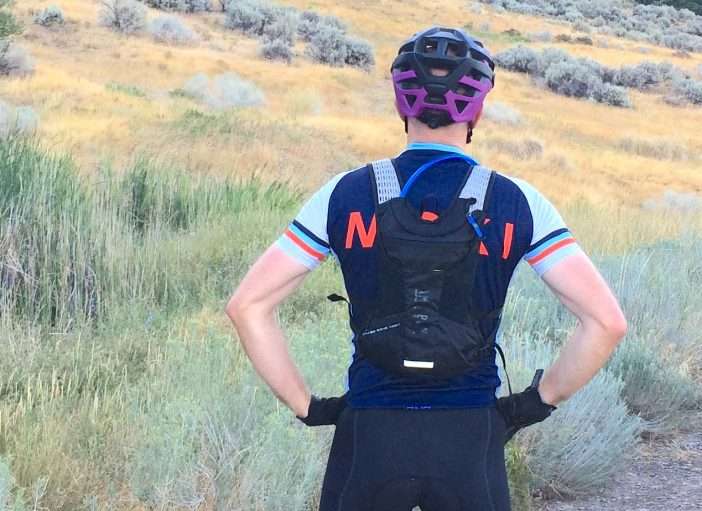 To keep the vest in place while riding, the Chase Vest utilizes two stretchy sternum straps. They do stretch, but I found them to be a little restrictive on lung-busting climbs where every breath needs to be as deep as possible. In the end, I settled for keeping the straps a little looser and relied on the vest's natural load-carrying capabilities to keep things in place — which works on all but the nastiest of terrain where I quickly cinched things down just a touch.
Access to the 1.5L bladder is a breeze with two small C-clips that hold the hose in place. When motoring along, it's easy to pull the tube into your mouth and drink with both hands on the handlebars (and get plenty of water). But, I did have some challenges when attempting to return the hose back in place because those C-clips are hard to track down in your peripheral vision. I could get the lower one pretty reliably, but if Camelbak were to make those clips bright yellow, for example, they would stand out much easier.
With radiator-style mesh panels (dubbed 3D Mesh) on the back and front, the Chase Bike Vest does breathe well, but you'll still notice it. All-in-all, it's definitely a small price to pay for the added water and gear storage. When loaded for bear, the vest can also hold a Quick Stow Flask on the right side.
As is usual, I tested the versatility of the Chase by using for trail running. Yup, it works like a charm. Of course, it has extra pockets and such that you don't necessarily need for running, but nothing gets in your way.
And, of course, the Crux reservoir is a breeze to fill with a huge, screw-top opening. The hose detaches for further ease. It does take a little finagling to get it into place, like all bladders. Once set, everything carries great.
The Good
The "un-hydration pack"
Allows access to jersey pockets
Tons of storage pockets for everything you'll need
The new gravel racing standard
Carries really well
Locking bike valve has maximum flow
The Bad
Sternum straps (though stretchy), do inhibit breathing
Hard to locate the hose clips on-the-fly
The Bottom Line: Chase Bike Vest
Camelbak really nailed the gravel riding and racing trend with the Chase Bike Vest. I primarily used it for XC riding, but with several long gravel rides on the calendar, it will get put to good use.
Buy Now: Available at Amazon