Mid-fat bikes are the current rage but is all the hype warranted? So far, I've had good fun on every plus-sized bike I've ridden. And, when it comes to the Cannondale Bad Habit 1, this one is hitting the sweet spot.
2017 Cannondale Bad Habit 1 Features:
Smartformed alloy frameset with 120mm travel front/rear
RockShox Monarch RL shock
Lefty 2.0 Alloy OPI fork
Cannondale Si crankset with 30t chainring
SRAM GX 1×11 drivetrain
WTB Bridger 27.5 x 3.0
WTB Scraper i45 27.5 45mm rims
Weight: 31.6 lbs (large, actual, tubeless)
MSRP: $3199.99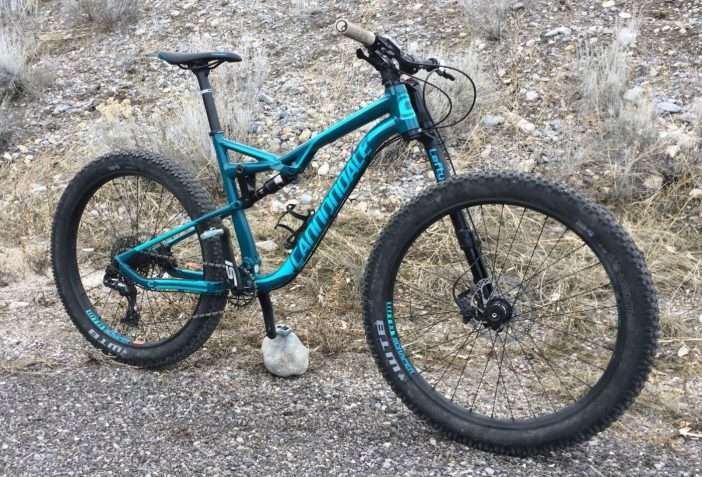 Smart spec does the job
The original Cannondale Habit delivered fun in spades. This year, Cannondale decided to explore the studio space and see how that bike would perform with 27.5+ tires. Now with more cowbell, the Bad Habit has us dancing around the studio like Will Ferrell and enjoying every minute of it.
As mentioned, the Bad habit is a plus-sized version of the Habit, so it sports 120mm travel to go along with the WTB Bridger 3.0 tires. That extra width provides a number of advantages and the overall build kit of the Bad Habit 1 delivers a solid package for year-round fun.
The suspension is handled by a RockShox Monarch RL in back and a Lefty 2.0 Alloy OPI up front. With a SRAM GX 1x drivetrain, Cannondale Si crankset, house-brand cockpit, and WTB Scraper 45mm tubeless-ready rims, the Bad Habit 1 packs a ton of value. The entire package is no lightweight and tips my scales at 31.6 lbs. set up tubeless.
Super-versatile and wicked-fun
To shoot straight, I've yet to have enough fun on a fatbike to warrant riding one outside of the deepest of snow days. The ones I've ridden are gangly and awkward on dirt. I suppose there may be some fatbikes that are more fun than others, but that has been my experience with fatties thus far. Now, plus-sized bikes (27.5+ and 29+) offer much of the traction and comfort of fatbikes without all the side-effects. Gone is the woeful understeer and portly weight and instead, plus bikes replace that with excellent handling, good responsiveness and playfulness that fatbikes can't match.
I got the Bad Habit 1 the same time the Orbea Loki 27.5+ came into town. Side-by-side, I was quickly able to compare notes and decide which platform I preferred — hardtail or full-suspension. Without question, I'd choose to ride the Bad Habit full-suspension bike over the Loki hardtail 100% of the time. Many would think that the extra squish would result in a sluggish ride, but Cannondale has figured out how to package responsiveness into a 120mm plus-sized bike.
I love bikes that feel natural right out of the box. When the cockpit feels just right, everything tends to follow suit. But, the right cockpit is only part of the story here. Thanks to the prevalence of 1x drivetrains, the Bad Habit manages to squeeze 3.0″ tires into that rear triangle while still delivering ultra-short 17.4″ chainstays. The resulting geometry really makes this bike feel alive.
For dirt, I have been riding this bike in the 15-18 psi. range and the combination of that with 120mm travel surprisingly doesn't suck any of the playfulness out of this bike. On the contrary, I continued to be floored by just how much I could whip this 32 lb. bike around the local trails. I absolutely loved ripping down rolling, winding singletrack descents as the Bad Habit always went where it was pointed and allowed me to carry speed aplenty.
Traction is, of course, superb but not unflappable. You can get it to let loose, so don't think it turns you into instant Superman. However, the extra traction does allow you to power up steep, technical terrain with ease. Standing and climbing works quite well as all the squish remains manageable, but sitting and spinning with the 30t front chainring is also quite nice. No question, I have been completely surprised by just how much fun this bike is on the the dirt.
Nearly as good as a fatbike
Throughout the winter, I've been venturing into fatbike and near-fatbike terrain aboard this bike. Luckily, I've got some groomed roads and trails in American Fork Canyon where fatbikes roam free. Like any snow conditions, you do have to pick your day wisely as not all snow is created equal. I will say that on loose, soft snow days I was doing just as well as any fatbikes. And, when the conditions were primo, I was grateful not to be pedaling a fatbike up 2000 ft. of climbing to the top of the Alpine Loop. I dropped tire pressures just below 15 psi. for snowpacked roads and groomed singletrack.
Components shakedown
I had the WTB Bridger tires and Scraper rims set up tubeless throughout my tests and wouldn't ever opt for tubes in any plus-size bike ever. I can comfortably run lower pressures without worry. The only bummer was that the tire/rim combo didn't keep their seal super well. After only a couple of days in the garage, the tires would be essentially flat. I didn't have time to re-seal them, but that may be in order.
As far as everywhere else, the SRAM GX drivetrain with its massive 42t cog delivered just the right amount of high and low-end power. Shifting remained crisp and solid. The Shimano Deore brakeset has offered fuss-free braking with a good lever feel. You'll notice that I did swap out the grips for a set of Ergon GE1's but everything else was just dandy.
The Lefty 2.0 Alloy OPI fork offers push-button lockout and easy-to-reach rebound right at your fingertips. Pushing the lockout button is drop-dead simple — even with thick winter gloves on. I came to really appreciate the smoothness and stiffness of the Lefty 2.0. Lateral stiffness is superb and it absorbs both small and large bumps extremely well.
As far as suspension setup, the chart on the Lefty is spot-on as it recommended 102 psi for my 170 lb. weight. I also set up the RockShox Monarch RL with 30% sag which was about 125 psi.
The Good
Really surprised by how lively this bike is
Lefty 2.0 is stiff and smooth
The whole package defies its 32 lb. weight
Excellent traction everywhere
Great overall drivetrain with no issues
Cannondale bits feel high-quality
Water bottle cage inside the front triangle
Very balanced handling with little-to-no understeer
Cannondale has their suspension game dialed
The Bad
Tubeless setup required constant monitoring
Heavy on paper
Wish it came with a dropper post in this spec
The Bottom Line: Cannondale Bad Habit 1
This bike really surprised me by just how much fun it has been. No, I'm not knocking off any Strava PR's on my local climbs, but I don't care because I'm having a ton of fun just ripping along. The Bad Habit climbs well and descends with confidence. And, on top of that, the Lefty 2.0 fork is ultra-smooth.
Buy Now: Available at REI
In Summary
The Cannondale Bad Habit 1 really is a kick in the pants. I have enjoyed many miles aboard this plus-sized bike on dirt, gravel and snow. It is quite versatile and for someone like me who lives in Utah, this truly is a 4-season bike.