Lookie here. Yes, you can spend upwards of $10k on a bike, but what does that get you? Aside, from an empty wallet, most often it gives you the satisfaction of buying the best bike and parts spec available. For discerning riders, that often makes sense, but for the 95% who simply want a great bike at a great price that will last a long time, spending that much just isn't feasible. With that, Canyon has all of us covered and the Endurace CF SL Disc 8.0 Di2 is a great example of what that bang-for-the-buck gets you.
Canyon Endurace CF SL 8 Disc Di2 Features:
Canyon Endurace CF frame with 12mm thru axles, flat mount brakes, etc.
Clearance for 32-35mm tires (depends on tire/wheel combo)
Full Shimano Ultegra Di2 R8050 Groupset
DT Swiss E1800 Spline Tubeless Wheelset
Canyon S15 VCLS 2.0 CF seatpost
Canyon alloy cockpit
Fizik Aliante R5 saddle
Continental GP 5000 28mm tires
Arrives mostly assembled (took me about 45 minutes — and I'm pretty meticulous)
30-day return policy
Warranty: 6 years

Weight: 17.3 lbs (medium, actual)

MSRP: $3999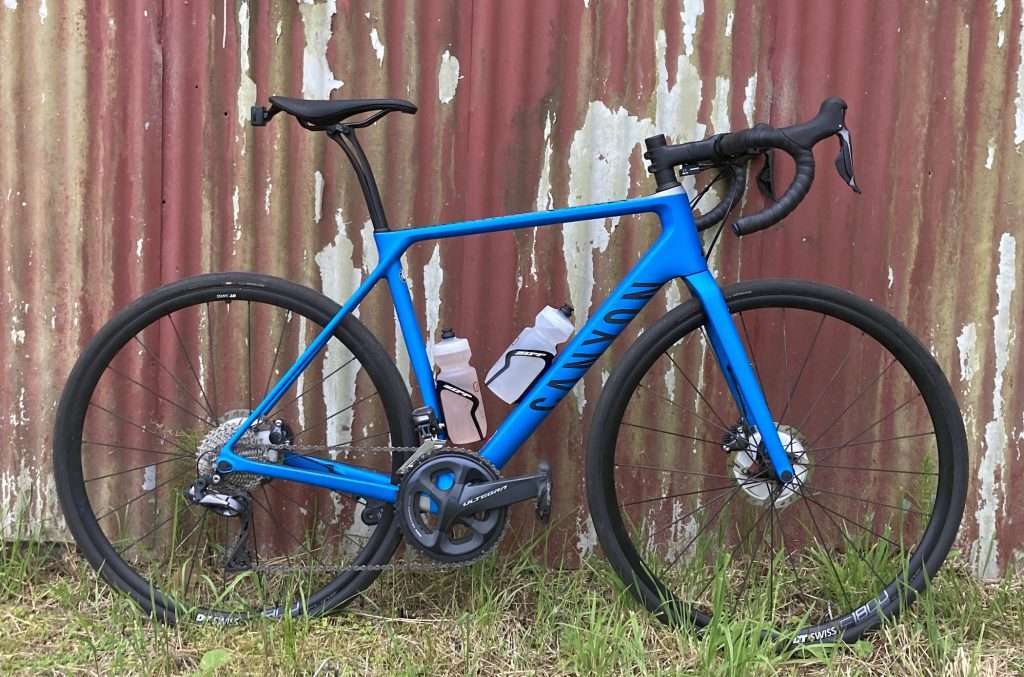 So. Much. Value.
On paper, it's hard to look past the $3999 price point of the Endurace CF SL 8. Looking over the competition, this bike uniquely comes with a full Shimano Ultegra Di2 R8050 groupset (cassette and chain too) while still shaving $400 or more off the prices of a comparable Specialized Roubaix or Cannondale Synapse, for example.
Looking further over the spec and actually riding the fast-rolling DT Swiss e1800 Spline wheelset, the value of Canyon's Endurace platform is even more palpable. It's a great spec on a high-performance bike for the masses. To hit that sub-$4k price point, Canyon has utilized their standard-modulus carbon layup. It adds a few grams and allows them to hit that killer price. Okay… I'll stop talking about the price. It's a solid value.
Let's talk about the geometry. Interestingly, I'm riding a medium, which isn't my typical size. At 5'11" with a 30″ saddle height and a 2.5″ saddle-to-bar drop, I'm usually comfortable on a 56, which ends up being a large with most brands. Frame stack on the medium is 578mm and reach is 382mm, but the large comes in at 604mm and 389mm, which feels just a touch tall (but honestly could work). With the medium, I was able to swap the standard 100mm stem with a 110mm for added reach, which then also allowed me to move the saddle forward about 5mm for a more knee-friendly position.
So you are aware, Canyon will swap out bars, stem or seatpost after arrival. All you have to do is pay for the replacement item, then they will refund you when the original parts are received back.
As with all direct-to-consumer purchases, fit is the biggest challenge. Canyon includes a quick size finder by entering your height and inseam measurements. Using that, it recommended a size medium Endurace for me. Because I know my proper frame stack/reach, I could confirm that was most likely the proper choice as well. If you have any hesitations, you can always call them for guidance. I'd highly recommend giving them a shout to be absolutely sure you order the right size.
Capable climber. Comfortable everywhere.
As usual, a full road test includes hundreds of miles across several months and this one was no exception. After dialing in my fit, the miles ensued. This year, I'm in as good of shape as ever, so the Endurace was properly pushed in all aspects. Utah has its fair share of long climbs, winding descents and fast flats and the Endurace performed beyond expectations in all aspects.
Let's talk about climbing. This spec is no flyweight, but it's also no boat anchor either. That said, at 17.3 lbs, I'm still going to call BS if you use the added weight as an excuse for not nabbing any climbing PR's. Yeah, there are lighter bikes, but that's pretty light. A fast-rolling set of wheels and tires will not only pay dividends on fast flats, but don't underestimate how much it will improve your climb times. In addition to the efficient, responsive frame, the DT Swiss E1800 wheelset and Continental GP 5000 tires roll along and climb like champs. After setting a new PR on one of my favorite climbs just days before the Endurace arrived, I topped that time not once but twice. A subsequent full-out climb on another bike fell flat, with the Endurace remaining firmly in the top two slots. Not bad.
Now, don't take this as a promise that you'll PR every climb, but just know that the Canyon Endurace CF SL 8 Disc Di2 can climb very, very well. It responds adeptly on standing sections and just feels generally good while climbing. For me, that 110mm stem further allows me to position myself forward and in front of the BB for better leverage. The included Fizik Antares allows you to position yourself a little further out on the nose, when needed. I also used another, traditional-length saddle from Bontrager (unreleased model) and found the wide nose a good thing.
Let's move along to rolling or flat terrain. While the Endurace isn't going to compete with the Aeroad for Classics-duty, it's still capable and fast. We spend a week in Long Beach, WA every other year and of course, I always bring a bike along. One particular Strava segment in the area is "Chinook Valley Rd South," which is a flat, little-traveled road from Ilwaco to Chinook, WA.
Of my three attempts over the years, the Endurace now holds my best time and is good for 3rd overall. Granted, not a ton of riders have hit this segment, but my other attempts were on racier bikes than the Endurace and it still bested all of them on the stock setup with 32mm Bontrager tires. Had I been on the GP5000's, I may have been even faster.
So, for sure you'll find the Endurace a capable partner on flat or rolling terrain as well. Again, the included wheel/tire combo is fast and smooth. I inflated the tubed Continental GP 5000 28mm tires to 70/75psi and they always felt wicked fast. To test the tubeless capability of the DT Swiss E1800 wheels I installed a set of Bontrager R3 32mm TLR tires. These tubeless-ready wheels are a breeze to set up and allowed me to drop the tire pressures further to 57/60 psi. With that, this bike could easily handle light gravel duty too.
Fun fact: Canyon athlete, Peter Stetina, uses the Endurace for fast and less-technical gravel events. I had plenty of clearance with 32mm tires and I have read others clearing up to 35mm tires on the Endurace.
On descents, the Endurace is quite capable and confidence-inspiring. Handling is a touch slow, but on par with what you'd expect for a good endurance bike. It's no slouch, but does lack some responsiveness compared to race bikes. And, when sprinting hard to the line, the Endurace CF SL does lack some pop. It moves along, but doesn't quite have the killer instinct that sprinters desire.
Ultegra Di2 shines. Wheels amaze. Solid cockpit.
With the $3999 CF SL 8 kit, you get a complete Ultegra Di2 kit. I'm talking complete. Most other brands will mix in a little 105 with an Ultegra build, but not Canyon. I've reviewed this groupset before and still find it to be an outstanding value with killer performance. Shifting has been quick and reliable and the braking experience has yielded great results. After riding the ultra-quiet SRAM Red eTap AXS, the noisy chainslap is noticed, but that's just the way it is.
And, I can't help but tout just how good these wheels are. No, they are not deep-section, aerodynamic models. And, they aren't carbon, but they really are a solid wheelset. They spin up quickly and respond when pushed. I was able to install tubeless tires with ease, because they come tubeless-ready. At 20mm internal width, they are respectably-wide too. I didn't weigh them individually, but DT Swiss states they are 1651 grams — again, not bad.
The included Canyon cockpit offers a nice feel overall. I did wish for a little more ovalized tops, but other than that, I had no complaints. Aftermarket stem options are going to be limited, but there's no real reason to swap this one out, unless you need a drastic drop (but you'd want the Ultimate for that anyway). As said by many others, the leaf spring Canyon seatpost is magical. It smooths out every road imperfection to the point that you think you have a flat tire. In this case, that's a good thing.
The Good
Excellent, balanced comfort
Can crush climbs beyond expectations
Full Ultegra R8050 groupset
Excellent DT Swiss E1800 wheelset (easy tubeless setup)
Arrives ready to roll in just a under an hour (includes tools too)
Such a killer value
Very planted feeling — especially on descents
That 34t cog did come in handy
The blue color really looks awesome (my family calls it the "Pretty Blue Bike")
The Bad
Seat angle requires seatpost removal and extensive fit/re-fitting
Lacks sprinter's pop and zippy handling
Oversized 1.25 steerer tube makes for limited aftermarket stem options
Can feel a bit numb
Couldn't tell if I needed a 110 mm stem until it arrived
The Bottom Line: Canyon Endurace CF SL 8 Di2
Canyon lives in a unique direct-to-consumer space. Many times, the value of that proposition comes in reduced quality, but nobody is doubting the craftsmanship, quality and value of any of their bikes — especially the Endurace CF SL. With a planted feel and comfort in spades, the Endurace has proven itself a reliable friend on all types of roads. And, it's also surprisingly zippy as a climber. Understandably, it does lack some sprinter's pop, but that's a known quantity here. This has really been an enjoyable bike that should suit nearly every rider looking for an endurance bike.
Buy Now: Available at Canyon.com
In Summary
The Canyon Endurace platform shows just how great today's endurance bikes can be. With ample tire clearance, excellent comfort and capability beyond expectations, the Endurace CF SL Disc 8.0 Di2 is one of the best bikes available for your hard-earned dollar. Coming in at a respectable weight, the Endurace performs well everywhere and climbs like a champ.