It's pretty amazing what you can get for around $2000 these days — especially when it comes to bikes from Canyon Bicycles. In early 2023, they redesigned both the Neuron AL and CF bikes to further solidify them as their go-to trail bike for riders looking for a fast and versatile mountain bike. At $2599, the Neuron AL 6 represents one of the least-expensive bikes I've ever ridden, but it has performed well beyond my expectations.
2023 Canyon Neuron AL 6 Features:
All-new alloy frameset with 130mm rear travel via FOX Float DPS Performance shock
FOX 34 Float Rhythm 140mm suspension fork
Internal cable routing (with internal foam tubes)
Integrated chainstay and frame protection
SRAM NX Eagle 12-speed groupset
SRAM DB8 hydraulic brakes
DT Swiss AM LN 370 wheelset – 30mm internal (tubeless-ready)
Schwalbe Nobby Nic (front) and Wicked Will (rear) 29×2.4″ tires
Iridium stem, flat bar and dropper post
Selle Italia X3 saddle
6-year warranty with 30-day return policy
Weight: 32 lbs. (medium, actual), 31.6 lbs. (tubeless)
MSRP: $2599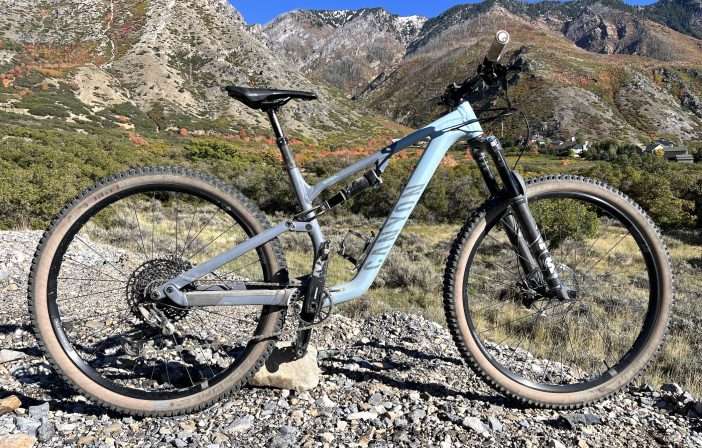 An admirable parts spec
The Neuron AL 6 represents the best journeyman parts spec you'll find on the market. With suspension duties handled by the Fox Float DPS rear shock and Fox 34 Rhythm fork, the tone is set at value and performance. Those are locked-and-loaded on a 140/130mm alloy frame built using the tried-and-true Horst Link suspension design that Canyon tweaks and calls Triple Phase Suspension. Internal cable routing offers a clean look and I love the bottle cage mounts inside the front triangle (a must have for me).
Canyon has designed the Neuron AL with modern tire clearance at 2.4″ and rolls with a Schwalbe Nobby Nic and Wicked Will 2.4″ combo. DT Swiss gets the wheelset nod with their Canyon-exclusive AM LN 370 with a 30mm internal width. They are tubeless-ready and I swapped them from tubes to tubeless right out of the gate to run lower pressures, roll faster and, as a result, dropped a half pound of rolling weight. To do this, I used a set of Reserve Fillmore Valves with WTB TCS Tire Sealant. You'll be pleased to know that the transition is a breeze and can be done with a standard floor pump and tubeless sealant.
31.6 lbs is a truly admirable rolling weight — even compared to some carbon trail bikes I've ridden in the past few years, like the Specialized Stumpjumper EVO. Canyon rounds things out with their Iridium cockpit bits and dropper post. All-in-all, it's truly remarkable to have a bike of this caliber at such an approachable price.
"Wow" time on the trails
It's not often that I get a bike at this price point to test. Compared to the price of the other summer tester, the Yeti SB120 T3, you could almost buy four Neuron AL 6's. Gulp. But, Canyon's business model truly allows their product team to outfit their bikes to the hilt. Still, with that affordable parts spec, I was bent — as always — to push this bike to the absolute limit.
My typical test track consists of a variety of loops with a good amount of climbs and descents and one, sizable ascent to push my legs, lungs and the bike further. I ride hard and fast and would choose to ride a 120mm travel XC bike if I had my druthers. So, the Neuron AL 6 sits on the fringes of my ideal, but quickly showed me what a little extra optimized travel can do — all on a tiny budget.
It didn't take long to get comfortable on the Neuron AL 6. I immediately settled in and only had a few minor tweaks after that first ride. After that, it was game-on and nothing could stop me from having a blast. With about a mile gravel approach to the singletrack, I can attest to the efficiency of Canyon's Triple Phase Suspension. Compared to the Canyon Lux Trail CF 7, the front and rear suspension of the Neuron AL feels in sync and evenly-smooth. The natural anti-squat properties keep the Neuron AL locked-in and responsive. Speaking of lockouts… I'm glad there are no remote lockouts here. Yes, you can flip the levers to lock out the shocks, but I only did that to test it and that's about it. A natural platform, combined with the trail-gobbling settings of the shock puts suspension duties on automatic.
Let's talk about climbing
At almost 32 lbs., I had little hope for challenging some of the best times on my local climbs. But, after powering through some of the rolling terrain on my routes, I confidently ventured into the longer climbs on the menu. The segment below is a relentless switchback-fest for almost 20 minutes. Hitting a top 10 time on a bike that's easily 8 lbs. heavier than the ones used to nab my best times is impressive and speaks the efficiency of the Neuron AL.
Both seated and standing climbs feel natural and efficient. I can sit and spin up just about anything and the bike remains straight and composed. Standing climbs don't just blow through the travel but also maintain ample traction and forward motion. Keep in mind that you need to stay ahead of your gearing for maximum performance. It's easy to do so with a 30t chainring, but you'll be well-rewarded if you can stay well ahead of the 30/50t combo. Those two largest cogs have seen minimal use.
It's clear that the combination of the rear shock and kinematics are spot-on for fast climbing. Again, I'm surprised how well a bike with this much travel climbs. As a further example, one of my favorite parts of a climb is carrying speed through uphill switchback corners. With the right bikes, at the right cadence, you can use gravity to your advantage through the apex of an uphill switchback. It's a magical feeling that almost gives you butterflies in your stomach. In short, I wouldn't think twice about tackling the most arduous climbs on this bike. The only thing holding it back is its extra weight — and it's not by much.
Onto the descents
After earning a well-deserved downhill, the Neuron AL 6 is a willing downhill partner. With 130/140mm suspension travel, it's easy to get into and out of technical situations without getting overwhelmed. At speed, this bike is an absolute hoot. I can enter and exit fast turns with gobs of speed. In addition, rock gardens are fun to fly through without being too picky on line selection. Of course, DH-type terrain will give you pause, but everything else is fair game.
There are some negatives worth mentioning and tops on that list are the brakes. The SRAM DB8 4-piston brakes are capable, quiet and smooth, but lack power when stopping from the fastest speeds on challenging terrain. That is amplified by the Neuron AL's lack of suppleness. Trail chatter heading into a high-speed turn does get a little choppy — especially compared to the braking power and buttery-smooth suspension found on the Yeti SB120, for example. But again, this bike costs one-fourth the price of that wunderbike.
Putting it all together
In he end, trails are not all up or all down, but a combination of everything. Taken on the whole, this bike has blown me away. I can efficiently hit all the punchy climbs and adeptly dice though any descent on the hill. Stitching all of that together is something the Neuron AL 6 does with the best bikes on the market. Honestly, I have been floored at just how fun this bike is all around the mountain. It's just a great mountain bike.
The best way to challenge the best all-around bikes I've found is one of my usual test loops called "There and Back Again." It's a 6.6 mile singletrack loop with 300 ft of total climbing spread into a couple of fast ascents. After 55 tracked times on this segment, I knocked 30 seconds off the time set last year aboard the Trek Top Fuel 9.9 XX1, which is five-times as expensive.
So there it is. It is the pilot in the box with the right bike — and that might not necessarily be the lightest and fastest bike on paper. Not shown on the above ride were all the other PR's and hardware achieved.
I have to mention the parts spec and drivetrain performance before wrapping everything up. You absolutely can spend thousands more for SRAM X0 Eagle Transmission, RockShox Reverb AXS Dropper, etc. but you don't have to. The Fox fork and shock are noticeably less supple than their Factory lineup, but you're also not spending north of $10k to eke out that little bit extra. No question, those parts are outstanding, but the SRAM NX Eagle groupset delivers high-quality, crisp shifting all over the mountain, those DT Swiss AM LN 370 wheels spin fast and take more abuse than I can dish out and the full package gels together like a product manager's dream. As with most wheelsets of this caliber, you will notice some deflection on g-out corners, but it's minimal. Even the house-brand parts are great. As I mentioned, the grips were all I changed out — even the stock saddle remained (a rarity). This is the current spec for 2023-2024.
Fit and setup: At 5'11" with normal proportions, I fit comfortably on a size medium (my usual Canyon size). At my 173 lb weight, I loaded 80 psi in the front and 170 in the rear shock and set the rebound one click in from the middle. As of this review, I've ridden it just over 175 miles. I inflated the front tire to 24 and rear to 26 psi. before every ride.
The Good:
Blown away by the overall performance
Great pedaling platform for efficient climbing
Such a killer spec for $2599
No complaints about any of the parts
House-brand dropper makes quick work of descents
DT Swiss hoops can take serious abuse (and offer a 30mm inner width)
Superb tire combo
Easy tubeless setup (valves and sealant not provided)
Clean cable routing and accessible bottle cage mounts
Responsive dropper post
Sleek alloy frameset
The Bad:
SRAM DB8 brakes lack power when pushed to the limits
Suspension lacks the suppleness of more refined designs
Miss that carbon "zing" but don't miss the cost
Not set up tubeless from the factory
Vexing clicking sound from the headset when turning left/right (need to dig into it and post an update)
The Bottom Line: Canyon Neuron AL 6
To say I'm impressed with this $2k bike is the understatement of the year. No, I'm actually blown away by how much fun and how fast this 32 lb bike is. With an efficient suspension design, I can confidently climb up anything with breakneck speed and confidently descend anywhere with only minor differences between this and some of the best bikes on the market.
Buy Now: Visit Canyon.com
In Summary
I'm absolutely floored by how much I love this bike. I don't just love how it performs, but I love what it means for everyday mountain bikers worldwide who want a do-it-all bike on a budget. I wouldn't hesitate to plunk down $2599 to get one of these for myself -- even though I could easily get something lighter and fancier. If this was my only mountain bike, I'd happily ride it off into the sunset with a big ol' smile on my face.