If you're a part of a cycling team, have a core group of riders at the office, want to ride for a cause or are interested in selling branded kits, Champion System has a variety of options.
Champion System Apex Lite Jersey and Apex Bib Shorts Features:
Jersey: Anatomic fit, DimpleLite front panel, Air Lite rear panel, 50+ SPF, three rear pockets, single water-resistant zipper pocket, highly-breathable underarm
Bib Shorts: Contour Lycra, carbon fabric for leg gripper, CS Carbon fabric offers thermoregulation, flatlock stitching
MSRP: $98 jersey / $128 bibs
Kitted up for the warmest days
With a closet-full of kits, I've had a chance to compare every detail among the major brands, but hadn't yet worn anything from Champion System. On test this summer has been the Champion System Apex Lite Jersey and a matching pair of Apex Bib Shorts.
I'll start with my absolute favorite part of this kit — the design. While you can use Champion System to design whatever your heart desires, the scheme handed to me at Sea Otter is honestly my favorite of all time. I'm a sucker for teal-blue anything (like the Celeste blue of the 2019 Bianchi Infinito CV Disc) and this kit looks absolutely fantastic. And, it has matched the Factor O2 Disc perfectly.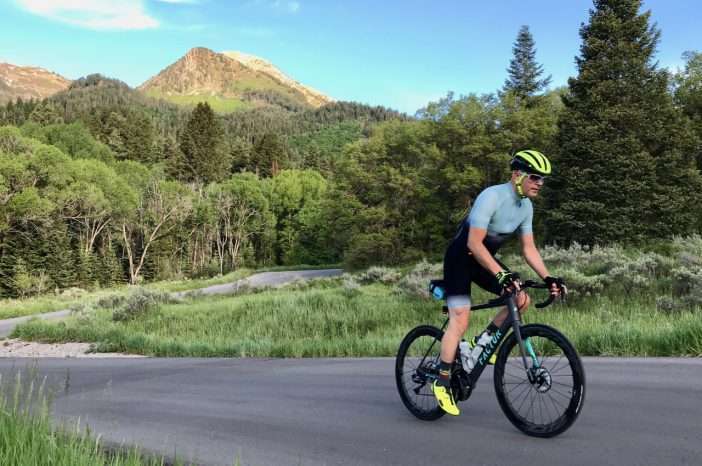 This kit is most certainly a summer-weight affair with highly-breathable mesh fabrics. At speed, the jersey is super-comfortable — particularly when it's Africa hot outside. In addition, the jersey features wide arm cuffs that stay in place and wear comfortably on even the longest rides. I also love that the mesh fabric remains soft next-to-skin, which isn't typically the case with these types of mesh fabrics.
The rear pockets are set high up on the back, which makes for difficult access on-the-fly. I struggled getting things into and out of them. I'll also mention that the zippered water-resistant pocket is only big enough for a wallet. Collars are getting shorter these days and this one is a mid-rise one with a zipper that's easily zipped/unzipped with one hand.
Overall the kit features a snug, race-like fit in the large/large on my 5'11" 170 lb. body.
On the bib side, the straps are comfortable and chaff-free and the leg grippers are nice and wide. However, the stretch fabric on the leg cuffs has started to visibly stretch out on the edges. The chamois is good overall, but not best-in-class.
My biggest gripe overall has been that the bib shorts lack compression from the groin out towards the hips. Everywhere else is sufficient, but it's just not snug enough in that frontal area. Certainly, I could size down, but my guess is the medium would be way too small everywhere else.
This kit design gives you a great idea of what's possible with Champion Systems. Go ahead and check out their custom kit designs for your team, event or company.
The Good
This particular color scheme is bonkers awesome
Fabrics and construction feels very premium, yet affordable
Jersey breathes super-well
Snug overall fit without being overly-so
Front zipper is easily pulled up/down
The Bad
Bib shorts lacked compression in the frontal, groin area
Jersey pockets sit high up and can be hard to access
The Bottom Line: Champion System Apex Lite Jersey/Bib Shorts
I'm in love with the design of this kit. It's too bad it's not something that's available off-the-shelf because it looks fantastic. But, if your team is looking for a custom kit, their CS Direct Team Store has you and your squad covered with an easy online design and ordering experience.
Get Started: Visit Champ-Sys.com