Saddle bags are a necessity when heading out on the road for a long ride. Instead of stuffing your pockets with CO2 cartridges, tools and spares, you can slip them in a saddle bag and head out. All bags vary in size, capacity and attachment with EVOC's Saddle Bag offering a good size for all but the longest, unsupported rides.
EVOC Saddle Bag Features
Easy hook-and-loop straps for securely mounting to the bike
Reflective hits for additional safety
Additional mesh pocket
Volume: 0.7L
Weight: 0.15 (70g)
Size: 12 cm x 8 cm x 7.5 cm
Materials: Nylon 210/D Ripstop PU Coated Air Mesh
MSRP: $20
Easy access and secure mounting
When you're using extra straps to secure your current saddle bag because the Velcro has gone bad, it's about time to look for an alternative. Yes, there are tons of options, but I prefer something simple. And, because the Velcro failed on my previous bag, I'm leery of it carrying the primary load-bearing of the saddle bag.
With EVOC's Saddle Bag, you get a 0.7L bag that features a wide-open main compartment with a small mesh pocket for keys or other small items. Within the bag, I was able to carry all the necessary items for a roadside flat repair or other needs along the way. With everything shown below, I still had extra room, but not much. Squeezing a second tube in there is possible, but would require some finagling.
As mentioned, previous saddle bags suffered from Velcro failure, but I'm not seeing any of that here since the strap goes through a loop first, then attaches to itself. Going that route significantly reduces the dependence upon the Velcro as it's only needed to keep the strap attached to itself. It stays put like a champ.
The zipper is easily-moved with the bag still attached to the saddle rails. I had this attached to a couple of saddles, Fizik Arione and PRO Stealth without issue.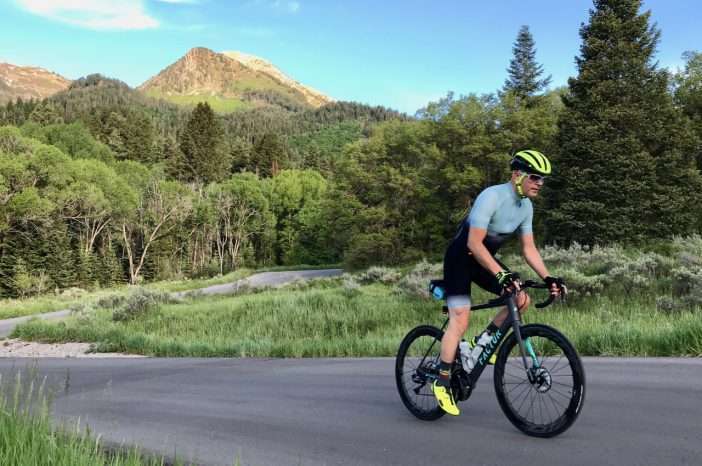 To keep its structure, the bag has a plastic, C-shaped insert that maintains its shape and also adds in water protection from water flipping off the tire treads. The ripstop nylon exterior also has a protective inner liner that, in concert, provides a highly water-resistant package. I didn't ride in the rain, but spray tests yielded zero water penetration on the body of the bag, but the zipper does absorb water. Penetration is minimal, but it would have been a nice touch to add a waterproof zipper for added protection.
On the vanity side, it looks quite snappy on the Factor O2 Disc, right? I could not have planned it any better, but other color options are available.
The Good
Stays put… nuff said
Double-back straps will maintain Velcro-ness
Good size without being too large
Maintains high level of water resistance
The Bad
Waterproof zipper would be nice
The Bottom Line: EVOC Saddle Bag
With saddle bags, one of the critical features is retention. EVOC solves this by doubling the straps back through standard loops so the Velcro doesn't have to support the bag. Nice work there. The bag itself is large enough for all the tools and necessities for a long ride. Get one that matches your ride and off you go. This affordable bag is a keeper.
Buy Now: Available at CompetitiveCyclist.com