Since Fezzari came onto the scene with their direct-to-consumer model, other manufacturers have either come to the States or launched their own DTC offering. Still, Fezzari has continued to perfect their craft while also introducing several new models that have hit the industry by storm. With the all-new Fezzari Veyo SL, the product team has set their sights on the performance road market with a modern, aerodynamic all-rounder that's capable of going toe-to-toe with some of the best road bikes on the market. And, as I would discover, I can confirm that the Veyo SL means business in all the right ways.
Fezzari Veyo SL Features (as tested):
Size-specific geometry and layup
Truncated aero tube shapes
Internal cable routing using FSA SMR Alloy stem (110mm)
3mm fore/aft tuned fork flex for added comfort
Tested to MTB standards
32mm tire clearance
Built with the new SRAM Force AXS groupset (now available from Fezzari)
Tested with Zipp 353 NSW, Zipp 303 S and Elite Drive G45 wheels
Zipp SL-70 Ergo 44cm bars
Bontrager Verse Elite Saddle
Lifetime warranty with crash replacement program
30-day ride period for a full refund
Colors: Podium Champagne (tested) or Podium Black
Weight: 17.2 lbs (w/Zipp 353)
Weight: 860 grams (medium frame weight, stated)
MSRP: $2799 (frameset) or builds from $3499
Custom-built just for me (or you)
Fezzari prides themselves in their 23-point custom setup, where you enter your measurements and they set everything up just for you. Or, if you have a recent bike fit, they can easily take those measurements and set everything up perfectly. I went the latter route by sending them my Retul bike fit and they were all set. Since this was a custom build, I was lucky enough to get a complete 2023 SRAM Force AXS groupset with the Zipp 353 NSW wheelset for this build. I dropped everything off and let Fezzari work their magic. About a week later, I showed up in their Lindon, UT warehouse and picked it up.
Looking over the current build kits, there is now a SRAM Force AXS option, in addition to other similar options that can include Zipp 404 Firecrest wheels. I varied the wheelsets throughout the review to highlight how the Veyo SL performs across a variety of hoops of different depths and widths. After the initial review, I installed a set of Bontrager Aeolus Pro 37V wheels with Bontrager R3 TLR tires that measure out to 35mm and they clear with room to spare. Heck, I may even be able to fit the WTB Vulpine 36c tires for a bit of gravel.
Depending on your chosen saddle, it's possible that the seatpost clamp could give you trouble. The Fizik Aliante R3 can't be used on this bike, for example because the clamp maxes out before a level position is achieved. With the Bontrager Verse Elite Saddle, I was just able to get it perfectly level. Your results may vary and you may need to change saddles due to the seatpost clamp. And, like all other nimble road bikes, mind that toe overlap on extreme turns.
Should you order one from Fezzari, it will arrive with minimal assembly required. You should be able to hit the road in 15-30 minutes. If you're uncomfortable with minimal wrenching, you can always take it to a local shop or find someone who is. After an in-depth factory tour, I can attest to their ride-ready assembly process shipped directly to your door.
Veyo SL dazzles on all roads
Even though everything was set up for me from the factory, there were still minor tweaks needed. After my first shakeout ride, I changed saddles and made some minor bar adjustments. After that, it's all been gravy — with just the right reach and fit all around. It's worth noting that all the three wheelsets used were set up tubeless, running pressures between 55-63 psi. While those low pressures will certainly add comfort, not all wheelsets are equally-compliant. I'll talk more about that later, but most of the 300+ miles, were ridden with the Zipp 353 NSW Wheelset with Pirelli P Zero Race TLR 30c tires.
While the Veyo SL is an aero road bike, it's built to be an all-rounder (along the lines of all the latest race bikes from Cannondale, Specialized, Trek and others). With that, I didn't shy away from the steepest climbs, longest ascents, rolling flats or curvy mountain roads. Fezzari launched it aiming to shake things up at the top, so putting it to the full test was a foregone conclusion.
At just over 17 lbs., this Veyo SL comes in just slightly heavier than the 2020 Specialized Venge Pro and it rides very similarly (a good thing). With the Venge Pro still holding a fond place in my heart, that puts the Veyo SL in rare company. The combination of aerodynamics, comfort and responsiveness immediately makes this bike feel like home. The fit remains racy, but it's easy to live with as a daily driver and a few spacers under the stem.
Descends with confidence
From my home, all roads go downhill and that first descent had me ready for more. While I do have about 25mm of extra stack to get my fit, the bike doesn't know the wiser. Some bikes can lose their spark with a little stack, but the FSA SMR Alloy Stem and a stout head tube maintains pinpoint handling without any ill-effects. Further descents remained delightful and had me feeling as if I was being pulled downhill with a tractor beam. The bike anticipates every curve and small movements result in predictable but responsive tracking.
Oftentimes, race bikes can feel twitchy at speed and especially on windswept descents. This can be particularly scary when careening down 3000 vertical feet from the top of Utah's Alpine Loop. Delightfully, the Veyo SL responds almost identically to the Pinarello Dogma F10 and Specialized Venge Pro. I'm no racer, so I don't enjoy an overly-responsive handler. Luckily, the Veyo SL unlocks adept handling and rock-solid stability at speed — making it an absolute blast to whip in-and-out of high-speed turns. And, it remains impervious to sudden crosswinds as well. The last part of the long descent has been absolutely spanked by this bike, with Strava top 10% segment times on routes I've ridden 150+ times. No doubt, it's crazy-fast and confident on mountain descents.
An adept climber
With a lightweight 860 gram frame (medium, stated), the foundation is extremely svelte. While pure climbing bikes are lighter, this bike feels nimble and fast on long climbs and punchy inclines alike. It does lack that extra pop of an elite climbing bike, but I'm not complaining. I can settle in and climb up the longest climbs. And, it responds well when the pitch steepens and standing is mandatory. Under those hard pushes, power transfer is on display with no detectable flex — everything goes to the wheels.
At slower speeds, aerodynamics don't really come into play, but it is nice to have the cables out of the way of your knees. And, everything remains balanced when pushing side-to-side without any front-end wandering. No matter how hard I've pushed, there hasn't been any creaking, seatpost slippage or cable rattle. Above all, this bike simply feels cohesive and reacts as a solid unit.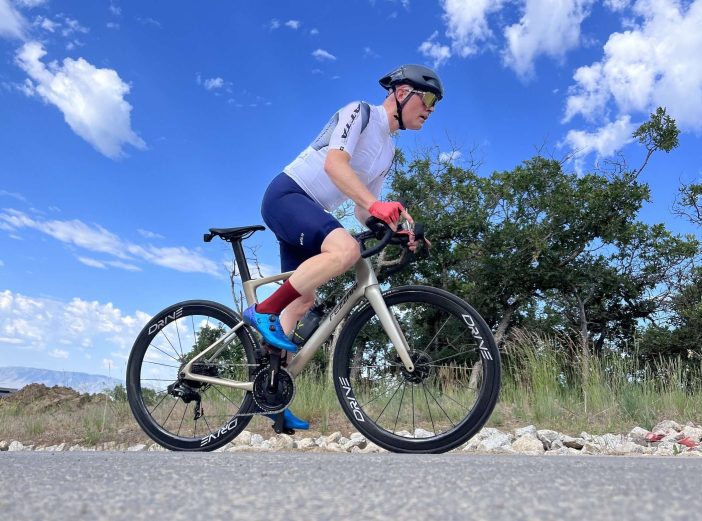 With that unified feel, the excellent ride character carries over to rolling terrain and long, fast flats. It's the kind of bike that can easily go from 15-25 mph without batting an eye. All things considered, there are more aerodynamic bikes out there as well as zippier climbers, but on the whole, the Veyo SL is a compelling all-rounder at a lower price than the competition. I appreciate how fun it is to hop over obstacles and dance around the local routes in a way not all race bikes can.
Bringing things back down to earth a little, I have admittedly had the opportunity to ride this bike with arguably the best all-rounder wheels on the market. To keep things real, I also spent many miles on the more approachable Zipp 303 S and the Elite Drive G45 wheelsets. Near Domane SLR-level comfort can be had with the 353's on the roughest roads, but the 303 S delivers a very comfortable and smooth ride at a more reasonable price. If you choose to go with something like the Elite G45's, you'll roll fast, but comfort is supremely compromised. In the end, tire clearance is fantastic, so should you wish to go larger, the Veyo SL can swallow some very wide road tires.
(Sep 2023 Update): After the initial review, I've kept the Veyo SL around — testing a variety of wheelsets and I still can't say enough good things about "Goldie." It has been an absolute blast to rip around the local roads.
Fit: I'm 5'11" and 175 lbs riding the size medium Veyo SL with a 110mm stem, 44cm wide bars, a 30 in. saddle height and 25mm stem spacers.
The Good:
An absolute bomber descender
Handling is adept and predictable, but never twitchy
Responds everywhere as a cohesive unit
Plenty of clearance with official 32mm tire clearance, but I've fit 35mm tires
Comfortable with the right wheelsets
Feels planted and connected to the road
Front-end is stiff and tracks perfectly
Maintains speed well and accelerates in a jiffy
The Bad:
Watch that toe overlap
Seatpost clamp prevents some saddles from getting level
The Bottom Line: Fezzari Veyo SL Custom Build
Fezzari's road road bike lineup has greatly improved in the past few years — with the Veyo SL rising into rare air. With a slippery frameset and confident and comfortable disposition, I could ride this bike on the longest, most challenging rides without thinking twice. Off-the-shelf builds that compare to this build are going to set you back almost $10k, which is a significant investment. But, a full Force Pro Kit and Zipp 404 Firecrest wheels is a more attainable $6400. Whether you go fully-custom or get one of Fezzari's builds, the Veyo SL punched way above my expectations. In short, this bike is really fun to ride and reminds me of just how great an aero road bike can be.
Buy Now: Available from Fezzari.com
In Summary
The Fezzari Veyo SL is the best road bike ever to come out of their Lindon, UT headquarters. Heck, it's among the most capable aero all-rounders on the market today and goes toe-to-toe with bikes from the biggest brands. Available in a variety of builds, you'll find the Veyo SL to be an adept descender and capable on all terrain with a planted, predictable feel. Handling is responsive, but never twitchy and delivers comfort beyond expectations.