Sea Otter 2019 served as the launching pad for the new LOOK 765 Gravel RS — the brand's first foray into the world of gravel. It's all the rage and LOOK has racing intentions with the 765 Gravel, as evidenced by the UCI certification badging. I got a first-hand look at this new gravel bike and a fun, mixed-surface ride to round things out.
LOOK 765 Gravel RS Features:
Full-carbon frame features 3D Wave chainstays
SRAM Force 1 build (as tested)
WTB Riddler 700x37mm tires
Look LS2 Carbon 27.2 seatpost
Mavic Allroad Disc Tubeless wheelset with Speed Release axles
Look alloy LS2 cockpit
Tire Clearance: 700x40mm or 650bx2.1
Weight: Frame – 1200 grams, Complete – 19.5 lbs
Lifetime frame warranty
MSRP: $4500
Go out, ride anywhere on the 765 Gravel RS
That's the beauty of modern gravel bikes — you can ride them just about anywhere. So, that's just what I did when given the chance (more on that later). LOOK has been pioneering carbon fiber road bikes for many years, but it took them awhile before introducing a gravel bike. And yes, the 765 Gravel RS aims to stay true to LOOK's racing heritage as it claims to be on the racy side of gravel and is even UCI legal.
Yes, the 765 Gravel RS is intended for racing, but it's by no means a twitchy, CX machine. Overall geometry remains gravel-friendly, with enough stack/reach to accommodate the bulk of riders with a comfortable riding position. LOOK's Gravel Design Stem and spacers allow for a clean cockpit with an integrated look. As a side note, the steerer is a standard affair, so aftermarket cockpits are possible.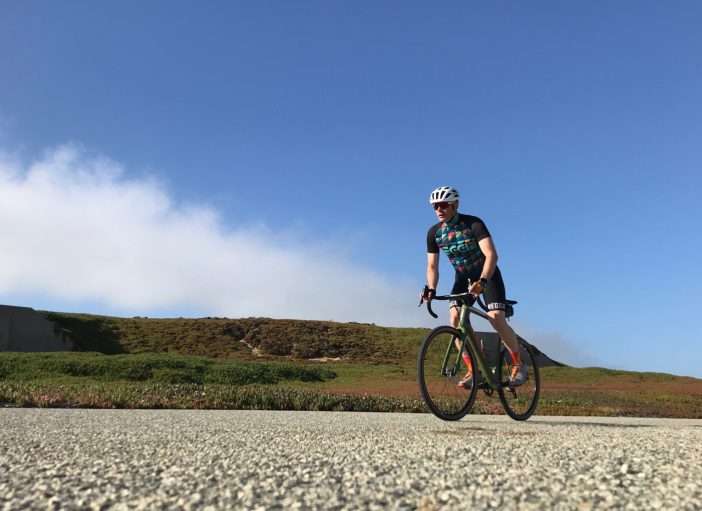 As I only had one, 20-mile ride aboard the 765 Gravel RS, this is a quick take, but should provide a glimpse into how this bike will perform. As mentioned, the stack/reach is definitely in the realm of appealing to most riders. I was able to quickly dial in an initial fit that felt comfortable. Further tweaks would be made if I had this for a long-term review.
The test ride was along the coast within and around the Ft. Ord Dunes State Park. I parked at the main parking lot off 8th Street in Monterey. From there, I was able to ride on the bike path while mixing in a fair amount of singletrack, gravel and sandy trails. I consider it a good enough mix to take advantage of what the 765 Gravel RS has to offer.
As with any gravel bike, the beauty is being able to go anywhere, so that's what I did. Any and every singletrack or gravel offshoot was an open invitation to explore. In the end, I was able to experience the bike and truly appreciate its on-road and off-road manners. On loose or soft terrain, it always felt planted and stable. Handling was always good and everything felt calm and controlled. Laying down the power through these sections felt natural.
On longer road sections, I would have appreciated a 2x drivetrain for a little shorter jumps between shifts, but the 42-tooth chainring with the 11-36t cassette provided ample low and high end gearing for the rolling terrain.
Because of the shallow (70.3-degree) head angle and fork rake, there's plenty of toe clearance on tight corners (a good thing), but it does make for floppy slow-speed steering and a bit of a lumbering feeling when climbing out of the saddle. It's subtle, but after hopping off the Trek Emonda SLR to this, it's noticeable. That said, it's not unexpected either since this is a gravel bike after all and the Emonda is a pure climber.
In the end, you won't buy the 765 Gravel RS expecting Tour-capable climbing performance, you buy it because it will put a huge smile on your face.
The Good:
Unique LOOK quality and features
Smooth ride
Comfortable geometry for easy fitment
LOOK cockpit looks great
A touch extra flare in the bars is nice
Great traction for laying down power on rough terrain
No toe overlap
The Gad:
Feels long and lumbering on steep, punchy climbs
Steering can feel a little floppy at low speeds
Definitely function over form here
The Bottom Line: LOOK 765 Gravel RS
After an afternoon aboard the 765 Gravel RS, I'm liking what LOOK has brought to the table. This is a great, and unique entry into the all-road market. There's a ton to like about the 765 Gravel with a couple small niggles. In the end, if you buy this one, you'll have to promise to take the unbeaten path more than you should because you can.
More Info: Visit Lookcycle.com