The latest breed of disc brake road bikes are being built to leverage the inherent advantages of discs — namely, bigger tire clearance, improved comfort and better braking in all conditions. With that in mind, Focus launched the all-new Paralane in 2016 with the intent of showing just what today's road bikes should be.
2017 Focus Paralane Ultegra Features:
Optimized carbon layup for responsiveness, power and comfort
907 g stated frame weight (54cm)
Clearance for up to 35c tires (fit will vary by tire manufacturer)
12mm RAT thru-axles
Unique split Concept CPX, 25.4 x 340 mm seatpost
Concept EX cockpit
DT Swiss R23 DB Wheelset
Complete Shimano Ultegra drivetrain
fi'zi:k Aliante R5 saddle
Includes removable fenders for foul weather
Weight: 17.4 lbs (Ultegra model with Fulcrum Quattro DB wheels)
MSRP: $3500
With Paralane, diversions are welcome
Thanks to disc brakes and improved tire clearance, riders are venturing on backroads and hitting gravel in droves. It is amazing what a set of 30+mm tires can do on both paved and gravel roads. Yes, these diversion-friendly bikes do have a little bit of a weight disadvantage (mostly due to heavier brakes), but the versatility is worth it.
In the case of the Paralane, we're talking about a respectably-light 905g frameset that's been optimized by Focus engineers with their masterful carbon layup skills. You'll notice lots of purpose-built tube shapes and details throughout. The top tube flattens and flares at the head tube in a way I've never seen before and the shaped seat stays and chain stays are obviously built for compliance. Speaking of compliance, that ultra-thin 25.4mm seatpost  certainly does a number on road chatter.
The test kit on this bike wasn't quite of the off-the-shelf variety, namely the Fulcrum Racing Quattro Carbon DB wheels and a set of Zipp Tangente Course R30's for extra comfort and all-condition performance. Outside of that, I did end up swapping out the bars and stem to deliver a better fit and ride quality. You'll likely do similar tweaking to make the bike yours.
To learn more about the tech details behind the Paralane, head on over to Focus-Bikes.com.
Into the proving grounds
It took all but two pedal strokes to understand how the Paralane would perform. Initially, I thought I had a flat tire because it was so smooth, but nope… no flats and this would be a smooth ride indeed. Then, stepping on the gas, the Paralane responded. Even though those initial impressions proved true, I was glad to put on more miles just to make sure.
Along Utah's Wasatch Front, there are plenty of great roads but the best ones curve upwards into the mountains. Luckily, I've got a penchant for climbing and so does the Paralane. With compact gearing and a wide-range 11-32t cassette, the climb is strong with this one and the Ultegra mechanical drivetrain offers up reliable and consistent shifting — just as it always does.
Drifting through the gears, the Paralane really responds. On flats it can roll with the best of them. On climbs, it simply responds and on descents it goes right where you point it.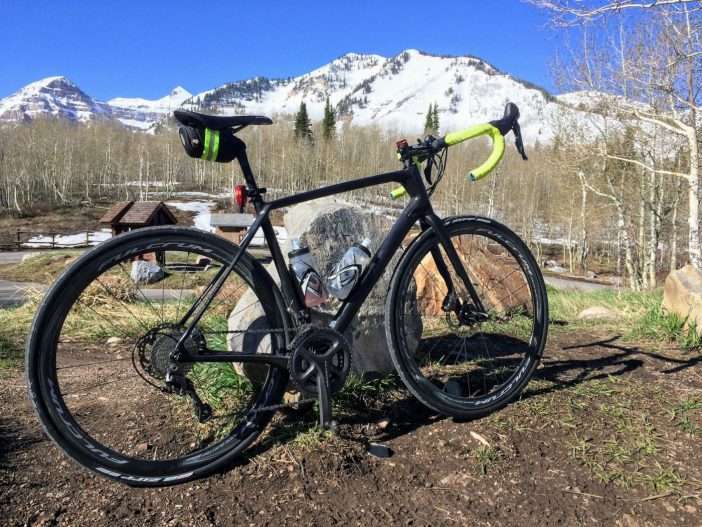 Back to climbing
Something that stands out to me while climbing is a bike that feels natural out of the saddle. When the pitch gets steep or you just need to give your nether regions a break, you stand up and rock the bike back-and-forth as you keep ascending. Some endurance bikes feel wonky during standing efforts with floppy steering or uninspiring responsiveness. Further, some have cables that get in the way of your legs.
With the Paralane, standing efforts are rewarded with a bike that feels as agile and responsive as the best climbers I've swung a leg over. And, the cable routing keeps everything clear of your knees on every pedal stroke. Ultra-low gearing will ensure you can make it to the top of anything — no matter the road type or conditions.
A new kind of all-rounder
To test tire clearance, I loaded the Paralane up with a set of 33c cyclocross tires and they fit with clearance to spare. Of course your experience may vary, but this bike can swallow some good-sized treads, thus opening up the capabilities of this bike for all terrain. Most bikes in this category max out at 32c tires, so the Paralane's 35c clearance can actually step not only into gravel territory, but CX territory so long as the course is a dry one. To be clear, Focus has their Mares CX bike for competitive cyclocross, but the Paralane will do the trick should you wish to ride a race or two every year.
Getting nit-picky
Like any bike, not everything is perfect. Sometimes sample bikes are well-loved machines and other times they are brand new. This one had seen more than its fair share of abuse and needed some reconditioning before testing and I couldn't ever get the rear brake to function correctly, thus limiting my descending confidence. That said, the Paralane has fantastic bones and I don't have any doubts that an off-the-shelf model will perform flawlessly.
Outside of that, the front end is pretty stiff and the stock aluminum cockpit exacerbates the problem. I swapped out the bars with the Easton EC90 SLX and it made a significant difference, but didn't make the harshness disappear. Should you need a zero setback post to achieve the proper fit, you'll also be limited on choices in 25.4mm models.
Also, keep in mind that the standard build includes DT Swiss R23 wheelset, which is actually a good wheelset and only 50 grams heavier than the Fulcrum's tested. I tested the R23's aboard the BH G7 Disc and they are a solid wheelset for the money.
NOTE: I'm 5'11" with normal proportions and a moderately-aggressive fit. The 54cm was an excellent fit for me with a 110mm stem, 15mm spacers and 80mm reach bars.
The Good
A natural climber that responds well out of the saddle
Wide gear ratios will get you up anything
Excellent tire clearance for a road-friendly machine
Lightweight for a road disc frame
Reliable Ultegra drivetrain
Road-smoothing rear end (rear triangle + seat post combo)
RAT thru-axles are easy-to-use
The Bad
Stiff front end — especially with stock alloy cockpit
Not a ton of options in aftermarket 25.4mm seatposts
Very few riders will actually use the fenders
To further show the Paralane's capabilities, check out cyclocross star, Jeremy Powers ride the Paralane through the beautiful, and rugged terrain of Iceland.
The Bottom Line: Focus Paralane Ultegra
Germans know how to engineer great products and the Focus Paralane is a great bike for everyday duty on a wide variety of roads. I've really loved how adept of a climber it is and have found it to be responsive and flexible bike on twisty mountain roads, flat sections and gravel roads.
Learn More: Visit Focus-Bikes.com or Find Your Local Focus Dealer
In Summary
With the Paralane, you get an adept do-it-all bike that doesn't abandon it's on-road capabilities. It rides like a responsive bike should, but also accommodates large tires for gravel, dirt and even light cyclocross duty.