The Garmont Karakum Mid GTX is an athletic-inspired, waterproof-breathable hiking boot perfect for light and fast three-season use. An innovative lacing system, grippy soles, and a slim profile make these boots comfortable on the trail and in town.
The Garmont Karakum Mid GTX Features:
Utilized Garmont's Anatomically Directed Design (a.d.d.®) to enhance your foot's natural abilities
Fit is enhanced by matching the natural shape of your feet
Gore-Tex Extended Comfort Waterproof/Breathable Insert
Vibram S1381 Megagrip Outsole
Assymetrical Cuff
Anatomical Tongue
Differential Ankle Pads
Precision Lacing and natural flex with roomy toe box
MSRP: $159.95
Running Shoes or Hiking boots?
I didn't know what to do with the Karakum Mid GTX when I first pulled them out of the box. The Karakum incorporates a slim profile with lightweight fabrics to create a boot with aesthetics closer to those of running shoe than a traditional leather hiking boots. Next, I was struck by what Garmont calls "a.d.d." (Anatomically Directed Design). Garmont claims that a.d.d. technology matches the design and function of the boot to your foot's natural shape.
Highlights of "a.d.d." include an asymmetrical ankle cuff, anatomical tongue, and differential ankle pads. At first glance, these features combine to create a boot that appears off-centered and difficult to lace-up. However, once you put the boots on you instantly feel the benefits of "a.d.d."
The asymmetrical ankle cuff, which is higher on the inside of the ankle and lower to the outside, allows for a greater range of ankle rotation. While scrambling across a boulder field, the Karakum allowed my ankles a greater range of motion allowing me to step more aggressively while traversing loose rock. Greater range of ankle movement also allows for more confidence when edging and smearing your way up rocks. The ability to freely bend and rotate your foot allows for stability on uncertain terrain.
What I really loved, though, was the anatomical tongue. Many of us have a pair of well-loved boots, perfectly molded to our feet. Great fit, however, usually takes years of wear, and if you look closely, I bet you will find that the tongues of your well-loved boots are no longer symmetrical. The tongue probably sits off-centered and is compressed to one side, which allows it to comfortably wrap around your shin. The Karakum provides this well-worn feel right out of the box. The tongue wraps effortlessly around the front of your shin, providing a custom fit. The asymmetrical tongue allows you to cinch the boots perfectly around the whole shin and ankle. This fine-tuned fit limits the potential for shin-bang – the uncomfortable bruising that occurs on the downhill when inflexible boots burrow into your shins.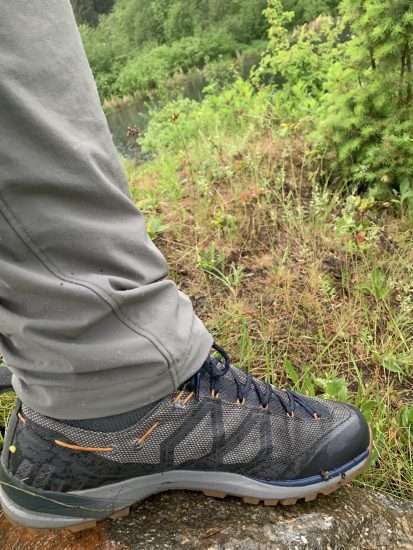 The differential ankle padding provides stability and comfort. The padding around the ankle is tapered, allowing for freedom of movement and stability. The outcome is a boot that is comfortable right out of the box and secure and stable of the trail.
Did I mention that these boots are incredibly lightweight? Putting them on for the first time was a strange sensation. Was I wearing a basketball shoe? A high-top trail runner? In short, the Karakum, while marketed as a lightweight hiking boot, is a category-defying boot. To be honest, I was so intrigued by its low weight and precision fit, I decided to take the boots out for short trail run near my house. While I would not recommend this boot as a trail runner, the experiment convinced me that the Karakum is a unique, do-it-all mountain shoe.
Mountain-ready Features
A good hiking boot must fit the foot well; a great hiking boot also needs to include the features necessary for comfortable backcountry travel. For me, there are two crucial features a great boot must possess:  a burly sole that can stand up to the travails of tough terrain and effective waterproof-breathability. The Karakum delivers both features.
The Karakum uses Gore-Tex®'s Extended Comfort Waterproof/Breathable insert. This waterproof/breathable insert is perfectly suited for the Karakum. On one test hike, I took great pleasure in splish-splashing through any water I could find. Whether crossing a stream or walking through a boggy section of trail washed-out from summer snow-melt, the Karakum kept external moisture at bay and my feet dry. A waterproof/breathable insert also needs to expel moisture from the inside of the boot. The Karakum performed well in this area. My feet never felt clammy or wet, a must when trying to stay safe and comfortable in the backcountry.
Exceptional breathability, however, usually comes at a cost. Typically, for a hiking boot, this means using lighter materials to construct the boots upper. The upper of the Karakum is constructed of Garmont's ballistic fabric and seamless PU. The ballistic fabric seemed impervious to most abrasion, but it was not as supple or confidence-inspiring as a traditional leather boot. For most three-season applications this is not a problem. That being said, I doubt I will reach for the Karakum when temperatures begin to dip in the fall, or if I am pursuing objectives with lots of rock scrambling.
Don't get me wrong — the Karakum is plenty tough, as evidenced by its Vibram sole made of "Megagrip" rubber. The sole is burly, sticky, and lightweight — the holy trinity for a modern boot sole. I never felt undo pressure or discomfort underfoot while negotiating my way across a challenging boulder field. The sole really shined, though, when things got wet. Whether rock-hopping across a stream or side-stepping my way across wet logs, the Karakum's Vibram soles felt secure and certain. A lightweight boot that encourages a quick pace is of little use if you are constantly worried about slipping. These fears are alleviated with the Karakum, allowing you to move through the backcountry with speed and safety.
The Good
Custom-fit out of the box
Lightweight
Gore-Tex Waterproof/Breathable insert that performs well in a range of conditions
Vibram sole is grippy and tough
Heel lock and unique lacing system keeps heel in place, minimizing the potential for blisters
The Bad
Slim profile might not be right for those with wider feet
Fabric eyelets require greater care than traditional metal eyelets
Too flexible for backpacking with a heavy pack
The Bottom Line: Garmont Karakum Mid GTX
If you are looking for an all-around hiking boot that keeps you dry and stable on the trail, consider the Karakum Mid GTX. The Karakum really shines when moving quick on-trail but is tough enough to take off trail when looking to add a little adventure to your day hikes. The Karakum is also a good choice for lightweight backpackers that cover long miles in the spring and summer. With its athletic aesthetic and slim profile, the Karakum will also look good in the pub after a long day on the trail.
Buy Now: Available at Moosejaw.com