Giro doesn't mess around with head protection so it's no wonder that the Range MIPS lid knocks it out of the park in every way possible. It's time to step up your helmet's safety game and this one should be tops on your list.
Giro Range MIPS Helmet Features:
Conform Fit construction
Built with MIPS – Multi-Directional Impact Protection System
Features Articulating Hard Shell construction with low-profile design
Thermostat Control Adjustable Venting with Super Cool Vents and Stack Ventilation
GoPro® compatible camera mount integration
Fidlock® magnetic buckle closure
X-Static® anti-bacterial padding
Compatible with all Giro aftermarket audio systems
Weight: 1.4 lbs (size large, actual)
MSRP: $250
Home on the MIPS Range
These days I demand MIPS helmets on my bike (I can vouch for the technology first-hand), so why not on the snow as well? Giro agrees and has delivered the Range MIPS with a myriad of unique features to not only increase safety, but deliver excellent comfort for noggins of all shapes and sizes. Their answer for the ultimate in fit is an articulated hardshell design called "Conform Fit Construction." The best way to explain this is with the following video.
The outer shell expands and contracts for the perfect fit without ever feeling constricting. No head-squeezers here (granted you have the right shell size, of course). I'll add that my head is nice and oval, but the Confirm Fit construction should certainly help those with more basketball-type noggins. All helmets offer dial-in fit these days, but most do this by expanding/contracting an inner fit system whereas the Range uses the entire helmet as that fit system. The resulting fit is unlike any ski helmet I've tried previously.
Of course, Giro would prefer you use one of their goggles, but I've used an assortment from Spy, Smith and Scott just fine. I haven't had fogging issues or any fit issues that sometimes accompany off-branded goggles. The entire package of helmet and goggle is really fantastic for my head and face shape.
Added protection
Adding to the protection story here, the entire helmet really just feels solid on my head. It is large, I'll give you that, but it's certainly protective. MIPS is the real deal as well. I've tested it on the dirt (read it here) and can vouch for the efficacy of the floating liner. Honestly, it's not worth messing around with your brain, so the extra cost for MIPS is worth its weight in gold.
I'll say that the first time I attempted to remove the chinstrap and take the helmet off, I was baffled. I fiddled and couldn't figure it out with gloves on. Once I removed my gloves, I got the process down just fine and haven't had any issues since. It is different, but the magnetic closure makes even one-handed attaching a breeze and removal is equally simple.
Comfort and breathability
As far as ventilation goes, I haven't had the helmet in sweltering spring conditions yet, but any helmet will get toasty. The single vent closure is easy to adjust and closes all six top vents with one action. What's interesting is the front four vents are still covered internally to prevent snow penetration, but presumably still allow airflow. I've just ridden with it open so far and likely will only close it on nuclear storm days.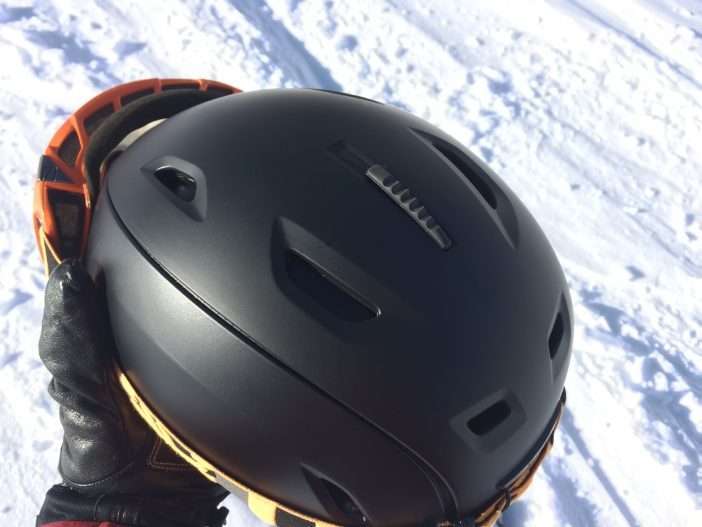 All the features of the Range does make it a bit on the heavy side. It's marginally heavier than the Smith Quantum MIPS and significantly heavier than my ultralight backcountry helmet of choice, the Smith Maze. That said, think of this one as the Volvo of helmets where a race to the bottom (light weight) is certainly not part of the equation. I'll add that the liner and chinstrap fabric is "ooo-la-la" comfy stuff — no chaffing or discomfort going on here.
Durability so far is great and this one is going to be around for quite some time keeping everything I've put into my head over the past 42 years right where it should be.
Special thanks to Sundance Resort for hosting me on the mountain to test the Giro Range MIPS helmet. 
The Good
Ultimate in protection
Conform Fit system delivers excellent, custom-like fit
Vents are easily opened/closed
Works with a variety of goggles
You can insert your own audio options, if you wish
Liner and chinstrap are super-soft
The Bad
It is heavy
Fidlock may take some practice
The Bottom Line: Giro Range MIPS
Head protection is never something you want to toy around with. Spending a few more dollars on the safety and security provided by the Range MIPS is well worth it. The fit is outstanding and the overall construction is second-to-none.
Buy Now: Available at Backcountry.com