Trail shirts can be baggy and oversized or efficient and still comfortable. With the new Gore Wear TrailKPR Daily MTB Jersey, you're going to get a Goldilocks fit for efficient riding wherever you roll. Traditional cycling jerseys are my typical fare, but with the Gore Wear Fernflow Shorts, the Trail KPR Daily Jersey is a killer combo.
Gore Wear TrailKPR Daily MTB Jersey Features:
Utilizes GORE® Selected Fabrics
100% recycled polyester
Drop hem in back for added coverage
Reflective details
Regular fit
MSRP: $50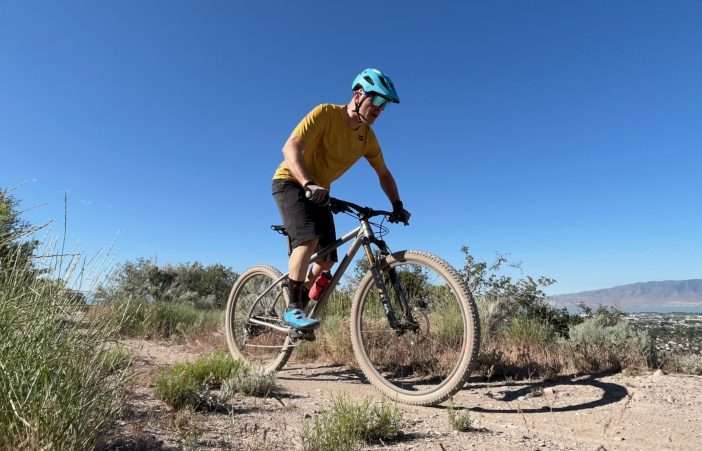 Goldilocks of MTB jerseys
When Gore Wear decided to name this jersey the TrailKPR Daily, they had high hopes it would be used on the daily. Well, even for someone like me who usually wears traditional bibs and a jersey, the TrailKPR Daily has quickly found a spot in my regular gamut of kits. No, it doesn't have rear pockets, but combined with the pockets on the Gore Wear Fernflow Shorts and the internal storage on the Trek Top Fuel, I'm able to carry all I need for 1-2 hour rides.
While Gore says this jersey has a "regular fit," I'd say they are selling it short. The raglan sleeves have seams that snug up the sleeve fit just a touch. And, that drop hem adds coverage when riding aggressively. And, the sleeve length is just right. Throughout the jersey, I'm feeling like it's just the right fit for comfort and motion in and out of the saddle.
Another part of the story is the 100% recycled polyester fabric. It's lightweight and ultra-comfortable to wear both with or without a sleeveless base layer. On cold mornings, the base layer adds just enough warmth and as temperatures rise, the mesh fabric breathes like a dream. At the end of the ride, the TrailKPR Daily dries in a jiffy and remains stink-free for multiple uses.
Durability is important and you'll be pleased to know that it has survived a full-on trail slide without any signs of wear. Not all test kits get that treatment, but this one did. (You're welcome.)
I dig the golden color and the subtle + pattern throughout. It pops in photos and looks sharp hanging around before or after a ride. At the end of long, rough descents, I did feel like the left sleeve/shoulder tended to roll forward, but it's likely due to my physiology. Sadly, I'm not 100% symmetrical, I guess.
Fit: I'm 5'11" and 173 lbs, wearing the size medium
The Good
How recycled fabrics should look, feel and perform
Excellent overall fit
Drop hem adds coverage
Durable
The Bad
The Bottom Line: Gore Wear TrailKPR Daily MTB Jersey
Gore Wear has really crushed the form, function and style with the TrailKPR Daily MTB Jersey. It breathes well and feels fantastically-comfortable for any type of rides.
Buy Now: Available from GoreWear.com