Over the past few years, Hammerhead has garnered a lot of attention with their modern bike computers. Fueled by advanced technology and a rich feature-set, the the company was acquired by SRAM to round out their technology offering and connect their range of AXS components, Quarq power meters and more. The Hammerhead Karoo 2 is arguably the most advanced cycling computer on the market, but are all those advanced features a boon or a bust for everyday rides?
Hammerhead Karoo 2 Cycling Computer Features:
3.2″ touchscreen (400×100)
Durable Dragontrail Glass
Karoo OS (customized Android 8)
Bluetooth, ANT+, WiFi, 3G and 4G connectivity
Includes custom mount (Garmin adapter available)
7-14 hour battery life
USB-C port with port cover (new in September)
32 gb of onboard storage
Onboard sensors: 3 axis accelerometer, 3 axis magnetometer, 3 axis gyroscope, altimeter and ambient temperature
MSRP: $399
The Karoo 2 has superpowers
While Garmin remains the most popular cycling computer, Wahoo's units get the nod in my book from a usability perspective. But, what about the others on the market? There are a few others to consider, but the only legitimate alternative to either of the twin towers is the Hammerhead Karoo 2. If you're unfamiliar with the Karoo 2, you'll want to know a few things about it first, so let's dig in.
Tops on the list is that this unit runs on Android OS under the hood. If you're familiar with Android, you'll notice it immediately. Actually, Hammerhead calls it Karoo OS and it's a highly-customized version of Android 8. No, you can't install additional apps on it, like you would your Pixel. But, rest-assured it runs on a robust, proven platform that receives regular updates.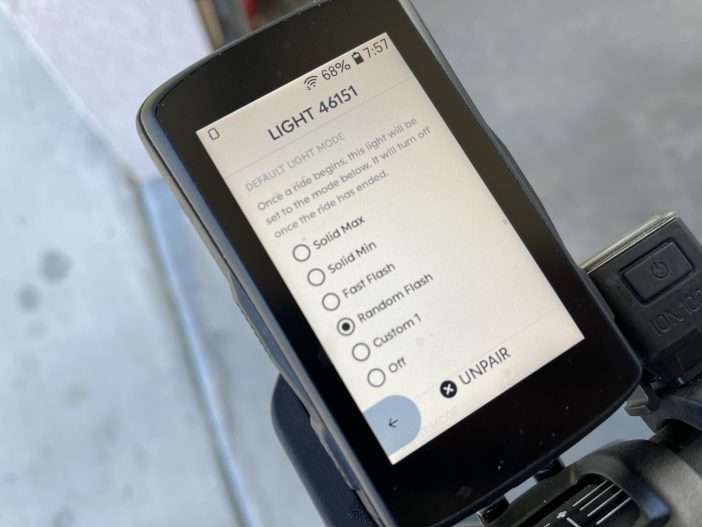 Running such an advanced operating system means the Karoo 2 can do things that others can't — responsive touchscreen, myriad of profiles and connectivity. And, it can get a bit overly-complex, if I'm being completely honest. But, all that functionality and connectivity puts the Karoo 2 into a league of its own. For data-hungry cyclists, Android enthusiasts or anyone looking for something just a little above the current offerings, read on.
The initial touchscreen experience is really nice, given most of us have used smartphones for many years. However, keeping tactile buttons remains important for use on a bike, so the Karoo 2 retains ride-specific features that are tied to the buttons on the side.  You can even navigate through the menu structure without touching the screen as context-specific menus are activated as you go along. It's a great blend of modern and proven interactions.
Connecting everything to the Karoo 2 is straightforward. You can connect up to 15 ANT+ and an unlimited number of Bluetooth Low Energy devices. Looking at my paired sensors, I've got 10 total that are synced up right now. This spans from heart rate monitors to drivetrains and power meters. Heck, I've even got my Bontrager Flare RT light connected to turn on/off automatically with the proper light settings. Everything is fully-integrated and it works marvelously. SRAM AXS drivetrains are shown with visual gear indicators. Sadly, Shimano is no longer playing nice with the competition, so the integration is limited.
Connecting a bazillion devices to the Karoo 2 does open up more visual data representation and allows you to customize just what you want to see during any given ride. And, to best manage that, you are given full reign on each profile, the data pages and what's important to you. I have found it to be a very feature-rich experience that can feel daunting. The default profiles were useful to let me know what was possible, but I ended up deleting them and starting fresh.
Setting them up is all done on the device — as opposed to a separate mobile app. Again, we're talking about embedded Android, so touchscreen sensitivity, keyboards and menus are all integrated and smooth. You just need to determine what data is important to you and create the appropriate pages. I have a few different profiles for each bike that includes or doesn't include a power meter or heart rate monitor. In reality, you'll likely have it on a single bike with a single profile. I only really changed things up as I swapped the unit from the Open UPPER to the BMC Roadmachine X ONE and then finally to the Trek Domane SLR. All paired devices have connected quickly and consistently throughout the long test period.
On bike performance
Now that you've got all your gadgets and gizmos connected, It's time to ride. And, just in case you're absent-minded, it will prompt you to start a ride if you forget. Once going, all real-time stats are available and each screen can easily be swiped through or changed with the dual-side buttons. My primary screen shows power, speed, cadence, ascent, distance, heart rate and visual gear representation. Duration and current time are always displayed, which is a nice touch and don't take up a data slot.
In the saddle, screen visibility is great everywhere but the brightest conditions — but no screen remains completely visible under direct sunlight. I've always been able to see the screen when needed, so no real fuss there.
Touchscreens are a fickle partner when on a bike. It's not always easy to get the gestures just right (which is why tactile buttons are still necessary). When either the bottom drawer expands with Climber or Strava Live Segments, tapping between them has a pretty small tap target when spinning at a good clip. That panel can also be minimized, maximized or re-opened by swiping up or down. It's cool to see that data when needed and it's nice that it doesn't hijack the entire screen, but if there are key data points you also want to see, make sure they are at the top of the view.
I do really love the way that both the Strava Live Segments and Climber views appear, but the data is a little crowded and I wish I could declutter it just a little. That being said, it's pretty easy to interpret once you know what you're looking at, but the first few times did require added attention — which is not something you don't want to be doing when pushing hard for that PR.
Climber Mode is a unique and powerful feature that detects and displays climbing status without a pre-planned route. Wahoo units require a pre-loaded route to get this but all you have to do with the Karoo 2 is to download the local map file. I loaded the Utah maps from home on my fast wifi connection, but I neglected to download the Washington State map ahead of time this summer and didn't enjoy Climber Mode on my first ride along the coast. The lesson here is to make sure and download the necessary maps when you're on a known wifi network. As you can imagine, hotel networks can be challenging with the Karoo 2 due to their multi-step connection flow. I had to tether my phone to the Karoo 2 and just patiently wait for the maps to download with one measly bar of service.
You can adjust the Climber Mode to be more or less sensitive. Displaying it for all climbs can be a little obtrusive, so play around with those settings and see what works best on your typical rides. I appreciate the real-time view and have found it valuable enough to keep it on — even though it doesn't read my mind and detect the actual route I'm climbing. When it does, it's highly-valuable. When it doesn't, I know the route it's displaying well enough to calculate the remaining vert based on my known exit point.
At this point, I'm going to leave all the various settings, configurations and options to you to discover and determine their value. Like any electronic device, we use a fraction of its capability. Dig in, play around with it and search the exhaustive Hammerhead Help system for more details. In the end, I think you'll find just what you need.
Meh mounting system
Hammerhead is proud of their mounting system, but it is admittedly frustrating to use. It has gotten better with time, but getting it off requires a twist and a pull. That forceful motion did cause me to lose grip on it and drop it once on the pavement — ouch!  I've since been extra careful removing it from the mount, but it's still a frustrating experience compared to the competition. A quarter-turn insert is provided to drop it into any Garmin mount. My only other gripe has been the tiny USB-C port cover, which has gone away since September 2022, so that's no longer an issue.
Overall reliability has been outstanding, with not a single dropped ride or hiccup over thousands of miles. Battery life is excellent, but not quite as long-lasting as the Wahoo ELEMNT Bolt or Roam.
The Good
Myriad of data points available
Crisp and clear touchscreen
Climber Mode and Strava live segments are awesome
You can still navigate the Karoo with tactile buttons
Reliable Android OS under-the-hood
Reliably pairs up with anything and everything
Regular updates
Turn-by-turn navigation
Duration, battery and time of day are always present in the system title bar (thank you!)
The Bad
Mounting system can be frustrating to use
Hotel wifi can be problematic with the Karoo 2
Can suffer from data overload and complexity
Shimano doesn't want to play nice anymore
The Bottom Line: Hammerhead Karoo 2
No other cycling computer packs more onto your handlebars than the Hammerhead Karoo 2. With the ability to connect to just about any device and display actionable data on a large touchscreen, the Karoo 2 sets a high bar. Live Strava segments and Climber Mode are both awesome experiences. If you value cycling data crunching with your heart rate monitor, power meter and more, this is your jam.
Buy Now: Available from CompetitiveCyclist.com