Hoka's legendary squish and stack height combined with a burly Vibram Megagrip outsole have morphed into the aggressive Hoka Mafate Speed 4. This shoe is built for the most demanding trails and terrain, but does all that burliness get in the way of Hoka's trademark goodness?
Hoka Mafate Speed 4 Features:
Rubber toe cap for added protection and grip
Bolstered heel collar construction
All-new lightweight, resilient dual-density foam
Vibram Megagrip outsole with Litebase construction and 5mm lugs
Single layer woven jacquard mesh upper
Semi-attached lay-flat gusseted tongue construction
ProFly™+ construction
Recycled materials galore
4mm heel-to-toe drop (33mm –> 29mm)
Weight: 12 oz each (11.5 actual)
MSRP: $185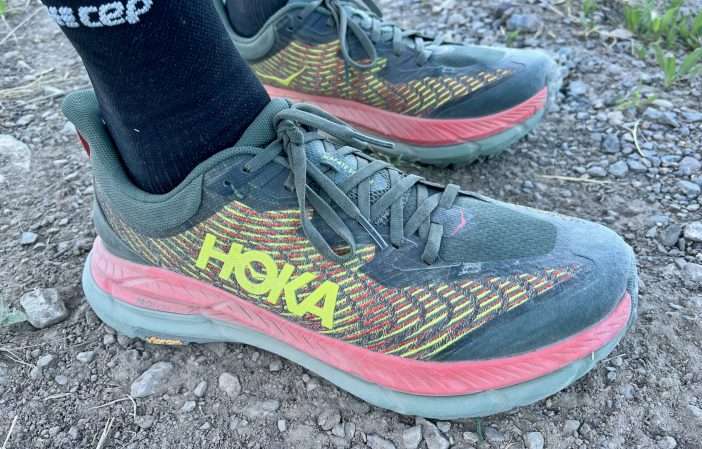 Nothing holds back the Mafate
Have you ever used a rototiller in the garden? If you haven't, just imagine these spinning wheels of death, clawing away at the earth and propelling you forcefully forward with each step. While that may seem like a harsh comparison, the monster truck traction of the Mafate 4's reminds me of rototilling the garden as a young man. So, that's how I'm starting off this review — the Mafate Speed 4's have the most tenacious traction of any trail running shoe I've worn in recent memory.
The DNA of this extreme traction is the venerable Vibram Megagrip outsole. Without question, this material offers the best grip available, but these 5mm lugs are especially good at digging into the earth and propelling me up just about any type of terrain. Grip is always solid and toe-off results in superb positive motion. Loose terrain, rocks and roots are all equally-gripped on uphill and downhill trails. Heading downhill, they lock to the incline like Velcro too. Now that we've established just how phenomenal the traction is, let's talk about the rest of the shoe.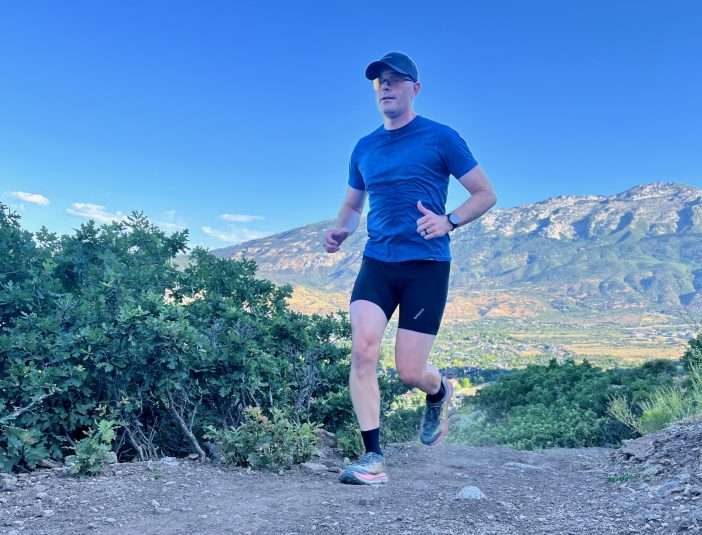 With a 33mm heel stack, the Mafate Speed 4 sits classically tall — just as you'd expect from Hoka. But, those rugged lugs do cause some awkwardness on pavement or walking around the neighborhood. You can feel every tread when walking or running on the road, so these are definitely not recommended as road-to-trail shoes. For that purpose, I'd recommend the Hoka Challenger 7 without hesitation.
But, back to that stack height. With it, I love the comfort and cushioning that the ProFly+ midsoles offer. It's just the right amount of cushioning and rebound to absorb and propel me forward with each step. I never feel bogged down by the cushioning and instead revel in the metered cushioning and responsiveness of the shoes. As far as speed goes, I can run at a slow or fast pace equally-well in the Mafate Speed 4. Stability has been excellent on all terrain — thanks to the wide base and foot-cradling construction.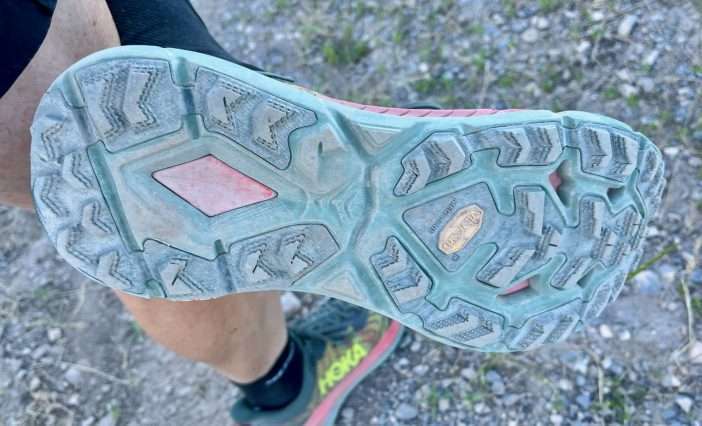 The uppers feature Jacquard mesh for durability and reasonable breathability. I'm not going to write home to my Mom about how breathable these are, but they are acceptable. I wouldn't call them toasty, but can't honestly call them breezy either. I have been running with both CEP Ultralight Short Compression Socks and Swiftwick Pursuit Ultralight Merino Socks throughout my test period, so breathability can't be attributed to the socks.
Like all Hoka's, the Mafate Speed 4's feel light and nimble underfoot. There's no noticeable swing weight with each stride and the shoes feel natural with every step. On paper, 12 oz. isn't flyweight, but these don't slow me down or feel heavy at all. In addition, the rocketed outsole does provide a smooth transition from heel-to-toe with every step — I always love that.
I do love the standard laces and gusseted tongue for straightforward lacing and overall forefoot comfort. I can lace them up quickly and the laces have just the right tension and give for long-haul comfort. In addition, I appreciate the curved, easy-on heel and a pull tab. That combo makes entry a breeze.
It's worth noting that the toe box could be a little wider. I didn't notice the Challenger 7's having a squishy toe box, but I have had some hot spots between my big toe and the first toe. I think I even got a blister one one long run. Foot-shaped toe boxes, like those from Altra and Topo, provide more wiggle room for your toes.
Fit: These fit true to size as I fit perfectly in my standard 11.5 that I always wear in Hoka.
The Good:
Other-worldly traction
Plenty of comfort on all terrain
Standard lacing system makes for an easy fit
Love the easy-entry heel
Smooth stride with a perfect, 4mm drop
Durable uppers eschew any trail scree
Rockered outsole offers a smooth heel-to-toe transition
The Bad:
Not suitable for anything on the pavement (even just walking is clunky)
Uppers could be a little more breathable
The Bottom Line: Hoka Mafate Speed 4
Turning a pair of Hoka's into a shoe worthy of the most aggressive terrain is just what they have done with the Mafate Speed 4's. It's almost criminal how much traction the Vibram Megagrip outsoles provide, but they do make it very easy to power through any trail I've encountered. Cushioning is as I expected (just right) and rebound too. If you're looking for an aggressive trail runner that's easy on your joints, these are on the money.
Buy Now: Available at Backcountry.com