The marriage of HOKA's cloud-like comfort with the high-impact durability of a hiking boot. It sounds like a dream come true packaged in the sleek, stylish body of the Anacapa Mid GTX Hiking Boot. This boot looks like streetwear but performs like technical gear, and it excels under the conditions for which it's designed.
Hoka One One Anacapa Mid GTX Hiking Boot Features:
Extended heel for better impact absorption (and style points)
Gusseted tongue
Easy lace-up with quick hook design
Eco-friendly approach in the sockliner (50% soybean oil derived) and recycled textiles throughout
Vibram Megagrip outsole with 5mm lugs
Waterproof Gore-Tex liner
Lightweight at 14 oz.
MSRP: $170.00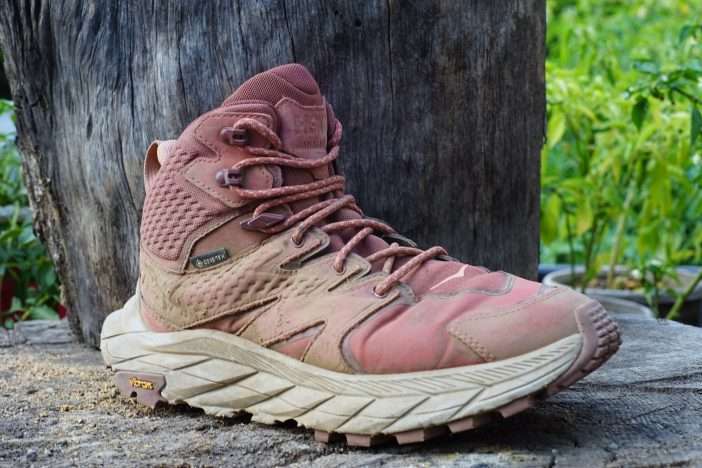 A great day hiker for mellow terrain
This shoe is lightweight, and the thoughtfulness put into making a good day hiker is evident. It doesn't seem to be fully a runner, with the super supportive ankle and the lacing design. But the good parts about sneakers — the lightness, the flexibility, the breathability — it's all there. I wore the Anacapas on a steep 5-mile hike and was impressed with the performance on both trail and sloppy snow.
The Anacapas material is clearly considered through a lens of sustainability, which I appreciated the attention to recycled materials and low impact. The leather is a waterproof nubuck, treated without the use of harmful PFC's (per- and poly-fluorinated chemicals). This leather is certified gold-standard by the Leather Working Group, a non-profit solely focused on environmental stewardship in the leather industry. Their ranking system is comprehensive, and awards different tanneries gold/silver/bronze in their environmental impacts. All this to say, Hoka paid attention to the details here. And the Gore-Tex footliner? It's "45% recycled content by weight and features 71% recycled material in face fabric" according to HOKA's website.
Perhaps most quintessentially "Hoka" is the thick, cushy soles their shoes often tout. The Anacapa is no exception. Taking the extended heel first seen in the TenNine's hovercraft design and scaling it back just a bit, the Anacapas retain the wide and supportive sole while allowing the wearer a little more precision. The extended heel did take some getting used to, but despite my concern that somehow my heel would get stuck between rocks, it never did. The 5mm Vibram lugs were fantastic at providing security as I moved through varied terrain. Particularly interesting was the super soft outsole right under the center of the foot. This ensured sufficient flexibility without compromising on grip, maximizing traction where it matters most.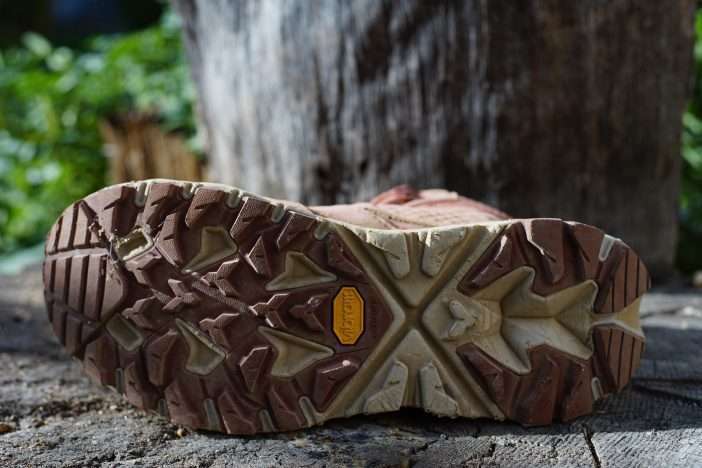 The Anacapas are incredibly supple throughout the sole, but maintain a stiff rigidity at the ankle that provides impressive support. The heel cup was a fantastic fit, with a pull tab to help get the suction cup-like seal around the heel. Honestly, I don't know that I would be able to get these shoes on without the heel tab, but that is not a complaint from me. The heel fit was made even better by my discovery that Hoka specifically modified the heel cup to be women's specific in the women's model. Altogether the structure feels incredible secure, right down to the lacing system — although I did find the laces to be surprisingly short.
Hoka One One has created a beautiful day hiking boot that is sleek enough to be worn in town as well as on trail. However, it must be emphasized that it performs best under the conditions it's intended to. I took this boot on a multiday backpacking trip, eager to try out a shoe that was so light and seemed so supportive. Under weight, the things that I loved about this shoe became the thing that made it hard to wear. The flexible sole? I could feel every single rock under the additional weight of my pack. The supportive ankle and extra wide sole? They worked against one another in a way that resulted in pronounced ankle pain as the heel pushed my foot into an everted position over every stone on trail, while the ankle limited the mobility that such a movement required.
Let me be clear that Hoka One One notes this shoe is a day hiker on their website. My testing found that to be resoundingly true. I enjoyed wearing this shoe as an in-town style shoe and as a sturdy day hiker. But when loaded under the weight of a pack for several days, the shoe was tremendously uncomfortable. That being said, I wouldn't hesitate to wear it in situations that I did not have a pack, especially if the terrain is going to be a little more gentle than the rough, rocky trail I took them on in the Wallowas.
The Good:
A sustainability focused shoe apparent throughout construction.
Impressive flexibility without compromising heavy duty traction.
Great waterproofness, and without scary PCFs!
Super light, with the HOKA classic comfort sole.
Stylish. Got marks of approval from my fashionable 16 year old brother.
The Bad:
Does not perform well under weight, would recommend as a day hike shoe only.
The laces were a bit short.
The ankle support combined with unique heel construction resulted in sometimes painful torquing when hiking uneven terrain.
The Bottom Line: Hoka One One Ancapa Mid GTX
Hoka One One made a great day hiking shoe with the Anacapa Mid GTX. A combination of light, durable, and sleek, it checks a lot of boxes required for a fun day in the mountains. The boots are also waterproof (check) and secure (check). This is a great shoe if you'll be logging lots of mileage either on mellow terrain or without a pack. If you're looking for a great day hiker and want something with the inherent benefits of a running shoe, the Anacapa might be the one for you. But if big days with a pack is what you have slated, I would pass on these ones in favor of a more backpacking focused hiking boot.
Buy Now: Women's at REI | Men's at REI