When it comes to selecting an all-around trail runner, there are many choices. Hoka One One definitely comes to mind, but aren't they all maximalist shoes? Not so fast, my friend, Hoka also makes shoes like the Torrent 2, which offer less cushioning and is paired with a responsive midsole and gobs of traction. If you're hesitant on the whole maximalist thing, the Torrent 2 could be your gateway into the Hoka universe.
Hoka One One Torrent 2 Features:
Engineered mesh with recycled polyester fibers
Reinforcing overlays provide protection against trail debris
PROFLY™ midsole construction delivers a cushioned landing and propulsive toe-off
Updated multi-directional lugs deliver supreme grip on uneven terrain
Marbled, sticky rubber outsole
Stack: 23mm heel and 18mm toe (5mm drop)
Weight: 10 oz each (11.5, actual)
MSRP: $130
Fast-flying comfort and traction in the Torrent 2
Hoka is widely-known as "those squishy shoes." In fact, I'll never forget the first time I saw a pair on the trail. I was traversing a long stretch of singletrack and way off in the distance, there was a runner coming at me. His feet were mostly in view and I swore he was running on marshmallows. As he approached, I simply couldn't believe just how massively thick and tall his midsoles were. With that etched permanently on my mind, that's what I associate with Hoka's. Now, fast-forward almost 10 years and I've been enjoying my time on the Hoka One One Torrent 2 — a mid-cushioned trail runner, built for speed.
While the early shoes were more squish than performance, the latest Speedgoat 4 and Torrent 2 represent Hoka One One's ability to apply what they learned into more nimble designs. No question, the stack height is still tall compared to traditional shoes at 23/18mm heel-to-toe, but that's about the sweet spot for overall comfort and control on the trails.
That stack height represents a 5mm drop, which is a good, modern drop. My body is just fine with anything from 0-5mm drop. Usually, beyond that, the shoes end up feeling like I'm wearing high heels (or, how I imagine high heels would feel like). Interestingly, however, the Arc'teryx Norvan LD 2's feature a whopping 9mm drop, and I absolutely love them. With that, the key to this really lies in the natural rocker of the shoe. That's what ends up making even more of a difference, and the Hoka One One Torrent 2's do have a great rocker to them, in addition to a low-ish 5mm drop.
Hoka calls it "Meta Rocker" and is found throughout their running shoe line. This rocker aims to complement the runner's natural gait cycle and propel them forward. The Torrent 2 does have a nice rocker to it. Placing the shoe on a flat surface, you can tap the heel down and let it rocker back-and-forth. Seeing that on flat ground show just how the initial foot strike translates into forward motion. And, on the trails, it is noticed and appreciated. Each step is rewarded with a smooth landing and transition. Traction is maintained and foot position just feels natural throughout each step. I tend to kiss the heel, then land primarily on my midfoot and each step is smooth for me in these shoes.
On both climbing and descending, the multi-directional lugs do a great job digging into all types of terrain. Extensive mud has been hard to come by this season, but dry/loose terrain is like child's play for these treads. I have the utmost confidence on all my local trails both on the uphill and on the down.
Overall comfort is superb. While I love the Speedgoat 4's overall, I'm not missing the extra squish one bit. I will add that these don't seem to have much in the way of rock protection. Sharp, pointy rocks can certainly be felt underfoot. It strikes a good balance, but if your trails are really rocky, it could cause fatigue. I can run for 5 miles or 10 miles in complete comfort.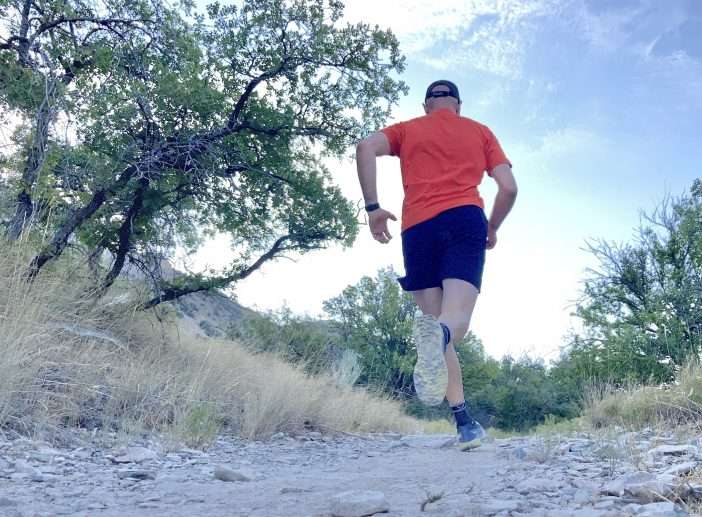 Breathability is great as well. I tested these on some very hot, 95-degree days, and my feet did pretty well. They aren't the most breathable shoes I've got, but they perform well under grueling heat.
I do love the standard laces and eyelets. It makes for easy adjustments and allows for a pinpoint fit. I did notice a little fore/aft movement on descents, but not anything to be concerned about. It's always a struggle to find that sweet spot between snug and comfortable. I haven't had any significant tread wear issues so far. The outsole rubber has proven quite durable at this point, and the uppers show very little signs of wear.
The Good
Excellent balance of comfort and agility
Natural rocker supports a smooth stride
Toe-off traction is superb
Grippy outsoles are wearing well
Standard laces make for easy fit
Good breathability
The Bad
Not much in the way of rock protection from the sharpest rocks
The Bottom Line: Hoka One One Torrent 2
As Hoka's race-ready shoe, the Torrent 2 is both lightweight and comfortable. But, there's more, if you act now, you'll also receive excellent traction on all terrain (I'll stop there). In all seriousness, the Torrent 2 really is a great overall trail runner for both training and racing. I love the natural stride with every step and the breathable uppers are just icing on the cake.
Buy Now: Available at REI