If there's one thing that Kask has dialed, it's comfort. After testing the Mojito 3 and now the Valegro, I'm convinced that if comfort is what you seek in a road helmet, you'll likely find it in a Kask. Add in a healthy dose of ventilation on this featherweight lid and it remains an excellent choice for summer heat.
Kask Valegro Helmet Features:
37 vents for maximum cooling
Wind tunnel tested for maximum cooling
Fast wicking padding
Octo Fit system
Removable brow pad for additional ventilation (NEW)
Fixed side yokes
Adjustable, eco-leather chin strap
WG11 rotational-impact tested
Weight: 250 grams (medium, actual)
MSRP: $249
Comfort in spades, once situated
The updated Kask Valegro helmet has a new, removable front pad for maximum ventilation. Outside of that, this summer-friendly helmet remains the same since it was introduced a few years back. You'll see this helmet on the heads of Team Ineos riders throughout the hottest stages and races and I've been able to give it a thorough test for road and gravel riding in Utah and Oklahoma.
Kask is no stranger to comfort. Last year's all-new Mojito 3 is a great example of just how comfortable a helmet can be. The Valegro doesn't fall far from that, but has a few quirks that do make it a little less comfortable than the Mojito 3 (that's both good and bad, so I'll dig in).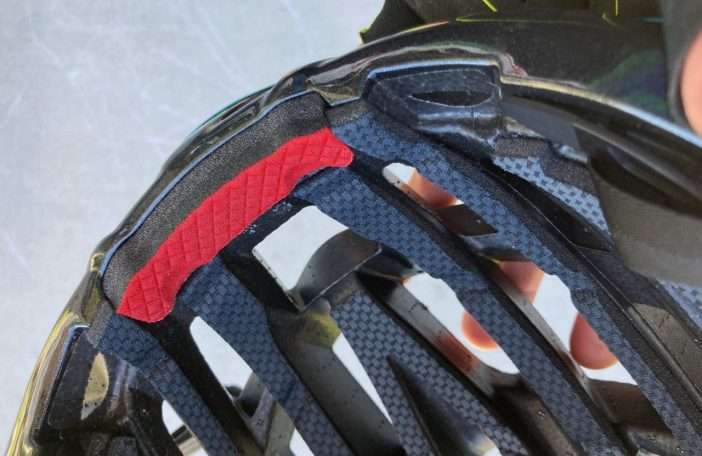 Padding in the Valegro is decidedly lower profile than what's found in the Mojito 3. Because of that, you'll find the Valegro a little less cozy, but it also retains much less perspiration. The Mojito 3 is like a sponge and can drip out inordinate amounts of sweat if you squeeze it mid-ride. The Valegro doesn't do that (thankfully).
Fit is accomplished via Kask's Octo Fit. This system takes the standard dial retention system up a level by offering pivoting pads at the rear that are easily adjusted in/out. Unlike most helmets, the whole Octo retention system also moves up and down freely to ensure comfortable placement. However, all the adjustments here mean that the fitting process has to happen every single ride. Inevitably, I'll have to fiddle with it to get it just right, which is something I don't have to do with other helmets that are more "set it and forget it." Additionally, even after fiddling with it, if I turn my head at an intersection or look over my shoulder, the up/down ratchet system will move slightly, resulting in an audible click. Again, once dialed for every ride, it's absolutely comfortable.
I'll say that the biggest frustration with the design of the Octo Fit pads is how much it interferes with sunglasses Even the Koo Demos (Kask's sunglass brand), are temperamental and require some work to get situated because the temple tips have to be situated underneath the fit band that goes around most of the helmet. And, no matter how wide or narrow I situated the Octo pads, they prevent my sunglasses from sitting down to my ears, as they should. This issue is not just with Koo, but with every other pair of sunglasses I've worn that feature straight temple tips.
On the good side, all pairs of sunglasses tested can be stashed in the front or the rear of the helmet when needed. They stay there very securely. This is great for coffee stops or roadside repair scenarios.
With the removable front brow pad, the Valegro gets even more ventilated. I noticed this particularly on extra humid mornings when my sunglasses would fog up. Removing the brow pad cleared and prevented fogging and gave a noticeable boost in airflow. I like that I can pull it out and stash it mid-ride, as needed. As far as sweat management goes, the Valegro is pretty good. You'll notice some drips, but never a constant stream. This is the case with and without the brow pad in place. That brow pad does make the fit a touch more comfortable, so you just need to decide what's most important to you: fog-free sunglasses and ventilation or maximum comfort.
The strap yokes are non-adjustable and the eco-leather chin strap is a nice touch, but I'd be just as satisfied with a standard chin strap, to be honest as it makes the chin strap have a square fit to it instead of adapting to your chin.
At speed, the Valegro breathes extremely well and remains relatively quiet. I have appreciated the ventilation and the low-profile look of the Valegro for road and gravel riding. The Italian craftsmanship shows with this helmet as all molds are clean and smooth. It is a thing of beauty!
The Good
Ultimate comfort, once situated
Lightweight design disappears
Ventilation is superb (even more with brow pad removed)
Top-quality craftsmanship
Sweat management has been better than most
The Bad
Octo Fit system requires adjustment before every ride
Chin strap doesn't conform to my chin very well
Rubber piece on one Octo Fit pad is coming off
Sunglass temple tips interference with fit system
The Bottom Line: Kask Valegro Helmet
With the now-removable brow pad, the Valegro is even more breathable. As a bonus, that breathability aids in avoiding and clearing fogged glasses. Once situated, this helmet is very comfortable and looks sleek. And, at a mere 250 grams, this is one of the lightest helmets I've tested. I wish that I didn't have to fiddle with the Octo Fit system before every ride and that sunglasses also didn't interfere with the system. In the end, this is a really good summer helmet.
Buy Now: Available at CompetitiveCyclist.com