Knog brings a certain southern charm to the world of bike lights. I'm not talking Georgia or Alabama, mind you – I'm thinking of Australia. Knog's lights are refreshingly quirky and functional, not to mention durable and stylish. They sent over a suite of kit (bedecked with international postage) all the way from the land down under to the great Pacific Northwest. Like all bike lights, they come with pros and cons.
Knog Duo Features:
Lumens: Front 35/Rear: 5
Weight: Front 56g/Rear 53g
PC-ABS plastic housing with polycarbonate lens
1x AA battery for each
MSRP: $33
Small lights can really pop
First off, let's begin by appreciating the price of these little guys. I get used to cringing when I add the 'MSRP' section to the list of features and specs, but that's not necessary with the Knog Pop Duo. $33 for a high quality front/rear package is a stellar deal. You can find cheaper lights, you can pay more for lights, but it's worth noting that the Knog Pop Duo sets a great bang-for-buck ratio. We'll get into why that is soon.
Both lights have a simple rubber strap that's mechanically anchored within the light. This means that the only way for it to break is for the rubber itself to rip; it can't become unglued or otherwise degraded over time, which is important. The rubber straps mount easily onto posts as thick as 32mm; fun fact, it can rotate 90′ to either offer a vertical or horizontal profile. An obvious downside to a tool-less attachment is that it makes the lights easy to steal. True, but it also means that you can move them from bike-to-bike in a jiffy.
The on/off switches are similarly durable – rubberized, press-and-hold buttons are, in terms of longevity, a better option than some of the clunky plastic switches I've seen on other lights. The downside is that they're not easy to activate in heavy gloves, but my mid-weight Bontrager cycling gloves had no trouble finding the button and activating the light.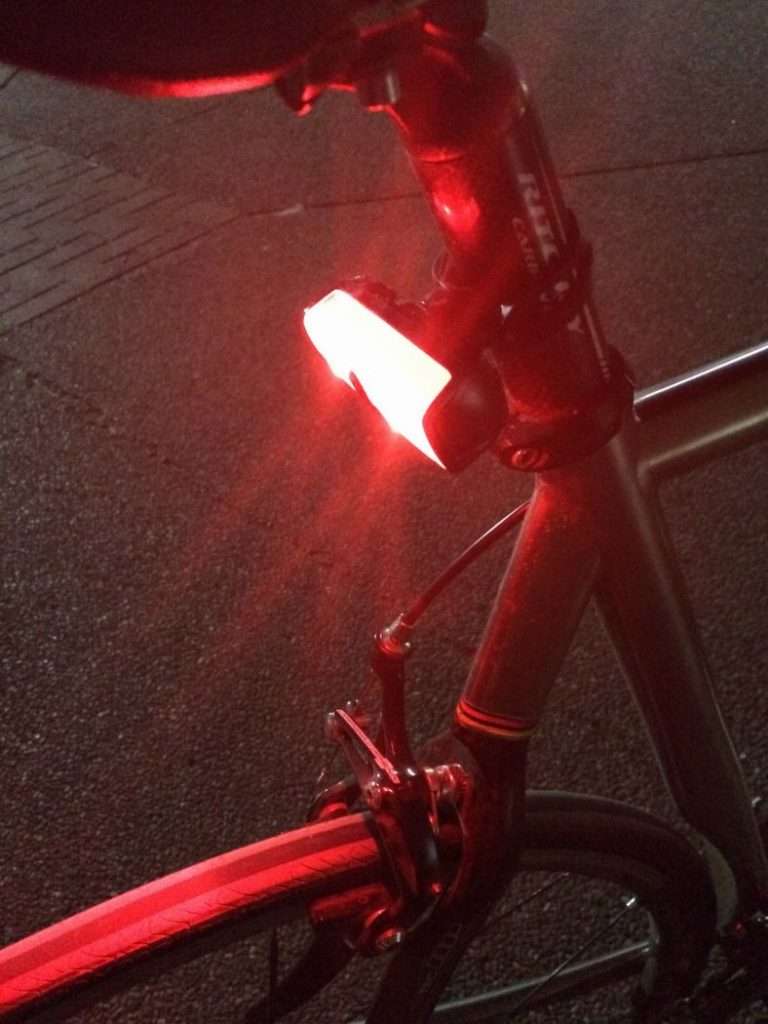 Depress the button for 1 second to turn the lights on. After that, you can cycle between flashing options with a quick press. The flashing options are really quite dazzling. There are five sequences, and my favorite is the 'organic,' which is supposed to be so erratic and random that no distracted driver could ever miss it and no granny could tune it out. There are, of course, also the standard options including an 'eco flash' that is good for over 100 hours of run time. Speaking of runtime, it's kind of a bummer that these lights aren't USB-rechargeable, but they're also $33. C'est la vie.
I haven't run through enough batteries with these guys to give objective evaluations yet, but I'd say the front light is pretty standard in terms of how quickly it dies, whereas the rear light seems to kick on for months and months with its 5 lumen output. Pretty rad.
Durability is a big old concern with bike lights. I'll be honest, these lights are good but Knog makes some better ones. I'm testing one of their Blinder Mob and it's got an anodized metal casing that's basically bombproof. The plastic on the Pop Duo is good and, what's more, the kit is weatherproof. All good stuff, but there's something to be said for metal parts. But, again, the set is $33.
Visibility is always the biggest concern with bike lights. Remember that these lights are from Knog's 'Be Seen' tier, but they have an upper level of higher-performing lights that cost twice as much. I was content with the visibility offered by these lights. The front light has a translucent slit to open up some side visibility, but channeling 35 lumens out the side of a light isn't going to result in blinding white light. The rear light doesn't offer any side visibility, so make sure to always use these lights together.
The Good
Excellent price point
Killer looks (if you get their snazzy color combos)
Variety of flash options
Has proven durable
Good battery life
Easy mounting
The Bad
Mediocre side visibility
Having a USB recharge-capability would be a major boon
Some will find the buttons hard to depress with winter gloves
The Bottom Line: Knog Pop Duo
They're fun. They're safe. They're functional. They're an especially good option if you want to protect a younger loved one, whether they're in college or 5th grade. Knog has done a great job at making bike lighting fun, and they're doing a major service to cyclists of all levels of love for the hobby.
Buy now: Available from CompetitiveCyclist