After over 10 years on other clipless platforms, it was about time I came full-circle to where it all began — SPD's. LOOK's latest X-Track pedal line uses the SPD standard in three flavors for a variety of budgets and tastes. Throughout a full season of gravel riding, the X-Track Race Carbon Ti has been my pedal of choice.
Look X-Track Race Carbon Ti SPD Pedals Features:
SPD-compatible
Adjustable release tension
Lateral contact support to guide pedal engagement
Optimized weight/contact surface ratio
Carbon body with 515mm² of surface area
Titanium spindle
Float: 6-degrees
Warranty: 2 years
Weight: 150 grams (each, actual)
MSRP: $270
SPD function, LOOK-style
Everyone has an opinion on pedals, so it's hard to make blanket statements, but I will here. The LOOK X-Track Race Carbon Ti pedals are a great pedal for gravel and MTB use and I'd have no reservations recommending them. I've enjoyed them for thousands of miles aboard the Open UPPER as well as MTB use.
As mentioned, it had been awhile since I've used SPD's, but LOOK's new X-Track pedals are fantastic overall. Release tension is adjustable (though I kept it at their default setting) and the overall clip-in, clip-out process is mindlessly-easy. You really just stomp down on them and away you go. The lateral release is predictable and smooth every time.
I've noticed that with the large surface area, there is an increased chance of shoe/pedal interference. I've had no issues with the Shimano XC5's, but have had to insert a cleat shim on other shoes (Fizik Vento X3 and Pearl Izumi X-Alp Elevate) to allow for sufficient clearance. Without the shim, I couldn't get the float that my knees demand. While there aren't any shims included, I've got several of them lying around, so I put them to good use. You may want to scrounge some up, just in case.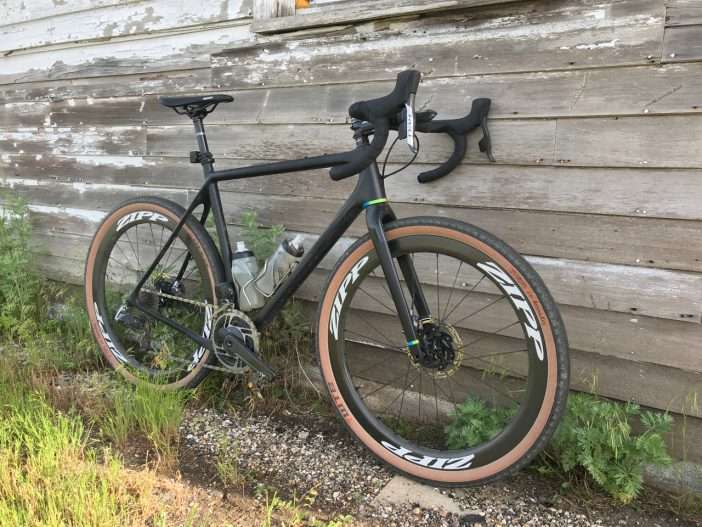 I love the platform size on the X-Track Race Carbon Ti's and have found it to be great for gravel duty. There's a ton of surface area and I truly feel like that large platform helps minimize the flexyness of the Shimano XC5 shoes. I can stomp on them and I know I'm getting the most efficient power transfer possible. When pulling up on the pedals, there is a teeny amount of play. You may notice it when pushing hard on a standing climb — it's minimal.
As LOOK's top-of-the-line off-road pedal, these don't come cheap, but they weigh next-to-nothing. I can appreciate that on long gravel rides where weight does matter — particularly aboard a lightweight gravel bike like the Open UPPER. For MTB or cyclocross duty, the platform size will come into play even more for those times when you just can't quite clip in. While I haven't gotten these extremely muddy, I haven't noticed mud inhibiting entry/exit.
Servicing these in the future is a straightforward affair — much like other pedals (Speedplay, Crank Bros, etc.). I chose to roll these pedals on the SBT GRVL Blue Course for 100 miles of sublime gravel racing in Steamboat, CO and I loved the float and performance after 6 hours in the saddle.
In addition to having a nice platform for those times when you just can't stop into the pedal, these are nice for tooling around post-race in sandals.
UPDATE Oct 6 2020: I have continued using these pedals on mountain bikes and gravel bikes alike and they remain my primary pedals of choice. 
The Good
Wicked-light
Great platform size
Easy clip in/out
Works with any SPD cleats
My knees love the float
The Bad
A little play between the cleat and pedal
Watch out for pedal/shoe interference (might need a shim)
The Bottom Line: LOOK X-Track Race Carbon Ti
With hundreds of gravel miles under their belt, the new LOOK X-Track Race Carbon Ti pedals have made an instantly-positive impression. My knees tend to be sensitive to float (or the lack thereof) and I haven't had a single issue with the X-Track's. Long days in the saddle have been comfortable and overall pedaling power transfer feels solid. Plus, with carbon and titanium bits, these are definitely the lightest XC platform pedals you'll find.
Buy Now: Available at CompetitiveCyclist.com