Elite and pro-level kits have all the right details. Laser-cut cuffs with modern materials, a comfortable chamois and the proper sleeve/leg lengths are all required here — no exceptions. Upstart, high-end kit maker, MAAP, is making waves with style, function and eco-friendly themes. But, how do they stack up against the likes of Assos, Castelli or Rapha?
MAAP Evade Pro Base Jersey and Team Bib Evo Features:
Ultra-soft knitted Italian fabrics with permanent moisture wicking
Dyed honeycomb mesh sleeves
Reflective print transfers on chest, back and sleeves
Elastic hem with internal silicone logo print
YKK Vislon Snap Lock Zip
SPF 50+ sun protection factor
Low profile collar
Anti sag back pocket
3D thermo molded chamois
Ergonomic panels for proper compression/comfort
Abrasion-resistant fabrics
Reflective details throughout
Fabrics sustainably manufactured with the bluesign® SYSTEM
Includes OEKO-TEX® certified materials
Crash replacement program available
MSRP: $180 (jersey) and $270 (bibs)
Wallet-busting price with the right looks
Since 2014, Melbourne-based MAAP has been pushing cycling clothing forward. Coming from different backgrounds, the founders had one thing in common — they love riding bikes. That passion has delivered a clothing line that's unique, functional and of impeccable quality. Even though MAAP is still relatively young, their kits ware worthy of master class status, with the price tag to match. So, with that high price tag and quality, what do you really get?
Since arriving, the full MAAP Evade Pro Base Jersey and Team Bib Evo shorts has been my primary kit for road, gravel and even some MTB. I've been wearing it on long rides, short rides and everything in-between. It's been ridden extensively here in Utah with a good stint in hot and humid Oklahoma. I've worn the kit several days in a row and I've worn it with and without a sleeveless base layer. For a few reasons (which you'll see), it didn't quite make it as my SBT GRVL kit, but it came close.
As the sample was being ordered, it was made very clear that MAAP's fit is very aggressive. I'm typically a large/large in Castelli, Santini and Assos and a medium/medium in Specialized, Bontrager or Pearl Izumi. As such, we went with large/large with MAAP. Upon arrival, that was definitely the right choice for my 5'11" 170 lb. body. Overall fit and compression is just what I expected and is snug and efficient without being "painted on."
One of the selling features of the particular Evade Pro Base Jersey was it being part of their OffCuts Program, which repurposes excess fabric from other production runs. As such, this one is multi-colored and definitely a unique pattern. I like the design and definitely appreciate the OffCutts initiative, but the bold, solid color alternatives that MAAP offers do have a little better look, in my opinion.
Let's talk fit, feel and performance of the Evade Pro Base Jersey. Yes, it's definitely a pro-level jersey, so we'll get that out of the way first. The modern sleeve length is just right and the low-profile collar is also spot-on for the right summer feel. You'll notice that the rear pockets do sit up a tad high, so it's difficult to find the top of the pocket to gain entry. The full-zip front utilizes a medium-gauge YKK locking zipper that slides up/down with ease via a nice-sized pull. I also appreciate the wide hem that keeps the jersey in place with silicone grip all the way around. I haven't had to continuously pull it down, so the silicone grippers do their job quite well.
As far as fabrics go, the Evade Pro features a mixture of honeycomb and flat knit materials. Kind of surprisingly, the honeycomb fabric is only used on the sleeves and the lower-back. On the sleeves, the mesh aids in breathability, but that's not the place where we sweat most profusely. I do wish for more honeycomb on the back panel, actually. But, its use on the lower-back does aid in moisture transfer while also providing more structure for the jersey pockets. Because of that, the pockets easily keep everything inside them in the proper place.
The fabric combo does work best in drier climates, like Utah. I will say that in extreme humidity (Oklahoma and during Utah's monsoon season), the knit front and back panels get overwhelmed very quickly and tend to feel stuck to your body (a good reason to wear a base layer). But, if the whole back panel were honeycomb fabric, it wouldn't be as comfortable, because it would feel a bit scratchy. As such, the jersey has never once felt uncomfortable (wet or dry) and does have all the high-end look and feel you'd expect for a $180 jersey, but could use more mesh-type material for added comfort and moisture transfer.
Style is always important and while the black hem of the jersey does blend in nicely with a pair of black bib shorts, it ends up making the jersey look extra, extra short. It already is short up front (so, the added height of the Team Bib Evo shorts is key), but it just makes it look like you're wearing a really short jersey. That won't happen with solid color options though.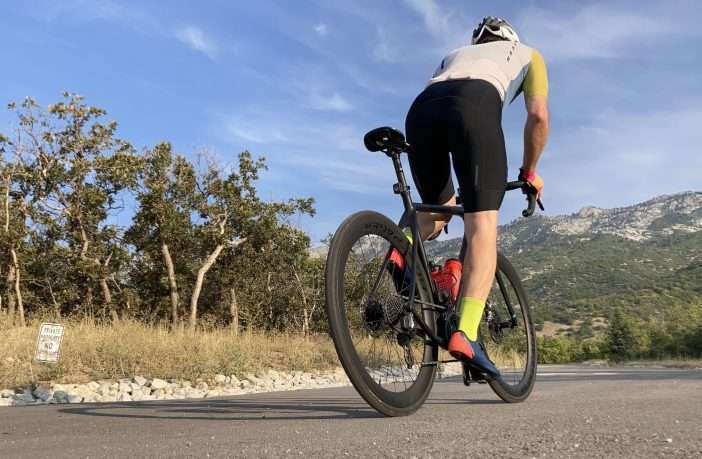 What about the Team Bib Evo shorts?
Now, onto the Team Bib Evo shorts. When considering a pair of $270 bib shorts, they better be flawless. These are a great pair of bib shorts, no question. But, that's a lot of Benjamins and these aren't quite flawless.
The uppers are ultra-comfortable, with wide, stretchy straps and a breathable back panel. You'll dig wearing them both with or without a summer base layer. The straps pull the lowers into proper position and maintain that position throughout the ride. Speaking of rides, I've gone ahead and worn this kit on my usual gambit of rides: gravel, road and MTB. On those rides, I have felt like the chamois is adequate. It's comfortable and supportive, but gets beat out by the Assos Equipe RS S9, in my opinion. But, the MAAP Team Bib Evo shorts do have a little better leg fit and compression. Plus, the length is a touch longer (which I prefer). The 3D Thermo Chamois is good, no question, but it's not the pinnacle.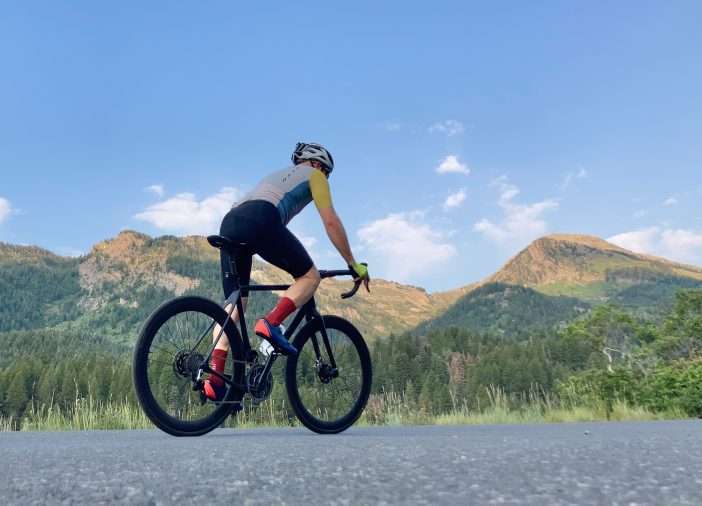 I'll add that the leg cuffs stay in place and look awesome. They haven't stretched out and always sit perfectly-flat on rides. Of course, flat stitching is used on all primary seams for the ultimate in comfort. On long rides, this kit is fantastic as it flows through the air efficiently and feels great. The frontside of the bibs does come up above the navel, but sits comfortably — even on my dad bod. And, when it comes time to use the bathroom, it stretches nicely.
I have abused this kit by wearing it multiple days in a row and it does quite well. I can use it 2-3 times without  getting too stinky. The only real wear I'm noticing is a little scuffing on the backside where the bibs contact the saddle. I could have scraped it sitting trailside or something, but I'll keep an eye on it.
Comparing this wallet-busting kit to the $115 NeoPro Kit, there's absolutely no question that MAAP offers a much better fit, finish and performance. The top-notch materials are immediately felt and the quality of the fabrics and sophistication of the design are apparent. But, is it worth the $450 price tag? That's up to you to decide.
The Good
Perfect cut and overall fit
Nice, long sleeve and leg lengths
Leg cuffs stay put and haven't stretched out
Pockets hold all your stuff securely
Zipper glides up/down easily
OffCut program is a nice bonus
The MAAP line features timeless colors and patterns
Silicone gripper on entire jersey hem
US distribution is in Salt Lake City (woot for me!)
The Bad
Jersey fabric mix isn't ideal for humid conditions
Pockets sit kind of high and are hard to reach (but hold gear well)
I did scuff the backside somehow (likely from dirt/debris that I sat on)
A whole lot of money (and quality craftsmanship to match)
Chamois doesn't quite match the Assos gold standard, in my opinion
The Bottom Line: MAAP Pro Base Jersey and Team Bib Evo shorts
When shelling out for a high-end kit, you want every detail to be thought out. MAAP designers most certainly have that part nailed. The materials, fit and finish is meticulous and it looks bonkers on the bike. I do wish for a little more breathable materials under humid conditions and the chamois isn't quite enough to unseat the best on the market, but it's definitely no slouch. Overall, this full kit is stunning and has served me well with everything I've thrown its way.
Buy Now: Visit MAAP.cc