The best jackets are the ones that you can use for many activities in any different season. That has been my experience with the  Montane Fleet Jacket. It's tailor-made to be lightweight but strong, making it a perfect combination
Montane Fleet Jacket Features:
Fully adjustable roll-away hood with three point adjustment and stiffened peak
Features Gore-Tex Active
Full length YKK AquaGuard® VISLON front zip with internal storm flap
YKK AquaGuard® zipped chest pocket
Articulated arms with engineered tailoring
Two zipped map-sized,mesh lined hand pockets
Adjustable hook and loop cuff tabs
Adjustable hem with cinchable drawcord
MSRP: $340 USD
Go light, stay dry
I had quite a bit of fun in the Fleet jacket this winter while I was skinning around the Northwest. My ideal jacket for skinning is fairly lightweight, very breathable and abrasion resistance. The light weight is importance because I don't usually need the full-on heavy-duty waterproofing of Gore-TexPro with a 100D shell on top; I'm usually not skinning in the pouring rain. Similarly, it needs to be breathable because I generate a lot of heat on the uphill. The abrasion resistance is important because, inevitably, jackets find their way up against things like ski edges, pole tips and snappy pine branches.
The Fleet was a good fit for these needs. The foundation of the jacket is Gore-Tex Active, a very well-known and well-loved waterproof breathable fabric. Montane chose to layer this with a 30D face fabric throughout the torso, but the shoulders and hips are built with beefier 40D fabric and a C-knit backer. This is ideal for a few reasons, not least that the shoulders and hips are common failure spots for laminated waterproof fabrics, particularly when you're wearing the jacket consistently beneath a pack. Throughout the torso the 30D fabric saves weight in an area that doesn't receive as much wear or precipitation as, for example, the shoulders. Overall, the combination is optimized for breathability and light weight more than sheer durability.
The jacket features two generous harness-compatible pockets which are mesh-lined for ventilation. There's also a small chest pocket for goodies. The main zip features a storm flap and a snap at the bottom, and I'm actually a big fan of that snap since it relieves strain on the zip and, I'm hoping, will increase the lifespan of a part of jackets that's prone to failure.
I'm also pleased with some of the other features of the jacket. The hood is particularly good; large enough to accommodate a climbing or skiing helmet without feeling like a windsock. There are two adjustment points which help to keep the hood moving with your head and your peripherals clear. The wired peak is a perk, helping keep the brim from flopping into your face on wet and windy days. Other little things, like the velcro cuffs and hem adjustments, work just fine.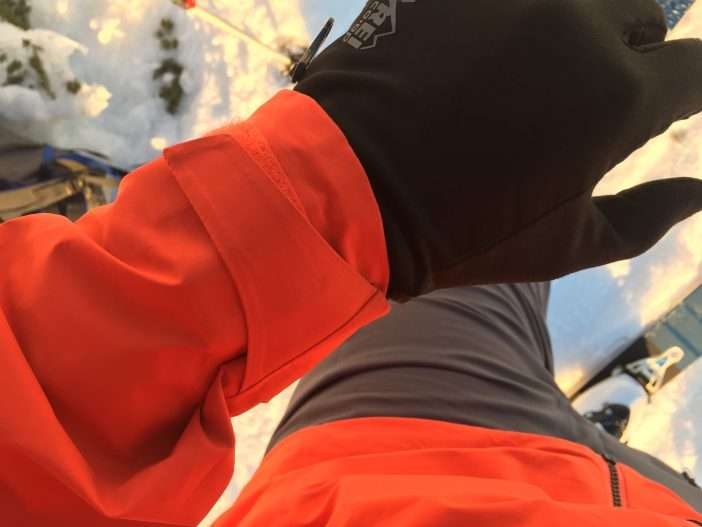 In actual use, the Fleet is a great jacket. It's lightweight and it breathes very well. There are probably more breathable fabrics out there than Gore Active. Gore's own ShakeDry comes to mind, although that will never be seen in a climbing jacket). Polartec Alpha is also probably more breathable, however in my one test of that fabric the Polartec membrane disintegrated and I have never recommended it since. For my money, then, Gore Active provides the most waterproof and breathable option that still offers at least a respectable amount of durability.
Speaking of which, you should think carefully about the durability of this jacket if you are intending on wearing it under a pack or harness often. While Gore Active is a 3-layer laminate, it's not as strong as Gore's climbing-specific Gore-Tex Pro. Active isn't really meant to be used in the harshest conditions consistently; it would be fine for a few weekends a year under a pack or harness, but isn't meant to be a daily driver. This is a point worth noting for the Fleet, since otherwise it advertises itself as a very capable alpine shell. It is capable – but with a certain lifespan.
That said, using the Fleet in the mountains has been rewarding. I inevitably overwhelm any fabric if I skin or hike uphill in a shell, but the Fleet minimized that effect and also dried itself out quite quickly. That's all anyone can reasonably ask for. Pit zips would have added ventilation but would have spoiled the lightweight credibility of the Fleet. I appreciated how large the hand pockets were as I could stash my skins there. Additionally, while Montane says it's a trim-fitting jacket, I found the fit to be quite moderate. I could stash my skis between my shell and fleece and still zip it up. There's also probably too much fabric in the arms, which your bing-playing grandmother might appreciate but you probably will not. Additionally, the hem is fairly short, so don't expect much coverage on your rear.
The Good
Really solid construction all-around
Montane's fabric selection complements the Gore Active while adding durability
I really like the snap at the bottom of the zip. This adds some durability.
Large, vented front pockets add some versatility
The Bad
A little baggy around the arms
Product really wants to be a burly alpine shell but Gore Active is not the toughest fabric
The Bottom Line: Montane Fleet Jacket
It's easy to recommend the Montane Fleet Jacket. It's as good an ultralight Gore-Tex Active jacket as there is on the market. Users need to remember that light fabrics like this have a limited lifespan when used hard under a pack or harness, but that didn't stop me from loving the lightweight protection throughout my ski touring this winter.
Buy now: Available from Montane.co.uk