Fleece jackets always conjure up images of the 90s for me. Patagonia's classic Synchilla was in full swing with no sense of retro irony, and everyone I knew seemed to own an outdoors fleece. Times have changed a bit since then, and the humble outdoors fleece has evolved. With the innovative shock of the Patagonia R1, the world of the mid layer fleece has opened to greater breathability, packability, and weight savings. The Mountain Hardwear Summit Grid Hoodie takes aim at that same techy fleece market segment, and I think it fits right in.
Mountain Hardwear Summit Grid Hoody Features:
100% polyester grid fleece
Three-piece fitted, scuba-style adjustable hood
Raglan sleeves for increased mobility
Pullover with a 1/2 zip for venting
Kangaroo hand pocket
MSRP: $90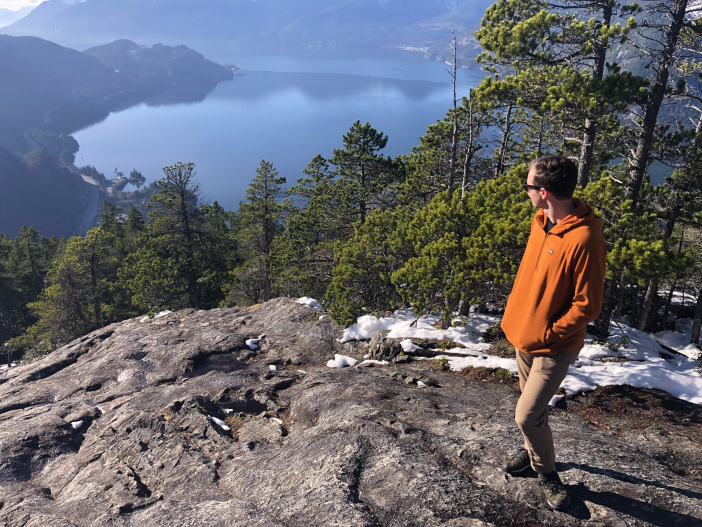 Mid Layer, High Tier
Mountain Hardwear designed the Summit Grid Hoody to be used as a versatile mid layer for hiking, backpacking, and general backcountry outings. In order to meet the demands of those activities, the Summit Grid Hoody needs to balance breathability with insulation, to marry comfort and space conservation, and to play nicely with other layers. Mountain Hardwear aims to do all of this in a package with a $90 price tag, significantly lower than that of the tech fleece competition.
The defining feature of the Summit Grid Hoody is its material – a thin (read packable), grid-style fleece. Tufts of soft fleece are punctuated by lines of thin polyester, creating an almost cuboid corduroy look. It bears a great deal of similarity to the Patagonia R1's material, but differentiates itself with thinner grid lines and larger fleece tufts. While wearing the Summit Grid for some more strenuous Fall hiking in Squamish, I really noticed the breathability that the grid lines afforded me. Still, it isn't as breathable as my R1.
For warmth though, the Summit Grid Hoody has my R1 beat hands down. I went fishing along the beautiful Skagit river one evening early this November, and I donned the Summit Grid over a cotton t-shirt at 40 degrees fahrenheit in the shade. It kept me at a comfortable temperature, even after a couple hours of swinging flies. I've never owned a mid layer that acts as such an effective stand-alone insulator. It's honestly impressive.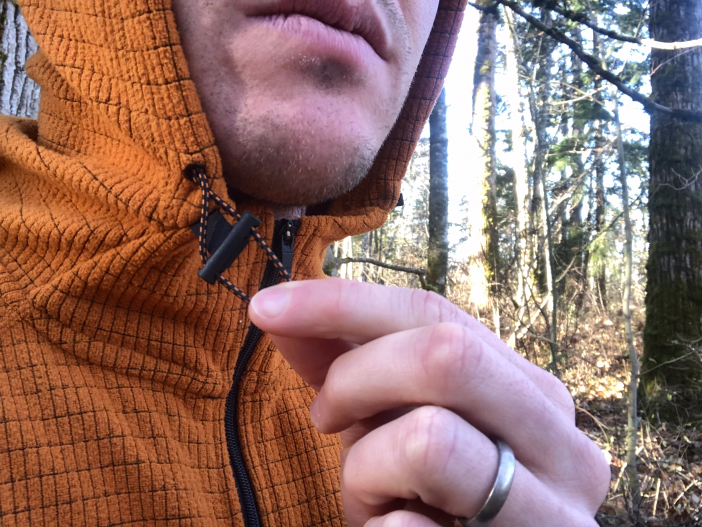 And that brings me to what I think is the most notable trait of the Summit Grid – it's just super comfortable. I've found myself putting it on at some point in the day probably 50% of the time this Fall. For a single garment, that's pretty notable. It's just so warm and cozy for everyday life, and it acts as a perfect insulating layer under a shell when I'm headed outdoors. The kangaroo style pocket only adds to that coziness, whether I'm using it in or outdoors. It's quite versatile, and the wonderfully soft fleece draws me to it over and again.
That softness of the fleece comes with some perks and drawbacks. There's the obvious perk of comfort – all those soft little polyester fibers nestled up against the skin. On the other side of the same coin, those soft little polyester fibers also like to grab onto shirts when you're putting the hoody on. It goes on with mild stubbornness, forcing some wrinkles into the base layer along the way, but it stays put once adjusted.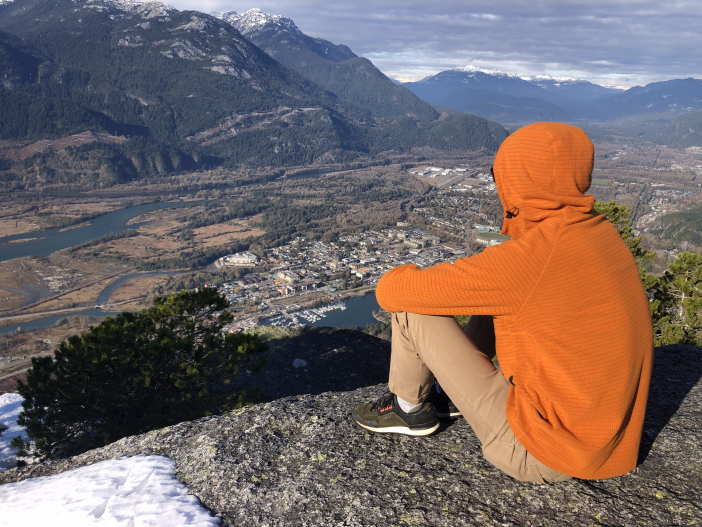 And just as the fleece loves a good base layer to cling to, the hood tracks with your head like a well-trained water dog. The articulation is absolutely flawless. The hood isn't perfect overall though. The cord locks that Mountain Hardwear chose for the hood are less than intuitive, and can take a little finagling to operate. They can be a minor frustration when I'm bumbling around with my mittens searching for them. But then… I do tend to bumble when I'm in mittens.
Another place that might benefit from a barrel-style cord lock is around the hoody's waistband. This would cut a bit of its draftiness. Like almost all fleece jackets, the Summit Grid allows wind through it. A  waist cinch would at least reduce the updrafts. Alternatively, a more tailored fit might resolve things. As a lean guy, the Summit Grid's generous torso region fits me about as well as a cardboard box. It's interesting that the abdomen would be so boxy given the perfect, close fit of the shoulders, sleeves, and hood. Ultimately, the torso look isn't great, and it creates a bit of a draft problem.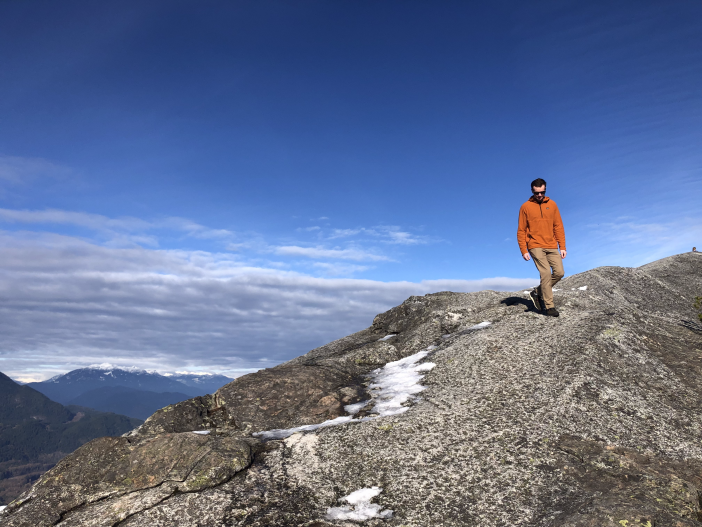 Fit: I'm 5'11" and a lean 165 lbs, and I tested in a size the Large. I found that it fit true to size, even if the torso could have accommodated some extra something. I've been washing the hoody according to instructions and haven't seen any color loss, pilling, or unusual fleece behavior.
The Good
Breathable and warm enough to be a versatile mid layer
Hood articulates perfectly
Oh man. So cozy.
Attractive sticker price for a tech fleece
The Bad
Tends to grab base layers when put on
Hood clasps can be a bit fiddly
Boxy torso fit looks odd and allows updrafts
The Bottom Line: Mountain Hardwear Summit Grid Hoody
Mountain Hardwear didn't take down the Patagonia R1 with this fleece; they created an excellent compliment to it. Where the R1 leans more towards breathability and offers warmth, the Summit Grid leans more towards warmth and comfort and offers breathability. With a more tailored torso fit and more user-friendly cord locks, it might just be my ideal mid layer.
Buy Now: Available at Backcountry.com