The MSR Pocket Rocket Deluxe—impossibly light and incredibly efficient. With the pedigree of MSR's larger stove systems, the Pocket Rocket Deluxe packs small enough to fit in your pocket. The Pocket Rocket Deluxe should be included on any adventure that would benefit from a hot beverage or snack.
MSR Pocket Rocket Deluxe Features:
Consistently Fast: Pressure regulator maintains stove's fast boil times even in cold weather & with low fuel.
Ultralight: Just 83 g (2.9 oz) and ultra-packable; expands the menu options for ultralight backpacking.
Push-Start Ignition: Fast, reliable piezo lighting; spark igniter is protected inside burner for maximum durability.
Broad Burner: Improves wind resistance and combines with simmer control for excellent cooking versatility; wind-blocking burner lip.
MSRP: $69
Completely Familiar, Totally New
For the sake of transparency, my favorite piece of gear is my twenty-year old MSR Whisperlite stove. That stove has melted snow at the top of Mt. Rainier, heated water for hot toddies in the Enchantments, and fried more pancakes and fajitas than I can count. What is more, it is the first gift my wife ever gave me, so, yeah, I love it more than any other piece of gear I own.
I mention this because in truth, I wanted to dislike it. I wanted its performance to be subpar, so I could continue justifying my desire to tote around my well-worn and well-loved Whisperlite.
While difficult, I must admit that after using the Pocket Rocket Deluxe, I am reconsidering what stove to reach for when heading out into the backcountry on a weekend . The MSR Pocket Rocket Deluxe packs in the performance you expect from MSR stoves—it consistently lights, utilizes fuel efficiently, and withstands the wind and cold well enough to heat water for food in most conditions. In this way, the Pocket Rocket feels familiar: it inspires the same kind of confidence you feel using MSR's other stoves.
Moreover, if you are familiar with the original Pocket Rocket or other micro-canister stoves, then the Pocket Rocket Deluxe feels intuitive. Simply screw in a fuel caniste, open the gas, and light the stove. Nothing to it. Of course, the Pocket Rocket Deluxe's confidence inspiring familiarity undercuts the number of design innovations packed into this 2.8 oz powerhouse.
Like its sibling stove, the Pocket Rocket 2, the Pocket Rocket Deluxe incorporates a simple but space-saving folding pot stand. Each of the three pot stand legs twist and fold into place creating a surprisingly stable base for cook pots and pans. When folded, the stove is a mere 2.2 inches wide, so small that you could easily slip it into the front pocket of your jeans.
As the big sister, however, the Pocket Rocket Deluxe boasts more bells and whistles than the less-expensive Pocket Rocket 2. Perhaps the most important of these features is the beefier, wind-resistant burner. While micro-canister stoves make for easy carry, anyone that has used one knows that wind can put these little guys out of commission. The Pocket Rocket Deluxe addresses this issue through a broad burner head. Wider and deeper than the original Pocket Rocket, the broad burner head allows for more cooking control and greater wind protection.
First, the wider burner head allows the flame to diffuse across a greater surface area, which allows for greater control when trying to simmer food or cook at a low temperature. Of course, diffusing the flame across a greater surface area makes it more susceptible to the negative effects of wind. In other words, a weaker diffused flame is easier to blow out. To protect against wind, the Pocket Rocket Deluxe adds a wind barrier ring around the burner. When pot is placed on the burner, there is little space between the burner and the pot, making it difficult for wind whip over the burner head and extinguish the flame.
Lastly, the Pocket Rocket Deluxe integrates a Piezo Igniter into the stem of the stove. Open the gas, push the button, and voila the stove lights. So far, the Piezo has worked on the first push. And, while I was initially concerned about its durability, the igniter seems strong enough for general use in backcountry.
In short, the Pocket Rocket Deluxe packs MSR quality into an something that weighs only slightly more than the change with which it shares a pocket.
Big Performance, Little Package
 While diminutive in size, the Pocket Rocket Deluxe packs quite a punch when it comes to performance. It is important to note that micro-canister stoves have limited utility. However, when used appropriately, the Pocket Rocket Deluxe is a suitable replacement for larger stove systems.
MSR claims that the Pocket Rocket Deluxe can boil a liter of water in 3.3 minutes. In real world applications, I found this estimate to be accurate. What is more, while it took a bit longer than cooking on a clear day, the PRD performed well in windy conditions. I have yet to experience a flameout as a result of wind while cooking.
As for fuel efficiency, I also found MSR's calculations to be accurate. Here it is important to talk about another of the Pocket Rocket Deluxe's features—the pressure regulator that maintains a consistent flame even with low fuel in inclement weather. Essentially, the stove captures fuel vapor from the canister, holds it momentarily and then releases it to the burner. This catch and release of fuel, or pressure regulation, means that the stove is not simply burning the vapor escaping from the canister as it escapes. Rather, by capturing the vapor and then releasing it, the stove is able to utilize every last drop of fuel and keep the flame consistent even as the fuel canister empties. Typically, pressure regulators are found on larger, more expensive stove systems. By adding this feature to the Pocket Rocket Deluxe, MSR makes a strong case for viewing the Pocket Rocket Deluxe as a premium stove ready for use in any condition and not simply a fast and light option for those who cut the handles off their toothbrushes to save weight.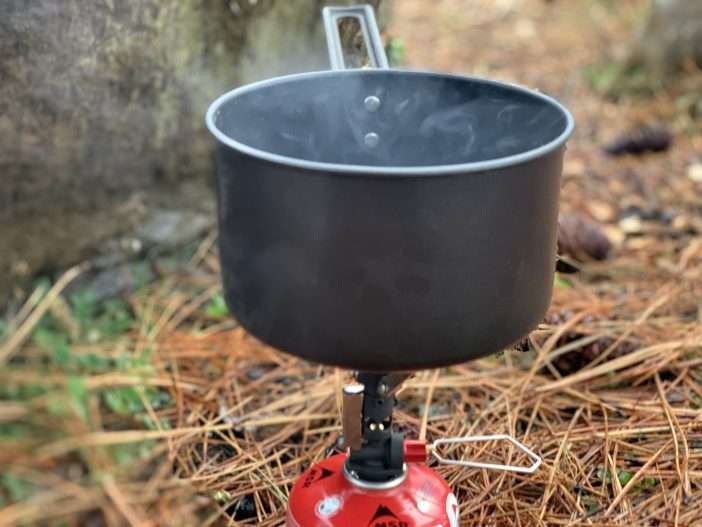 It is also worth mentioning the Pocket Rocket Deluxe's flame control, which is exceptional for such a small canister stove. In my experience, simmering rice or soups is a near impossible task when using smaller stoves, but the MSR Pocket Rocket Deluxe (shortening to PRD) challenged my assumptions. Precision flame control combined with fuel efficiency, means it is possible to prepare more complex meals with the PRD if one has the patience necessary for such meal preparation.
There are limitations, however, to micro-canister stoves. Most notably is the size of pot that will remain stable during use. When using the PRD, I felt the most comfortable with 1-liter pots. While I did try boiling water in larger 2-liter pot, I felt the need to monitor it more closely, fearful it might spill if not perfectly centered on the pot supports. Even when centered on the pot supports, the smaller burner of the PRD had to work hard to heat the wider, larger pot.
A similar limitation presents itself when using a frying pan on the PRD's small burner. While it may produce excellent heat, the surface area of the PRD's burner is simply smaller than MSR's Whisperlite or Windburner stoves. Therefore, in order to avoid overheating a single spot on the pan and burning your pancakes, you have to continuously move the pan around the burner. In Ultimately, I ended up looking like I was making old-fashioned Jiffy Pop. The forearm workout of constantly circling the pan around the flame just didn't not seem worth the work for the mediocre pancakes.
Best Applications
While there are limitations, the PRD shines in some very specific applications. First, the PRD is great for anyone that wants to take a stove into the backcountry during day-long ski tours or long day hikes that require some extra insurance. Paired with a small pot and a 4oz canister of fuel, the easy to use PRD weights next to nothing and makes hot beverages in minutes. Not to mention, the entire system can easily be set-up with gloves.
Second, the PRD is the perfect choice for backpackers headed out on solo adventures or with a friend. While we may need a larger stove system when taking our kids, my wife and I decided that the PRD is our new choice for light and fast weekends in the Cascades, especially if we are only going to heating water for freeze-dried or dehydrated meals.
The Good 
Premium Features in a Micro-Canister Stove
Wind Resistant
Fuel Efficient
Lightweight
Top-Grade Materials
The Bad
Expensive compared to other Micro-Canister Stoves
Piezo Igniter still feels more fragile than other stove components
Less stable with larger pots
Pan-frying takes some work
The Bottom Line: MSR Pocket Rocket Deluxe
The Pocket Rocket Deluxe is a feature-rich stove ideal for three-season use. A great choice for adventurers that tend to head into the wild solo or with a partner. The Pocket Rocket Deluxe is a great "first stove"—an essential tool that will get you into the backcountry and help make memories with every pot of hot water.
Buy Now: Visit REI.com