I really shouldn't start my review with this, but I'm going to. The Open UPPER has become my all-time favorite bike. Period. End of story. If you buy one, you'll love it. Gerard Vroomen and crew have outdone themselves with this one. There, my review is complete. Still not convinced? Go ahead and read on to find out just what makes the Open UPPER so darn special.
Open UPPER Features:
Strategically-placed carbon for best durability, light weight and performance (TRCinTRS)
Internal cable routing for mechanical or electronic
Dropped chainstay to accommodate wide tires and chainrings
RoadPlus tire clearance (Up to 2.1″ x 27.5 MTB or 700x40c)
U-Turn fork is optimized for flat mount brakes and 160mm rotors without adapters
Thin "wire stays" for comfort and lateral stiffness
Seat Tube optimized for zero-setback seatpost
Thruthread rear dropout
Frame Weight: 880 grams (stated, didn't get a chance to weigh it)
Complete Build: 17.7 lbs — Large frame, Zipp 303 650b/WTB Byway
MSRP: $4500 – UPPER // $2900 – UP (frame only)
The "Go Ride Anywhere" Bike
As the test mule for SRAM Red eTap AXS, the Open UPPER was set up for success from the start. Dressed in stealth black with eTap AXS, Zipp cockpit and Zipp 303 650b wheels, the UPPER had me at hello. Wireless drivetrains simplify every custom build. No more hiding batteries in seatposts or routing flimsy wires through frames — just route the brake lines and you're golden.
The UPPER frame is identical to the UP in geometry, features, spec and tire clearance. The only difference is in the carbon layup. With that, the UPPER does shave off 180 grams and is the only one available in stealth black. Both frames can be ordered as Ready to Paint (RTP), so you can work with local frame painters to get it just right.
Having spent some time with Open Co-founder, Gerard Vroomen, discussing the Open UPPER, it's no surprise that the UP/UPPER was built from the start to perform like a capable, fast and responsive road bike (but with RoadPlus capability). Having ridden other gravel bikes (which honestly, leave something to be desired on the road), the UPPER has none of that. In fact, most gravel bikes claim all-road supremacy, but the UPPER actually delivers it.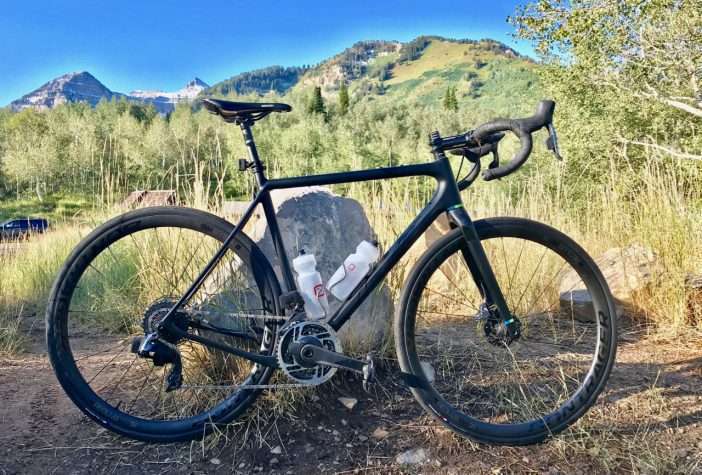 Ride Quality and Manners
In recent years, I've had to pay extra attention to the little things that make one bike stand out over another because it's like splitting hairs these days. With gravel bikes, the comfort of the frame is masked by the large-volume tires they sport. But, is the bike comfortable without the squishy tires? That's a fair question. And, after riding the UPPER with Roval CL 50 Disc wheels, this bike is comfortable even with 26mm tires. No, it doesn't feature shocks or doodads to achieve this level of comfort — it's just built with an added measure of compliance. Is it a magic carpet ride like the GT Grade Carbon Pro? Well, no. But, it feels much more responsive, in my opinion.
A hallmark of the UPPER is its ability to morph into whatever type of bike you want it to be. My favorite configuration was in 650b mode with Roval CLX 32 650b wheels and Specialized Pathfinder Pro 650b 47c tires rolling between 35-38 psi. In that guise, I could still hit the local road climbs and tackle even the roughest gravel and singletrack in-between. It was with that configuration that I tackled the 100-mile SBT GRVL Blue course in August.
Even though SBT GRVL organizers said a 35c tire would suffice for the course, I knew that the above combo was wicked-fast and would provide added traction and comfort over that long of a distance. I rolled out with confidence and loved everything about the course and the Open UPPER on it. Throughout the day, I chatted with other UP/UPPER owners and they were equally stoked on their bikes.
With a similar configuration (Zipp 303 650b and WTB Byway 47), I brought the UPPER along for a trip through Colorado and the Upper Midwest. I could not have been happier as I confidently pedaled through the endless gravel roads of Colorado, Minnesota and South Dakota. It just feels like a monster truck that can plow through anything, but still rolls smooth and fast on the paved roads back to town.
Back home here in Utah, I further extended the capability of the UPPER by installing the new Bontrager Aeolus PRO 3V wheelset with R3 32c Hard-Case Lite tires. That particular combination might just be the sweet spot for all-around use. I summited Utah's Alpine Loop (3000 ft. climb) with one of my fastest times, descended mountain roads with confidence, rolled around the local haunts and dabbled in some light gravel.  With that setup, the UPPER just feels fun. It responds quickly, handles adeptly and feels like a good road bike should.
On top of it all, the geometry is such that getting a proper fit (for a non-racer, like myself) doesn't require a ton of spacers under the stem. Should you want a more aggressive position, it's as easy as going with a more aggressive stem. The generous stack/reach on the UPPER is hidden well and looks proportional. There's no overly-tall head tube or tons of exposed seatpost — just a classic-looking frame. I guess, the exception is the dropped drive-side chainstay, but without that, there is no UPPER. That's how both tire and drivetrain clearance is achieved without funky chainlines, wide Q-factors, long wheelbase and such. In fact, that 420mm rear chaninstay length is only 10mm longer than even the raciest disc road bikes, which adds to the UPPER's ride characteristics.
When standing and climbing, the UPPER feels natural and smooth. There's no front wheel flopping or wandering at all. Again, the balance and geometry of the UPPER is spot-on for all types of road and gravel riding. So, if you haven't figured this out by now, you won't find yourself missing your current road bike one bit.
On sinuous mountain descents, overall handling is excellent. It likes to swoop in/out of turns like a great road bike should. It descends any road at any speed with confidence. While it is a good overall handler at speed, it isn't quite as sharp as a Pinarello Dogma F10 or Specialized Venge Pro (but nobody expects it to be). It does feel and handle like a top-tier endurance road bike (which is just what most riders enjoy).
Build Kit and Setup
To match the UPPER, I installed SRAM's latest Red eTap AXS groupset with their lowest 2x range (10-33t cassette and 46/33t chainrings). Not only does this allow for a 1:1 low gear, but it also pedals out at higher speeds than 1x. In addition, the small chainring gaps allows for the proper cadence on any terrain. Long climbs really highlighted this as I feathered the gears with every undulation in the terrain.
The clean lines of a wireless groupset really allow the UPPER to shine. And, the U-Turn fork makes for natural 160mm rotors using a no-brainer mount without any adapters at all. At this point, why don't all road disc frames come with natural 160mm mounts?
Some Quibbles
No bike is perfect, but I've got to get pretty nit-picky when calling out the UPPER. I didn't oversee the build, but somehow I ended up with a little bit of rear brake hose rattle. Open includes a few rubber bumpers to thread onto the brake line, but I don't know for sure if they were placed correctly. Work with your local shop to ensure everything is installed correctly to prevent any cable rattle. Later on, I installed a lightweight sleeve around the brake hose and that has pretty much eliminated any rattling.
Related to that, the cable stops are well-built and are offered in flavors to suit electronic or mechanical shifting. But, the hex bolts on them are so teeny that I don't even have a proper wrench for it (and I have some pretty small wrenches). The bolt started wiggling loose and tried to tighten it, but ended up losing that bolt. I have a spare and will need to head to the hardware store to get a small enough allen key and Loctite to ensure it stays put this time.
I'm getting picky here, but I've got another thing related to the frame hardware. I hate, hate, hate alloy bottle cage bolts. They strip out and are generally not worth the hassle. I'm told that those bolts are "finishing" bolts and aren't intended to be used for cages. Hmmm… okay. I installed titanium bolts to hold the Silca Sicuro bottle cages and will be sourcing titanium or stainless bolts to replace all the others. Oh, and because of the geometry, most riders require a zero setback post (and that's what Open recommends). That does place the lower water bottle in a position that requires some contorting to reach, so be aware.
SIZING: I'm 5'11" and comfortably rode the size large frame.
The Good
Hands-down the most "fun" bike I've owned
Lightweight and nimble
Accepts a wide range of rubber
In 650b mode, this bike is like a monster truck (that still pedals well on roads)
Feels so balanced and natural on standing climbs
Excellent geometry allows for an easy fit for non-racers
U-Turn fork with 160mm natural caliper mounts is so clean
The sweet spot of comfort and responsiveness
The Bad
Toss those bottle cage bolts that came with the frame
Tiny hex screws for cable stop inserts — really tiny
Brake hose rattle (if not installed carefully)
The Bottom Line: Open UPPER
Every time I swing a leg over the UPPER, I feel at home. This bike speaks to my soul in a way no other bike has done before. Yeah, there are faster road bikes out there, but nothing matches the overall capabilities and performance that the Open UPPER delivers. It rides confidently on any road, like a good road bike should, then begs to be taken off road (and nails that too). This one is staying in the stable for a long time.
Buy Now: Available at ContenderBicycles.com
In Summary
Few gravel bikes deliver the all-around prowess they promise. Most are great on gravel, but uninspiring on the road. The Open UPPER changes the game by delivering excellent on-road performance combined with inspired and capable off-road prowess. That "one bike quiver" is a reality with the UPPER.