Leading up to an international trip to Peru supporting a non-profit, I was on the hunt for a travel backpack. I didn't the want hassle of a checked or traditional carry-on roller bag. I wanted something that could easily hold clothes and travel gear for at least a week but with room to spare for souvenirs and other items that might be picked up on the trip. I quickly narrowed the list down to the Osprey Porter 46 Travel Pack.
Osprey Porter 46 Travel Pack Features:
Zippered top pocket provides easy access to toiletries and liquids
Large panel lockable zip access to main compartment
Reinforced cord loops to attach an Osprey Daylite daypack
Front panel vertical zippered pocket for books, travel documents and more
StraightJacket™ compression with padded wings and lower panel secures and protects clothing and gear
Front panel organization pocket for easy access to small travel items
Padded top and side handles provide comfortable carry
Protected rear panel lockable zip laptop/tablet sleeve for quick access at security or while traveling
Stowaway shoulder harness with adjustable sternum strap and whistle buckle
D-rings to attach a shoulder strap (sold separately)
Stowaway padded hipbelt to stabilize larger loads
Dual internal zippered side pockets
Price: $140 USD
A Must-Have Travel Pack
Overall, Osprey did a good job of trying to make this "the" travel pack to have. Let's take a look at why I believe this:
Solid Set of Features: Osprey checked almost all of the boxes with the Porter 46. They have a solid start with their background as a pack brand and they tailored for travel. A large main compartment provides the flexibility to pack how you want. A small pocket with an organizer to keep the small stuff organized. You get a variety of pockets, mesh and zippers. A font, slim pocket for docs, books, etc. A small top pocket for those quick items. They include a padded, zippered laptop sleeve.
Solid, StraightJacket™ compression straps help squeeze your load down to stabilize and help you stay within carry-on size limits. Added bonus, it also adds a layer of protection on the sides.
Size and Packability: Depending on your needs, Osprey provides two additional sizes of the Porter (one smaller, one bigger). For me, the 46, with 46 cubic liters or 2,807 cubic inches, was just right for my 11 day trip. It provided enough room to pack what I needed, plus a little extra, with some room to spare. With the variety of pockets I was able to plan and organize my packing for space efficiency and carrying comfort.
Security and Airport Management: Osprey packed some good features to help keep your goods secure. The main compartment is separated from all the others and has lockable zippers. The laptop compartment can only be accessed by it's own lockable zippers. The StraightJacket™ compression straps do double-duty by providing some extra protection against slashing attacks. Additionally, the zippers for the main compartment and organizer pocket can be positioned to the side so they are covered by the compression straps.
To help you get through the airport, the front pocket is easily accessible for your travel docs. The top pocket is a good size for your liquids and other items that you have to pull out for screening.
Carrying: Osprey provides a number of carry options on the Porter. There are two different carry handles, one at the top of the pack and one on the side for a more traditional, briefcase carry. Both handles are well padded and a wide enough to not cut into your skin. Some may say they are too bulky, but when I needed to carry the fully loaded Porter for a ways by these handles, I appreciated the thickness. There are also loops to connect a single shoulder strap if you'd like.
The backpack harness was my favorite option. This is where it shines. Osprey put all of their expertise in backpacks and carrying into these straps. The shoulder straps are wide enough to support a heavy load without pressure points. Load lifter straps help position the load and a sternum strap provides extra support. The hip belt is fairly decent. The portion that wraps directly on your hipbones is a wide, thin pad that connects with a hefty buckle.
Both the shoulder straps and the hip belt stow neatly and bulge-free within the back panel of the pack.
To the test: 11 Days in Peru
As mentioned, I was heading to Peru for an 11 day humanitarian trip. Travel time was in the middle of June, right on the fall shoulder season. We were hitting all climates from the beach, to the lower elevation mountains, to over 12,000 feet. In addition to the goal of providing aid we would be hiking, sightseeing, in the ocean, and spending a lot of time sitting in planes and buses.
My plan was to travel light and I was able to easily fit everything I needed into the Porter 46. Here's a breakdown of my clothes list: Two pairs of pants, two pairs of shorts, four t-shirts (two of which were "uniforms"), a long-sleeve baselayer, a lightweight hoody, insulated jacket, two pairs of underwear and undershirts, two pairs of socks, board shorts, rash guard, hiking shoes, Chacos, baseball hat, beanie, fleece gloves, and a travel towel.
I also packed my toiletries, headlamp, charging cords, power adapters, water purifying bottle, first aid kit, pens, notebook, Kindle, and a few other smaller items.
Quick travel tip: pack all of your stuff in cubes. I made due with large ziplocs (they all failed by the end). It helps keep your stuff organized and also dry. I was able to fit all of my clothing and shoes into the main compartment of the pack. I had room to spare, which was perfect! If the weather would have been colder (not quite full-on winter) I would have been able to pack some bulkier layers and still fit. Osprey designed the main pocket to zip all the way open so you can load it like a duffel. With it laying down, you can easily pack and find what you are looking for.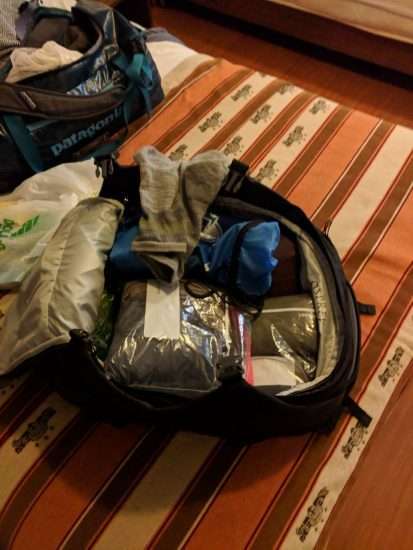 The organizer pocket was key in keeping my cords, charging stuff, pens, etc all organized. Most of the pockets are open-topped, which became an issue. A number of times, after my bag was tossed atop a van or bus and jostled along the way, everything wiggled out of the pockets and into a jumbled pile.
The front pocket is a good size for your docs and slimmer items like magazines or a small book. A bulkier book would be cumbersome in the pocket. My biggest overall gripe is the the front pocket. No matter what I put in there, it got in the way of opening the main compartment. What's in the pocket will keep it from folding down, it all settles. Notebooks, books or the like will get in the way and have to be pulled up to fold the main compartment open.
One downside to consider is you have to lay the pack down and undo the compression to get to anything in the main compartment and in a lot of cases, in the front or organizer pockets. I had to really plan ahead for any items that I might want to quickly grab and make sure I stowed those in the top pocket if they'd fit.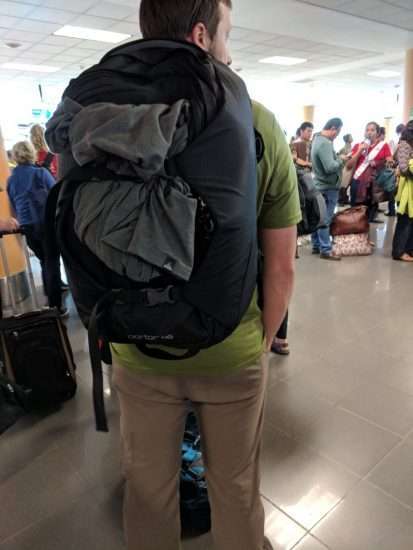 The other missing feature, in my opinion, is a water bottle pocket. I was able to strap a water bottle and the water purifying bottle into the compression straps, and it worked, but I found myself constantly wishing my water was more easily accessible.
The Porter is extremely durable. We had a total of nine flights, two train rides, one overnight bus ride, and countless van trips. The Porter was tossed, strapped, thrown, dropped, shoved, and dragged on the ground and it took it all! I've also had it on a handful of trips since and can tell that it is going to last for a very long time.
Stowing the hip belt and shoulder straps was a breeze. Anytime I needed to throw the Porter on top of a shuttle van I quickly stowed the straps and didn't have to worry about them flapping in the wind. This was also key when having to stow in small spaces. It wouldn't seem like tucking them away would save space, but it did.
Second travel tip: traveling without traditional luggage was the way to go. When everyone else in the group was waiting for checked bags, struggling with their rollers, worrying about size limits, I was able to strap the Porter on and spend more time checking things out while they had to hassle with their traditional luggage.
The Good
Great feature set across the board
Good size for a 1-2 week trip
Did I mention the features? Osprey packed them in! (Pun intended)
Puts "traditional" luggage to shame
Travel docs are easily-accessed
The Bad
Front pockets get in the way of opening the main pocket all the way
No water bottle sleeve
Compression straps, which good in many ways, get in the way of quick access
Bottom Line: Osprey Porter 46
If you are looking to backpack while traveling, the Osprey Porter 46 should be at the top of your list. The features, quality, durability, and security of this back make it "the" bag to carry your goods while you see the world!
Buy now: Pick one up at REI.com